Josh Freese: Time Bandit
By Ken Micallef
Time. Feel. Groove. Pulse. For many, these are illusive concepts with multiple meanings. Does a heavy metal drummer "feel" the pulse in the same way as a pop drummer? Does a punk drummer approach groove the same as a guy backing two folk singers? And what about external circumstances beyond the drummer's control? Producers, engineers, electronics, and other musicians all have a collective vote in how a particular piece of music will feel and how that feeling is relayed to the audience.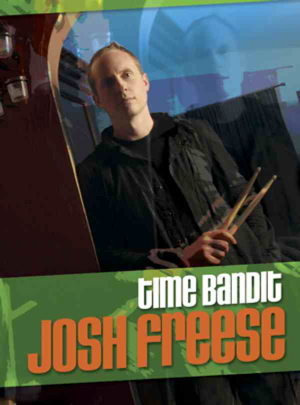 Not many drummers can honestly comment on having experience in every given musical situation, be it rock, pop, metal, punk, jazz, or various acoustic music genres. One who can is the LA titan once called "the Bruce Lee of the drums." Josh Freese is best known for his jackhammer groove with the likes of A Perfect Circle, Nine Inch Nails, The Vandals, and Sting, but his experience runs the gamut of contemporary music.
"I love Fear, punk rock bands, and Slayer, but I also really love Steely Dan," Freese laughs, on his way to yet another early-morning recording session somewhere in the Hollywood Hills. "Usually the two worlds would never coexist. A Steely Dan fan would never understand the beauty of The Butthole Surfers. What? And Black Flag fans would hear Steely Dan and go, 'Gag me! What a bunch of jerks.' I like that I understand both musics and that they're so opposite. That's in line with my schizophrenic nature."
Between 1989 and 2006, when not gigging with the superstar elite, Josh Freese racked up a session résumé matched only by his longtime friend and mentor, Vinnie Colaiuta. And Josh has played and recorded nearly as many styles as VC, like rock 'n' roll with Paul Westerberg and Joe Strummer, punk with F.Y.P. and Unwritten Law, folk rock with Shawn Mullins and Pete Yorn, monster rock with Rob Zombie, corporate rock with Puddle Of Mudd and Evanescence, dance tracks with Anastacia, hip-hop with Tweet, and perfect pop with Kelly Clarkson. Freese has massaged the time and tweaked the groove of music styles too numerous to mention.
From his admittedly "schizophrenic nature," you would never guess that Freese comes from a family of genteel classical tuba and piano players, or that his dad conducted the original Disneyland big band, or that one of his first teachers was jazz icon Roy Burns, the originator of the modern drum clinic.
Josh Freese is a bundle of contradictions. His first band was punk rock canons The Vandals, but he digs playing jazz with crooner Michael Bublé. His mammoth groove can be heard on million-selling discs by Avril Lavigne and Good Charlotte, but he would just as soon be playing the music he loves for $200 a day. He's in high demand among rock royalty like Chris Cornell and Guns N' Roses.
Beyond a volcanic groove that recalls a supercharged Kenny Aronoff, a more exacting Dave Grohl, or perhaps a Keith Moon for the twenty-first century, Josh Freese's most valuable asset is his ability to create the perfect drum track, with the perfect time and feel conception. But it didn't come easy.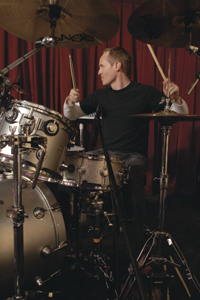 "As I became older and got into singer/songwriters," Freese recalls, "I learned the hard way about overplaying in the studio. At first I wanted to play everything I knew. But what's hard to do is to play slow and make that feel right. Learning about less is more is a sign of maturity. I can do a session where maybe the song is awful or the groove is supposedly easy, but it's still difficult to make it sound perfect. You can always play it better, no matter what. I can always do it better. That's what I strive for every day."
Speaking with MD in between various LA sessions and while on tour with NIN in Australia, Josh Freese could barely keep track of his workload. He recently recorded rock star projects Black Light Burns (with Wes Borland of Limp Bizkit fame) and Goon Moon (Twiggy from Marilyn Manson), as well as sessions for upcoming albums by Fuel, Gavin Rossdale (Bush), and Billy Howerdel (Tool, A Perfect Circle).
The title track he composed for Guns N' Roses' Chinese Democracy remains shelved, as do plans for a follow-up to Freese's punk pop solo masterwork, The Notorious One Man Orgy. An album's worth of material he recorded with Sting (in pure improv fashion) at the star's Tuscany mansion also has yet to be released. But it's onward and upward for this LA session superhero, his adrenaline ever pounding, his sweat flying, his love for drums and drumming (in perfect time, of course) expressed in the jackhammer groove of his soul.
MD: What's your process for getting a good take in the studio?
Josh: I listen to the track and ask questions. Sometimes the producer or artist has recorded a drum machine pattern to get their idea across. I'll ask, "How true do you want to stick to the demo"? It can be a million different combinations.
I listen to the song; I cue off what the bass is doing, whether I'll be playing down or up. They might want you to open up more on the chorus and keep the verse pattern. If it's the end of the song or the solo section, maybe I'll play a couple of cool fills. But I won't do cool fills in the first verse. The intro might be bigger than the first verse. I'm assuming we come down in the first verse, and the hi-hats will close back up. Then you might open them up on the bridge, and go to the cymbal on the chorus. Maybe vice versa. It's usually a quick discussion.
I can play a lot of different styles, but it's all under the pop format, whether it's playing a mellow song, or it's A Perfect Circle, or Jewel, or Suicidal Tendencies. It's always a rock music format.
MD: When you do so many sessions, how do you regularly summon the energy of a live performance in a cold studio environment?
Josh: I sweat my ass off in sessions. Often I'll do a take and will be sweating and when I hear the take I realize, "This song isn't fast at all." In the room it feels fast, but it's really mid-tempo. Why am I drenched? It must be because when it's going down it feels intense. If you're focused and you concentrate, you'll end up working very hard.
MD: How do you handle getting paid?
Josh: Up front and cash money, baby! I don't take advantage of anyone. There are artists on major labels that I really couldn't care less about working with. So if they hire me, I charge them more. Why not? And I do sessions for free for friends who have no money. One punk rock band, F.Y.P., shoved $200 in my pocket at the end of the session–eighteen songs in a day. I thought I was doing it for free. But generally I work out payment issues in advance: X amount of dollars per song or X amount of dollars per day. But I'm pretty easy to hire, unless I need sleep or time with my kids.
MD: What are the dirty little secrets of the session world?
Josh: For what I do, as far as having my stuff planned, it's not as in-depth as you would think. I don't show up with twenty snares. I show up with three DW and Joe Craviotto models. I think readers might want to hear how much longer it took to get a drum sound, or your mindset the night before a session. Maybe it's because I've done it every day since I was sixteen–it's my life.
Pick-up the September 2007 issue of Modern Drummer to read the rest of this interview.