James Gadson: R&B Sound Legend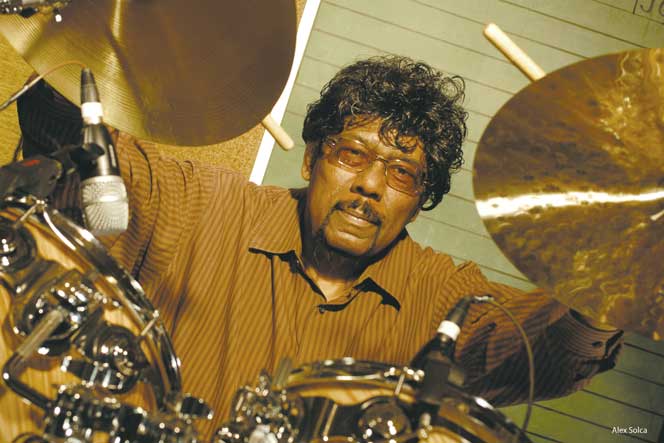 by Billy Amendola
Most longtime readers of Modern Drummer are familiar with the soulful grooves of the great James Gadson. But for younger, up & coming players who may not know, you're about to be introduced to one of the greatest timekeepers of the past forty-plus years.
Gadson, one of the most recorded drummers in R&B history, was born in Kansas City, Missouri on June 17, 1939. His career started in the late '60s with Dyke & The Blazers, The Watts 103rd St. Rhythm Band ("Express Yourself"), and Bill Withers ("Use Me," "Lean On Me"). In the '70s, Gadson worked with Marvin Gaye ("I Want You"), The Jackson Five ("Dancing Machine"), Diana Ross ("Love Hangover"), Cheryl Lynn ("Got To Be Real"), Tavares ("Heaven Must Be Missing An Angel"), and Gloria Gaynor ("I Will Survive"). The drummer also recorded and/or performed with Anita Baker, James Brown, Ray Charles, George Duke, Aretha Franklin, Herbie Hancock, The Isley Brothers, Quincy Jones, B.B. King, Gladys Knight & The Pips, Little Richard, Peaches & Herb, Billy Preston, Smokey Robinson, Frank Sinatra, The Supremes, The Spinners, Tina Turner…the list is seemingly never-ending.
These days, besides being one of the most sampled drummers in contemporary music, you can hear Gadson on recordings by Paul McCartney, Beck, Justin Timberlake, and Joe Cocker CD, whose recent CD finds James and Jim Keltner sharing the drum chair. Speaking of Keltner, James affectionately says, "I've admired Jim's playing for many years, but I never knew it was him on all those great records." Advertisement
I had the honor of meeting James Gadson this past January at the NAMM music convention in California. When we first spoke, I reminded the modest musician of a few of his great recordings, and he smiled and replied, "Thank you. I've been truly blessed. I was in the right place at the right time–a lot of times." And when I mentioned his appearance "air drumming" in a recent Beck video, he excitedly said, "Everyone's seen it but me. Everybody tells me about it, but I don't know how I keep missing it!"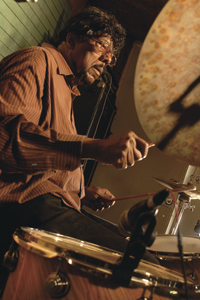 Although Gadson has been mentioned numerous times over the years in the pages of MD, this is his first interview. We're thrilled to introduce or remind you of his amazing career and his great body of work.
MD: What was your first time in the studio like?
James: At first, during the time I didn't really know how to play R&B, it was awful. I wouldn't even charge them it was so bad. [laughs] I felt bad about wasting their studio time. I couldn't keep a steady pattern because I was coming from a free-jazz mindset. Advertisement
The first professional thing that I cut was with Dyke & The Blazers. Then I recorded with Charles Wright and the Watts Band on "Express Yourself" and "Love Land." On the latter song, I sang and played drums. My studio chops really came together after I came out to LA, when I first starting working around town and doing certain gigs.
MD:So your whole early training was basically just constantly playing.
James:Exactly, constantly playing with other musicians and picking up little things here and there. I practiced a little bit, but I lived in an apartment, so I couldn't do too much. But I was playing constantly.
MD:Did you teach yourself to read charts as well?
James:Yes. A contractor by the name of Ben Barrett and arranger James Carmichael started getting me Motown gigs after seeing me a few times around town. So they recommended me, but asked, "Can you read"? I told Ben that I could, even though I didn't at the time. I remember I would go home and study my reading at night. But they liked me at Motown because I could keep time and strike a solid groove. Advertisement
I remember the first Motown session I did, which was The Jacksons' "Dancing Machine." We were out there creating, and I put that 8th-note hop in, and they said, "Hey, do that again." They liked what I was doing, and they said, "Let's keep him because he has good time." And then the song became a hit.
MD:What advice would you have for drummers interested in improving their groove?
James:Understand what it is, and simplify. Most grooves, especially for dance music, are very simple. Even so, to learn them, you have to slow them down. A lot of times we do all these rudimental things to see how fast we can play. I think you have to slow it all down and simplify it. Then you can kind of feel whether it's danceable or not.
MD:How important is practicing with a click?
James:It's very important, because what that does is discipline you to stay right with it. It's good concentration. One thing I learned about the click–because I've done a lot of sessions with it–is that you have to be able to hear it. A lot of times I played with the click with the other musicians in the room, and I couldn't listen to them because everyone played on "1" differently. So I had to have the click up real loud, and I played to it. I'd look at the music and I'd play to the click. Advertisement
MD:Do you think someone can be taught to play funky?
James:I've taken on a few students recently, and some of them have great chops, but they need to be focused on the right thing. I think if someone can play, they can be guided. You can be taught, and it has nothing to do with the color of your skin.
Pick-up the September 2007 issue of Modern Drummer to read the rest of this interview.