Glenn Kotche: Painting The Sky Blue Sky
This past winter, the duality of rock drummer / experimental percussionist Glenn Kotche's eclectic career reached an all-time high as he juggled writing/recording sessions for Grammy award–winning rock band Wilco's latest release,
Sky Blue Sky
, and composing "Anomaly," a seven-movement commission for world-renowned string ensemble The Kronos Quartet. "There were times when I would spend five hours writing in the morning, track
Sky Blue Sky
with Wilco for eight hours, and then write for another hour," Kotche recalls with a tinge of disbelief. "It was very intense."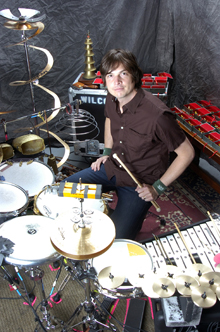 But this is nothing new for the Chicago-based rhythmic explorer. In fact, much of Glenn's career has revolved around this cross-pollination between the mainstream and the avant-garde. "I've always balanced the academic and the rock-drummer sides of my playing, since when I first started taking lessons in fourth grade," Kotche explains. "I was active in school concert and marching bands, and I formed my first rock band at the same time."
When Kotche went off to study music at the University Of Kentucky, he received further affirmation from professor James Campbell that his multi-dimensional approach to percussion would ultimately open doors to a wide range of possibilities. "Jim stressed to me the idea of thinking about the drumset as a multiple percussion instrument," says Kotche. "He believed that idea was going to make a big impact on the development of our instrument." Advertisement
After graduation, Glenn returned to Chicago and began to absorb the adventurous spirit of many of the city's most prominent percussionists. "When I moved back to Chicago, I saw how guys like Michael Zarang, Hamid Drake, and John Herndon and John McIntire of Tortoise were incorporating a lot of percussion into their music," Kotche recalls. "And then after I met Jim O'Rourke and Darin Gray, they started playing me recordings of various European improvising percussionists. That really helped open my mind."
With this growing interest in a multi-percussion approach to drumset, Glenn began to expand his kit to include a variety of non-traditional instruments, like vibes, crotales, and assorted found percussion. And then he made a bold decision to drop most of his weekly gigs to focus on more creative musical situations. "After college, I was playing with a lot of singer/songwriters, and I was teaching in several high schools," says Glenn. "But it wasn't satisfying anymore. So I quit everything except for playing with Jim O'Rourke.
"That's when I started my experimental duo On Fillmore with Darin Gray," Kotche continues, "and I made an improvised percussion record with Tim Barnes called Domo Domo. This was also around the time that I decided to make my first solo record." Advertisement
But how did these left-of-center rhythmic explorations ultimately lead to his current gig with Wilco? "It all comes back to Jim O'Rourke," says Glenn. "I was doing a gig with Edith Frost in Chicago, where I was playing a metal sculpture and a cocktail kit. Jim produced her first record, so he came down to the show. He liked that I was open to new things, so he got my number and called me to work on his album Eureka.
"Then when Jim collaborated with Jeff Tweedy for the Noise Pop Festival in Chicago," Kotche continues, "he brought me in. That became the band Loose Fur. We wrote a set's worth of music, played one show, and then went into the studio to make the first record.
"After that, Jeff invited me to go to New York with him to work on the soundtrack to the movie Chelsea Walls. We hit it off really well, so he asked me to play percussion on some of the Wilco tracks that they were working on. Then they wanted to hear me play drums on a tune, which was 'I Am Trying To Break Your Heart,' and it just went from there." Advertisement
Since joining Wilco in 2001, Glenn has appeared on the band's highly controversial album Yankee Hotel Foxtrot, the Grammy award–winning A Ghost Is Born, a live double-disc Kicking Television, and their brand-new release, Sky Blue Sky.
In the past year, Glenn also managed to squeeze in several solo percussion tours in support of his latest record, Mobile (which included a stop at the Modern Drummer Festival). And he appeared on Loose Fur's second album, Born Again In The USA.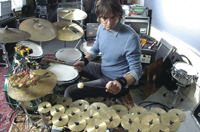 We caught up with Glenn during a rare week off to discuss the concepts behind his latest projects.
MD: Sky Blue Sky is a pretty straightforward, groove-based drumming record. Was that a conscious decision going into it?
Glenn: I don't think it was so much a conscious decision going in as it was a reflection of the way the album was written and recorded. We basically went to our loft in Chicago, set up in a tight circle with everyone facing each other, and came up with ideas. Jeff Tweedy brought in a few complete tunes, like "Be Patient With Me" and "Sky Blue Sky." But a lot of the other ones started with someone throwing out a riff and then developing it from there. Advertisement
But it's fair to say that this is the least experimental of the Wilco studio records I'm on, which is perfect for me at this point because my solo stuff and my other projects–Loose Fur and On Fillmore–are pretty experimental. So it's nice to be able to just concentrate on the groove.
MD: Did the additional bandmembers in Wilco also influence you to play more groove-based?
Glenn: Yeah. When Wilco was a four-piece, there was a lot more room for overdubs and different layers of percussion. But now that we're a six-piece, there are enough hands on deck to cover whatever parts were needed to make the songs come across. So I don't have to fill in ideas on vibes or crotales.
MD: A lot of the grooves have an old-school swagger to them.
Glenn: That's something that I love listening to in other drummers. Guys like Levon Helm and John Bonham are perfect examples. And a lot of the old Motown and Stax guys had that swing. Those guys were jazz drummers. So when they straightened their grooves out, there was still this inherent swing in their playing. That gave the music incredible buoyancy. I wanted to explore that type of vibe on Sky Blue Sky. Advertisement
MD: What did you listen to for inspiration?
Glenn: The first tune on the album, "Either Way," draws a lot from Bill Withers' "Ain't No Sunshine," with James Gadson. I also saw Jim Keltner with T-Bone Burnett while we were making the record. And that made a big impact on how I approached the feel of these tunes.
MD: What made you decide to make your first solo record?
Glenn: There were some rhythmic questions that I wanted answered, but they were personal enough that I wasn't going to be able to explore them in the context of a group. So I started recording ideas for my own purposes. Those recordings eventually became Introducing.
MD: What ideas were you exploring?
Glenn: The idea was coincidental rhythm, which is a fancy way of saying unintentional polyrhythms. I came across the term after reading the John Cage book Silence. But before I knew what it was called, I would always notice how rhythms in everyday life interacted in unusual ways, like how a stoplight interacts with the windshield wipers, or how the rhythm of the wipers compares to what's playing on the radio. They're not typical polyrhythms, like seven-against-four or five-against-three. It's a much longer cycle. I wanted to explore that idea, so I started recording ideas and then collaged them together so that they would flow in and out of each other at different rates. Advertisement
MD: What was the concept behind your second record, Next?
Glenn: I wanted that one to be completely improvised, using what I call accidental rhythm. I wanted to explore the idea of truly improvising. I wanted to take all of my training out of the equation. So I built various mallets–like these threaded rods with springs and ball bearings on the ends–that didn't allow me to play anything traditional. That way even if I unintentionally played paradiddle-diddles, they wouldn't sound like it.
I also put a lot of preparations on the drums. I had chains lying across the drumheads, the cymbals were resting on the drums and each other, and I put beads and rice on the heads so that everything was interacting from the sympathetic vibrations.
For the rest of the interview, pick-up a copy of the August issue at a music store, bookstore, or newsstand near you of subscribe now.