Jeff Ballard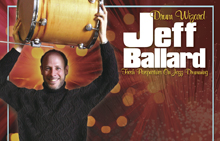 Fresh Perspectives On Jazz Drumming
by T. Bruce Wittet
This much is unanimously agreed upon: In the hierarchy of jazz drummers, Jeff Ballard has climbed so high he can clearly see the summit. What's more, he's making edgy, contemporary music with the top players of our day, including Chick Corea, Brad Mehldau, Joshua Redman, Kurt Rosenwinkel, Avishai Cohen, Larry Grenadier, Mark Turner, Ben Allison, and Guillermo Klein. Concurrently, he runs the minimalist cooperative ensemble Fly with Grenadier and Turner. Before that he learned the ropes while touring with Ray Charles, Eddie Harris, and Bobby Hutcherson.
Recently, Ballard, Mehldau, and Grenadier joined ranks with guitar giant Pat Metheny, recorded two albums, and embarked on the most heralded jazz tour in recent memory. The Metheny/Mehldau collaboration is simply the jazz supergroup of the decade. Ballard's edgy, energetic, and probing approach in this group embraces everything from grooving–"carpet laying," as he calls it–to wringing out intricate phrases so quietly they almost slip below the radar.
It's all gotten the Internet forums buzzing. Readers query Jeff's unique grip, his vintage Camco Oaklawn drums, and his ancient Turkish K ride with the oddly placed rivet holes. (The latest threads were comsumed with Jeff's abandoning his Camcos for oak-shelled Yamahas–and his well-ridden veteran Ks for modern Zildjians.) Fans go on at length about his exciting solos, during which he'll play with bare hands, sticks, mallets, or whatever else is handy on top of heads, rims, hardware tubing, shells, or hand drums. Advertisement
The endorsement issues are significant. They help explain why someone at the top of his game, someone who is exalted and even worshipped, is not a face that immediately pops to mind. Jeff has been conspicuously absent from industry ads, which tend to keep other drummers steadily in our gaze. That hasn't bothered Jeff, however. Until recently, he's been satisfied to play his Camcos, occasionally adding a piece here and there, such as a DW 10″ tom and a modern Zildjian K Custom Dry Complex (aka Bill Stewart) ride at his own pace, no strings attached.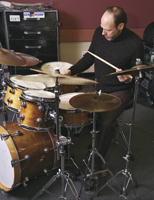 Maybe it's the fact that Jeff's crusty ride has been repaired one too many times by New York magician Nodar Rode, or maybe it's that Jeff's drums occasionally pale in tone beside newer ones he's encountered on the road. What's certain is that Ballard has come to realize that it's nigh time to search for back-up instruments.
So Jeff Ballard is tentatively embracing the drum industry. For this reason, you may be seeing a lot more of Ballard's mug in the coming months in ads for, say, Yamaha and Zildjian. And it's a sure thing you'll see him score high on jazz drummer polls. (In fact, he placed third in the contemporary jazz category of MD's most recent readers poll, right behind Jack DeJohnette and Bill Stewart.) Advertisement
Jeff's reputation flows from his exceptional abilities as an accompanist. Sometimes he scurries like a rabbit over his skins, darting here or there to affect subtle shifts in timbre and nuance–moves that don't seem like much in themselves but that add up to a brilliant drum part. Other times, he's a terrier, feverishly scratching at some surface, knowing that it will yield pay dirt. Other times still, he's laying back, one eye cocked wisely, looking to join the fray at precisely the right moment.
Although Ballard is adept at striking kit drums, hand drums, and rattlers with mallets, fingers, or even fingernails, there's not a trace of shtick in his bones. He may be fascinating to watch, but nothing Ballard plays is for show; it all means something. Frightfully quick, his mind is making split-second assessments, deciding where to place what he calls "weight" in order to make the music behave in an appropriate manner. For Jeff, the drum is alive. It's an animal (to employ more Jeff-speak), constantly on the move. His choice of hide-like Fiberskyn heads is no coincidence.
Jeff will soon be scouring for rare tones on a Yamaha Oak Custom kit. What attracted him to Yamaha oak drums was their hypersensitivity to hands and various striking implements. In addition, he finds that they yield more melodic tones, whereby he can approximate definite pitches. And if he puts muscle into them, as he must on Joshua Redman's gig, they will project effortlessly. Advertisement
Similarly, Ballard has completed round one of a collaboration with Zildjian master cymbalsmith Paul Francis, which has led the drummer to take three prototype cymbals on the road, ones that he finds similar to his old Ks, yet with an "open book" aspect he finds intriguing. During the factory visit, at one point Jeff lamented that if one particular bell were slightly altered, he'd be in heaven. Without batting an eye, Paul brought out a worn hammer, sat Jeff at an anvil, and directed, while Jeff clobbered out the bell of his dreams. For a guy who has spent so many years avoiding all that is modern, this act speaks volumes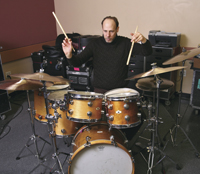 MD: You're from the San Francisco area–Santa Cruz. That would place you near Eddie Marshall's home ground. Did I read somewhere that you studied with him? I ask because I'm a Marshall fan going back to the [seminal pre-Bitches Brew] fusion band The Fourth Way.
Jeff: There was a connection. I went to a lesson with him. He was instrumental in my realizing how the drums can be played with four limbs. I saw the independence of his limbs at work. And at that time he had a bit of Tony Williams in his playing, and I was coming from a Tony stage. Advertisement
Eddie was an excellent teacher. He had the thing where he'd hit the cymbal right out of a flam on the snare, a sort of flam-crash, flam-bash! It was killing me, as were some of his other licks, like snare and hi-hat patterns. He'd always be imagining the perfect part, or what he could add to the music. Shelly Manne was similar. Donald Bailey was one of the most fearless musicians around. No one played the way he played. He kind of distilled something funky and flat-out. Kenny Clarke had some of that, and Billy Higgins also.
MD: I remember Donald's bass drum being really fat.
Jeff: From what I saw, he used this big ol' fluffy bass drum beater. The "shape" of his groove was fearless and relentless. Someone said it was like looking into a clothes dryer, where the stuff's tumbling around, and maybe a sneaker jumps past the window. Things are turbulent, but the hole in the middle is his groove. He gives the illusion of playing so many parts; it goes back to that idea of playing compositionally.
MD: In the area of more contemporary ride beats, as opposed to, say, Philly Joe, whose ride beat was more conventional….
Jeff: Why do you say that? That's curious to me, that you would say his beat was conventional.
MD: Maybe because he played a more conventional dotted ride beat, whereas you seem to be coming from a more squared-off, maybe even 8th-note-ride feel.
Jeff: To me, what you're saying doesn't define "modern." Almost every different "shape" of the quarter-note, 8th-note, or triplet helps define the beat. If Philly Joe's shape comes out a certain way in his ride beat, I don't necessarily think it's a definition for what is conventional. There are dangers in making the assumption that because it's part of a past tradition that it isn't contemporary. But I do think that the "codes" that are played–little functional phrases–do change with time. Tony, for one, really mixed it up. Advertisement
Read the rest of the interview with Jeff in the July 2007 issue of Modern Drummer magazine on sale now.