John Convertino of Calexico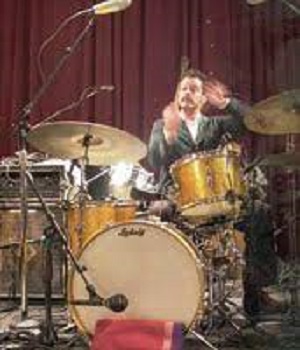 "I was actually trying to channel Charlie Watts on this record," laughs Calexico drummer John Convertino, explaining his M.O. while recording the critically acclaimed Tucson, Arizona band's latest album, Garden Ruin. While summoning the percussive energy of the Rolling Stones drum legend may not seem all that unusual, it is somewhat out of character for Convertino, a man better known for expansive, moody, brush-driven drumming than straightforward timekeeping.
"We wanted to streamline things this time out and make this record more song-oriented and less cinematic," says Convertino. And that's the first thing longtime fans notice about Garden Ruin: Missing are the dramatic Spaghetti Western and mariachi-style instrumentals that have become a staple of Calexico's albums and live shows. In their place are hooky, country-tinged pop songs.
Though Calexico is Convertino's number-one priority, his list of extracurricular credits has been growing steadily. Artists like Neko Case, Richard Buckner, and Iron And Wine's Sam Beam have been taken by the vintage drum enthusiast's playing and recruited him for recent records. Convertino recently logged a career highlight when Calexico recorded a tune with country legend Willie Nelson, an experience Convertino describes simply as, "Amazing." Advertisement
Last year saw the release of Ragland, a solo instrumental album featuring Convertino playing piano, vibes, and drums. "It was meant to be ambient wallpaper music," laughs the musician. "It's a little jarring, though, not quite as meditative as I'd hoped…guess I was getting some demons out."
Jon Wurster