Rich Beddoe of Finger Eleven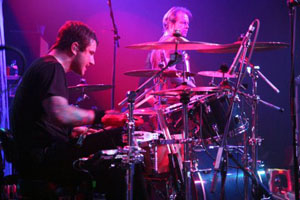 by Adam Budofsky
Four years after their gold-selling, self-titled third album, Finger Eleven's new one, Them Vs. You Vs. Me, finds dynamic lefty Rich Beddoe once again delivering the goods, with more multi-limb surprises and an even sharper ear for detail.
Though Rich Beddoe wasn't the original drummer with the group of childhood pals who made up Finger Eleven—as teenagers just out of high school they landed a record deal under the name Rainbow Butt Monkey—he did join up in time for F-11's debut, Tip. Heavy rock fans took to the band's smart, hooky sound, and a series of cool singles have kept them on the charts for the better part of the past decade. In fact, Finger Eleven is the first band to release a fourth album for Wind-Up Records—home of Evanescence and Seether, among other hot modern-rock properties.
Them Vs. You Vs. Me, featuring the hit "Paralyzer," finds Beddoe consistently complementing the band's sophisticated, evocative tunes with well-crafted drum parts, which he delivers with drama and accuracy, especially in the live setting. At a record-release event at New York's Mercury Lounge recently, Beddoe held his own against the twin-guitar histrionics of James Black and Rick Jackett—and impressive feat, as anyone who's seen the seen the group play can attest. Advertisement
MD Online spoke to Beddoe just as the band was about to join Evanescence for a stint on their national tour.
MD: Congratulations on the new album. The single "Paralyzer" seems to be everywhere.
Rich: Yeah, we're happy to have the album out, we worked so hard on it. We did the Tonight Show…it's been non-stop, just going and going.
MD: It's been about four years since the last album.
Rich: That sounds like a long time, but we toured for two years on that record, and then spent time writing and recording. But, yeah, it's been far too long.
MD: You're the first band on Wind-Up to put out their fourth album for the label.
Rich: Yeah, we're the veteran Wind-Up band now. It's crazy, ten years on and we're still here. Nobody has to work a day job, and we're doing what we love. So we're feeling very grateful and blessed for that.
MD: Some of these songs have been around in one form or another for years, correct?
Rich: We wrote so many songs for this record, about a hundred. The songs that made it to the record sort of started coming to light, and we did our own preproduction on them—some of them like three or four times. Drum-wise a lot of stuff changed. We're the kind of band where a drum part is secondary to a good song and arrangement. We try to look at the big picture. There are definitely moments where I might initially want to play more, but we always look at what is going to bring out the melody more.
MD: There are places where you could imagine a less mature drummer mucking up the arrangement by trying to play some attention-getting part. Rather, your beats seem to be so well tied to the structure of the songs. Advertisement
Rich: Cool, thanks a lot. That's really what I was going for. A great song is timeless, a fancy drum thing…I don't know how much it matters, unless you're a drummer. But I think you're right: Ten years ago I might not have thought that way.
MD: Even though you guys are, as you said, very song-oriented, you come up with some cool, complex parts. Do you enjoy finding fun ways to voice things around the kit?
Rich: I'm lucky to be in a band where we write interesting music and I'm able to play around a little. Especially with bass drum patterns, I like to find a part that will help the melody but also that's interesting for the listener, even if you're not a drummer. There are many ways to do that. Also, we're lucky to have a producer, Johnny K, who allows me to explore all those different paths. We were also lucky to have Arnold Lanni produce our first two records. He taught us a lot about melody and song structure, especially in terms of the drums. He encouraged us to explore many options.
I always try ten different variations on a verse or a chorus. You know when it's the right one, but you have to explore all the options, because sometimes something you'd never expect is the right part. I'll even try a double bass part for the chorus of a ballad. It could end up being the most horrible idea in the world, but I still think it's important to try it, and I think it makes me a better player to always be exploring. It's like practicing and working on a song at the same time. I've always been a fan of prog rock, and luckily I'm in a band where that type of approach complements the songs. Advertisement
MD: It's interesting that you mentioned progressive rock. As I was listening to the new album on the way to work, I thought about Genesis and how they were able to take a more song-oriented approach in the '80s and not lose what was interesting about them. Like Genesis, Finger Eleven has got strong pop hooks but also interesting and unexpected bridges, for instance. And it sounds like you spend a lot of time working up arrangements. Is that the case?
Rich: It's definitely the case, and I think Genesis is a great example. We're all super-huge Genesis fans. Phil Collins is one of my all-time favorite drummers. I think they're definitely an example of doing something interesting musically but still having songs and choruses and stuff that maybe a listener not normally into that type of music, or who isn't a drummer, can get. We definitely draw inspiration from Genesis—both with Peter Gabriel and with Phil Collins singing. I think you can hear it on the record too. I would never want to compare us to Genesis, but if we get anywhere near that kind of thing, I'd be thrilled.
MD: An obvious question here would be about being a lefty, something you and Phil Collins share.
Rich: When I was nine years old, I was drumming for about a year and my parents put me with a teacher, this guy named Jeff Salem. He was lefty, so that's the way the drums were set up. I didn't even know I was a left-handed drummer until years later, when I saw guys set up the other way. [laughs] Advertisement