Steve Asheim of Deicide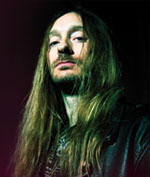 Death metal scene-leaders Deicide have been playing their intense music for seventeen years, first attracting major exposure with their self-titled debut album in 1990. The band's latest release, The Stench Of Redemption, has returned them to critical prominence, and drummer Steve Asheim was in jubilant form when Modern Drummer spoke to him recently.
First off, he's excited about his current drum setup. According to Steve, "I use a Yamaha Tour Custom kit with a 6 1/2×14 brass snare, three mounted toms–10″, 12″, and 13″–one 16″ floor tom, and two 22″ kicks. I'm now using the new Alpha series from Paiste, 14″ hi-hats, 2 – 16″ heavy/medium crashes, 17″, 18″, and 19″ crashes, and 16″, 18″, 20″, and 22″ China's.
Many death metal drummers employ triggers for a consistent live sound–but not Steve. "I use ddrum triggers on the kicks," he admits, "but not on the other drums–otherwise you just sound unnatural, like a machine." This particularly applies to Steve's trademark super-fast blast beats. As he says, "For the blast beats, timing is all important. Practice slowly and build up to full speed so you can insert fills and rolls. Keep your lower extremities loose, too. Kick back, breathe properly, and let the sticks do the work." Advertisement
Steve feels he learned from the best. "I was always a metal head," he laughs. "My influences back then were Clive Burr with Iron Maiden and Tommy Aldridge, who did amazing things with Ozzy Osbourne. And then when music started getting a little more extreme, I enjoyed Dan Beehler of Exciter, Gene Hoglan of Dark Angel, and, of course, Dave Lombardo of Slayer."
It's interesting to note that, like those drumming luminaries, Steve has no qualms about playing this extreme style of drumming when he reaches senior-citizen age: "If anything, moving your limbs as a drummer keeps them lubricated. Look at Buddy Rich: He was whaling the hell out of his drums until he was an old man. Although it wasn't metal music, he was doing blasts on the snare–he was a blastmaster!"
Joel McIver