Elton John's Nigel Olsson: That Classic Feel

by Robyn Flans
No one plays a pop song like Nigel Olsson, and his triumphant return to Elton John's band has allowed the veteran musician to inspire drummers all over again.
When news hit in the mid-'80s that Nigel Olsson was no longer playing drums with Elton John, the singer and drummer's fans were shocked. The drummer's name had practically become synonymous with Elton's music. Without a doubt, Nigel's impact on the pop star's music would be sorely missed.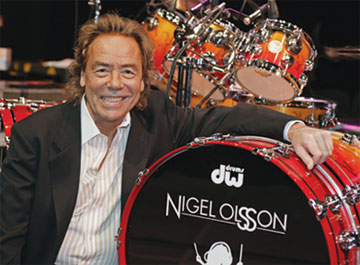 Going way back, Olsson's career before Elton showed promise. The untrained drummer (who learned by playing along with records) had been in a pop psychedelic unit called Plastic Penny, did a stint with The Spencer Davis Group (post–Steve Winwood), and even held the drum seat in Uriah Heep for a short while before he and bassist Dee Murray, along with Elton, formed the nucleus of The Elton John Band in 1970. Elton used studio musicians to record his first album, Empty Sky, although Olsson recorded one song on that album, "Lady What's Tomorrow." But then Olsson and band went on their first major tour with Elton, and a magical bond was set.
The power of this new musical unit was undeniable. When Elton hired Davey Johnstone on guitar, the group recorded a phenomenal run of hit singles and albums, including Honky Chateau, Don't Shoot Me I'm Only The Piano Player, Goodbye Yellow Brick Road, and Captain Fantastic And The Brown Dirt Cowboy. Advertisement
In 1975, after Captain Fantastic, Olsson and Elton went their separate ways for a few years. But by '80, Olsson was back in the fold and all was well. As is often the case, though, an artist craves new blood to inspire new creativity, and after a major world tour in 1984, Elton decided to let Olsson and Murray go. Sometimes the concept works, and sometimes there's something lacking. Most critics would agree that Elton's band was never the same until Olsson returned.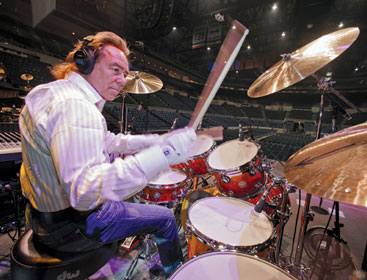 In 2000, when Elton finished his Disney project, The Road To El Dorado, Olsson got a much longed-for call asking if he would return. It was only to sing backgrounds on the promotional tour for that project, and although it felt strange not playing drums, Olsson was thrilled to be back. But it wasn't long before the drummer was back on his throne. With a non-stop touring schedule, Olsson these days is in top form, laying down the perfect pop groove that brought him to prominence in the '70s.
With a new album out, The Captain & The Kid, stated to be the sequel to Captain Fantastic And The Brown Dirt Cowboy, as well as a lengthy tour, it's obvious Nigel's third coming was meant to be. Touted as Elton's best work since his classic '70s projects, according to Olsson the recording felt similar to those magical days of yore. It seemed like a good time to walk down memory lane and to talk about some of those historic Elton John recordings. Advertisement
MD: What was the first big Elton John hit that you played on?
Nigel: Probably "Rocket Man." We recorded that at the Chateau outside Paris, and in those days it was just Elton, Dee Murray, and me. Davey Johnstone joined the band for that record as well. Before that it was just the three-piece along with [lyricist] Bernie Taupin, of course, who used to come on the road with us.
I think "Rocket Man" was the first or second take, and it was the first time I could go back in the studio to overdub tom-toms. Up 'til then, it was four-track. This was eight and sixteen. I was able to do a few things that we had never been able to do before on that record, and we had a lot of fun doing that stuff.
"Rocket Man" came out when the US was first sending astronauts to the Moon. NASA wanted to use the song for the space program, and we did actually get to go to NASA in Houston, which was very cool. Advertisement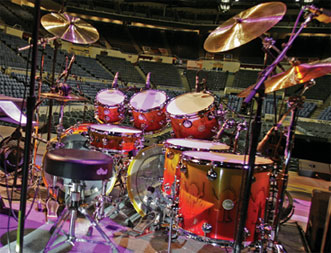 While recording at the Chateau, we lived there for a month. Elton would get the lyrics from Bernie, sit down and write the melody, and we'd be right there in the studio. So we were with those songs from their conception, which was the beauty of all of it.
MD: How was it presented? Bernie gave the lyrics to Elton, Elton sat down at the piano, and you guys just created along with him?
Nigel: Yes, and that's still how it's done. Most of those songs that were big, big hits were written in fifteen, twenty minutes.
MD: I think you once told me that "Daniel" was written in fifteen minutes and recorded in two hours.
Nigel: Yes. We still do stuff like that, although nowadays we use all that Pro Tools stuff, which I don't really like.
MD: When I think about your drumming, I think about "Daniel."
Nigel: My style of playing gelled with that song. I didn't want too many fills in it; it was about keeping the rhythm. There's a lot of hi-hat on that record, I remember. It was just a very easygoing tempo and a fantastic song. It was very inspirational.
I'm very inspired by songs like that. In fact, I like a big ballad more than something fast, like a "Crocodile Rock" or a "Saturday Night's Alright For Fighting." On those faster, heavier tunes, you're just bashing away. I always try to steer away from playing too much. I'm not a technical drummer at all. It all comes from my heart and my head. Advertisement
MD: You were out of Elton's band for a long time. Then, about five years ago, you returned to do background vocals. But how did you end up on drums?
Nigel: We were rehearsing for a show in New York, which was when Curt Bisquera was playing drums in the band. Curt actually said to Davey that there were songs like "Someone Saved My Life Tonight" that really should be played by me, and so Davey cleared it for me to play on some of the songs. And after that show, Davey called and asked me how my stamina was and if I thought I could get away with bashing away for a couple of hours like I used to. I said, "Yes. Why"? And he said Elton wanted me back.
MD: So Curt talked himself out of a job.
Nigel: He came to me after the fact and said, "I always knew you were the guy and the only one who could play those songs like they should be played." Curt was incredible, and he also introduced me to the guys at DW and helped me get that whole sponsorship going. Curt is part of the reason I'm back.
Elton did his first gig with me back on drums in Honolulu, and usually he comes off stage and immediately goes to change or get in a car. But that night he waited until I came off stage. He gave me a hug and said, "What was I thinking letting you go"? I was overwhelmed. Advertisement