Kaspar Rast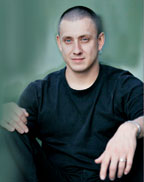 The versatile Kaspar Rast was born in Zurich, Switzerland in 1972, and has been playing drums since he was six years old. Rast trained at the famed JMS school in Zurich and at the Drummers Collective in New York City. His list of concerts and tours covers Europe, America, and South Africa. Playing drums and percussion, he's worked in exceptionally diverse musical formations and projects, both in performance and in the studio.
Rast's most visible international project to date is with his long-time friend and collaborator, keyboardist/composer Nik Bärtsch's band Ronin (www.nikbaertsch.com). The group just released its fourth album, Stoa, on the venerated ECM label.
Ronin's music is characterized by complex, interlocking patterns, modular constructions, repetitive motifs, and polymetric pulses. Bärtsch has described the music as "Zen funk." (Imagine James Brown jamming with Steve Reich.) Explains Rast, "Ronin sometimes works with emptiness, trying to create a musical haiku, if you will. This energy interplay is an important part of the group.
"When playing with Ronin," Rast continues, "one of the challenging things is that, due to all of the interlocking patterns, we have to be super tight from the first second on, otherwise it can't groove. It's almost a rhythmic balancing act, because the whole band is the groove. Ronin thinks differently. Sometimes we describe ourselves as a musical biosystem, because everything is so interrelated." Advertisement
On the group's previous album, Live, one of Rast's characteristic sounds is his cutting-edge snare drum's "poingk." "With Ronin, I can do so many things just focusing on my bass drum, hi-hat, and snare drum; the possibilities are infinite. I'll use the toms and cymbals to signal transitions. You may have a large vocabulary, but you may not want to use all those words all the time."
Robert Kaye