Thomas Pridgen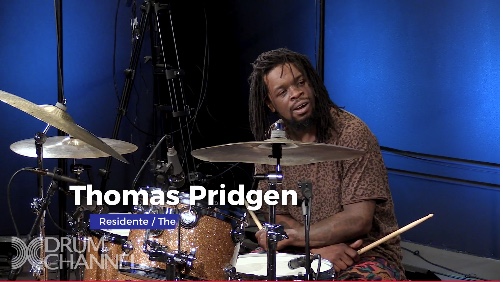 Just one listen to trumpeter Christian Scott's debut album, Rewind That (Concord Records), and you'll be looking to see who the drummer is. Although the name Thomas Pridgen may not be familiar to everyone yet, his deep feel and exceptional technique are certainly changing that. Fresh, sharp, fiery, syncopated, funky, and tasteful all at once, Pridgen's performance is one that begs repeated listens. Pridgen is also both drummer and music director for rising R&B star Keyshia Cole, as well as a seasoned Gospel drummer.
At just twenty-two, Pridgen has more drumming experience than most. Growing up in California, he began drumming at the age of three, made his first recording at eight, and won the Guitar Center DrumOff at nine. Displaying this early talent, it was Pridgen's grandmother who supported and nurtured his early talent. Pridgen adds also, "I learned a lot from the guys in church." Thomas would go on to record under the Gospel Music Workshop of America numerous times.
It was at Berklee that Pridgen befriended Christian Scott. "Making music people will listen to twenty years from now" was the goal in making Scott's album, Pridgen says. "I know how hot this music can be," he adds, stressing that his aim is to capture that sound. "It's important to be tasteful," Pridgen reminds. "You've got three minutes, and you can say something stupid or intelligent." Advertisement
A surprising mix of technique and enthusiasm, tempered by a deep respect for drummers he's learned from, informs Thomas Pridgen's drumming. With touring, a recent recording session with Eric Gale, and a new DVD out called Shed Sessionz that features Pridgen with Tony Royster Jr. and others in a Gospel jam, he's got a lot happening.
Martin Patmos