Jeff Hamilton: Swinging to Success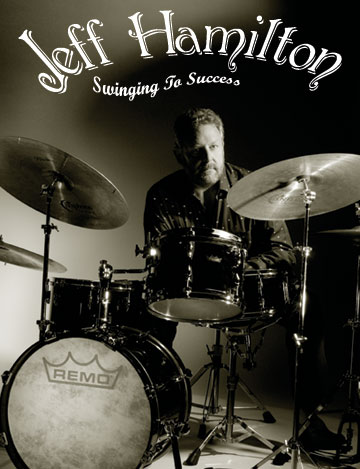 by Robyn Flans
Few jazz drummers have had careers as rewarding and successful as Jeff Hamilton's. And with several new releases and projects in the works–and an MD Readers Poll win–2006 may be one of his finest years yet.
The movie Field Of Dreams spouted the philosophy "If you build it, they will come." The more you listen to Jeff Hamilton talk, the more you understand that this philosophy is at the root of his musical life. If you build up experience and work at your craft, the music, and success, will come. The foundation must be built in order for the dream to be fulfilled. Hamilton's dream was jazz music.
Jeff Hamilton was born in Richmond, Indiana, and he began playing drums at age eight, spending the first five years just working on the snare drum. By the time he'd completed his studies at Indiana University, Jeff was ready to pursue a career in music. He had built the foundation, and now the artists would come. Advertisement
In 1974, he began playing with The New Tommy Dorsey Orchestra. Soon after he worked with Lionel Hampton's band, followed by a stint with The Monty Alexander Trio. A childhood dream was achieved in 1977 when he joined Woody Herman And The Thundering Herd, and the following year he was offered the drum seat vacated by Shelly Manne in the LA4, alongside Ray Brown, Bud Shank, and Laurindo Almeida. That group recorded six LPs, some of which featured Hamilton's arrangements and compositions.
From 1983 to 1987, Jeff performed with such prestigious artists as Ella Fitzgerald, The Count Basie Orchestra, Rosemary Clooney, and Monty Alexander, all the while recording countless albums with such luminaries as Mel Torme, Natalie Cole, Barbra Streisand, George Shearing, Lalo Schifrin, and Diana Krall. The following year he joined The Ray Brown Trio, with whom he worked until 1995, when he left to concentrate on his own trio and eventually The Clayton-Hamilton Jazz Orchestra.
Today Hamilton is very involved with artist Diana Krall, whose new album From This Moment On features The Clayton-Hamilton Jazz Orchestra. There are hopes for a tour to follow. Hamilton and Orchestra also appear on jazz-great John Pizzarelli's new release, Dear Mr. Sinatra. And Jeff's trio has a new disc out, From Studio 4, Cologne, Germany. One of last year's projects that Hamilton particularly enjoyed was playing on the set of the film Good Night And Good Luck, whose soundtrack won a Grammy. (To see a list of the hundreds of CDs Hamilton has recorded, check out his Web site, www.hamiltonjazz.com.) Advertisement
There is something to be said for two kinds of mindsets. There are some drummers who wish to do it all, and then there are those who spend their entire lives working at achieving mastery of one style. Hamilton never played anything but jazz. His love of the music and quest to be an expert at this style had him listening to jazz while his two older sisters were listening to The Beach Boys. He ate, slept, and drank jazz music. He jokes, "Of course, I was forty years old when I was born."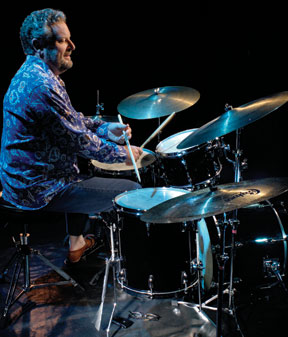 The Los Angeles Jazz Society recently named Jeff Hamilton and his musical partner, John Clayton, Musicians Of The Year for 2006. Jeff was also voted the number-one traditional jazz drummer in Modern Drummer's 2006 readers poll–all proving the philosophy, If you build it, they will come.
MD: Could you give us a lesson on brushes–a little elaboration on your brush "rules"–as if you were sitting here with a student?
Jeff: First of all, my favorite brush players use the left-hand traditional grip. Advertisement
MD: And who are they?
Jeff: Shelly Manne, Philly Joe Jones, Ed Thigpen, Vernell Fornier, and Papa Jo Jones. I'm not against matched-grip players playing brushes or teaching them. But I've found over the years that matched-grip players have switched to traditional grip when they study with me because it works better. That motion, where the fingers are moving toward each other, instead of down at the drum, makes sense for brushes. It's almost like your arms are resting on a table and you're bending your wrists inward so your fingers are pointing at each other. I think the left hand feels better for the sweeping motion than if you're moving your whole arm to get the sweep, which a lot of matched-grip brush players do.
The lateral motion–not striking directly down on the drum, but rather from the side–is something I really believe gives you that lush sound with the brushes. I don't like the sound of pressing down on the brush, unless you're doing it for an effect. When you're playing time, I don't think you should mash the wires into the head while you're making the circle. The lateral stroke allows you to drag the brush across the head and get a sound that Josh Freese described in Modern Drummer as being like pouring sand on a snare drum. That's the fine sound I want to hear.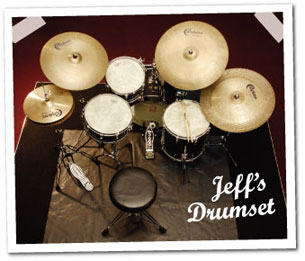 If you're playing rudimental ideas or anything that requires technique, I go back to my first drum teacher, who said, "Don't do the doggie paddle when you play a long roll. Your hand movement should be up and down. Let the sticks bounce straight up and down." He was right when he told me to do that with sticks. But with the lateral approach for brushes, you can doggie paddle and still get a long roll or any kind of rudiment you want, and it's not a stinging sound. It's a warmer, smoother sound. Advertisement
I play with my hands low to the head, but early on I didn't. Jake Hanna pointed that out to me when I was on Woody's band. He said, "Your left hand is too high." If your left hand is too high, only the tips of the wires will be on the head and you won't get a full brush sound. I think of pressing my arm down from the elbow so that my hands are almost laying on the drum. That's how low I keep them. When I go off the surface of the drum, my wrist actually drops below the drum, but the brushes are level with the head that way.
MD: What parts of your hands and arms are doing the work?
Jeff: I use my wrists and fingers. I don't use the elbow or the shoulder. It really bothers me to see people working too hard when they're playing brushes. I oftentimes say it's a motion with the wrists like when Moe of The Three Stooges was slapping Curly, just back and forth. Let the brush drop and bounce, instead of manufacturing the bounce with your elbow. Just release the fingers. In the right hand, the index and thumb are your fulcrum. Get all the other fingers out of the way, and let the brush drop and bounce. Do it coming from the side and you'll get a lush sound.
MD: Where do you play on the head's surface?
Jeff: I use the entire surface of the head when I play brushes. I don't just play in the middle. That gives you a big, full sound.