Harry Judd of McFly Interview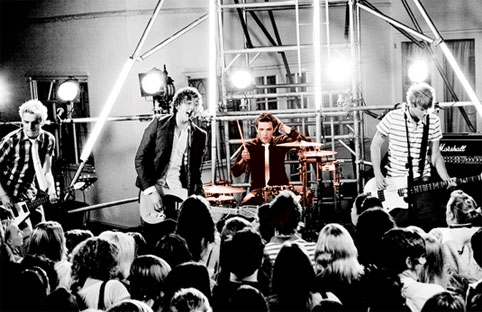 MD: When did you start playing drums?
Harry: I started when I was sixteen, so I've been playing for four years now. I tried playing guitar when I was fourteen, but the teacher was only teaching me nursery rhymes. But two of my friends had a three-piece punk band, and when their drummer left, I went down to where they rehearsed and there was a drumkit, so I just sat down and sort of started tapping the snare and bass drum. They were really good friends and they thought it would be cool if I played drums. [laughs]
I can't remember how many people were in my school, but out of like sixty or seventy people there were only one or two drummers. So, literally that night I emailed this guy I knew that played drums and I said, "Can you show me some things"? We used to have chapel on Sunday night, and just before chapel we would go up to this drum room and he's teach me beats. I got obsessed quickly and I practiced a lot. But I spent the first year teaching myself, and just listening to music and trying to copy it. It wasn't until I started proper lessons that I improved.
MD: Did you play along to records?
Harry: Yeah, sometimes, but mostly I'd just play the drums. And I used to go out and play with this band. Then later I joined another band at school where we started playing Red Hot Chili Peppers songs. At first it was kind of punk, just simple stuff, and then we started playing Rage Against The Machine, more of that kind of thing. I really enjoyed it. I have to admit, up until then I wasn't very disciplined. I lived in a flat in London, and it was hard because I couldn't have a drumkit, so I had an electronic kit, but I don't find that to be the best thing to only practice on. Now I might sit in front of the TV just tap on a pillow for three or four hours. Advertisement
MD: Can you read music?
Harry: No, I've never read drum music. I have a slight idea when I look at it, like, Okay, that's the hi-hat. But I can't sight-read.
Often kids say, I really want to play the drums, but then they get bored because their teacher teaches them really boring stuff. That's what happened to me with the guitar. I wanted to start off rocking out.
I can teach a beginner some beats, and I find enjoyment in that. I always think that one day, hopefully, I'll get to a point where I can be someone's mentor. I love to teach people. Even at school, after I'd been playing, there was a friend of mine who I would show stuff to. I wasn't the best teacher in the world, but I really enjoyed it. Recently I met this guy through a friend who just came out of Music College, studying jazz drumming. When we were rehearsing, he came over and we played for a few of hours, and he was breaking it all down for me. Since then I've been able to understand a little bit more.
MD: Who were some of your influences?
Harry: Before I played it would just be the melody of a song that would catch my attention. After I started to play, whenever I would go and see a show I would watch the drummer more. Travis Barker with Blink 182—I was a big fan of his. He's phenomenal…. Chad Smith I love—also John Bonham, and I enjoy Ringo Starr's drumming. Advertisement
MD: Your band has some Beatles influence. How does it feel to break a Beatles chart record? Do you understand the impact of that here in America?
Harry: Yeah, I know. It's weird. It is an honor and it's amazing, but the thing is you want to be careful, because when they say that…
MD: …It's almost a curse and hard to live up to.
Harry: Exactly. And the thing is, when we go places and do a TV show, or radio, they present us like, "The biggest phenomenon in England since the Beatles!" and it's like, "Oh, man." And then we find ourselves putting ourselves down, saying, "We're not as good as them." It's ridiculous. You shouldn't be compared to other successful bands.
MD: You've accomplished a lot, though—two number-1 records in England, a few Brit Awards, the movie with Lindsay Lohan. I'm happy to hear that you write your own songs, and you seem very tight as a band. Is it hard to balance everything?
Harry: It's hard trying to position yourself. Do you kind of insist, "Hey we're a rock band," or the stick to the image of trying to capture a very young audience? We're still young looking guys, so we're not going to appeal to guys our age or older. So it's a hard one. Advertisement
MD: And you want to grow with your audience.
Harry: You do…and the thing that's frustrating is that we've been out in England for two and a half years now, and people still think we don't write our songs or play our own instruments. And every time we do a live show people are always coming up and going, "I can't believe you guys actually play."
MD: How did the whole thing come about with the movie?
Harry: I think the director was looking for a band for the film, and he happened to come to England when we had a number-1 single.
MD: How did the band come together?
Harry: Our guitarist and singer, Tom, auditioned for a band called Busted, who had huge success in England. They were the first pop boy-band with guitars, and Tom got in. They were going to be a four-piece band, but at the last minute they decided to be a three-piece. So Tom was in the band for twenty-four hours and then politely got asked to leave. But the management stuck with him because they believed in him.
So Tom started writing songs, and became close friends with one of the guys in Busted. He used to go around with them on tour, and the whole time the manager was saying, "Look, Tom, we're going to get you a band." At the same time, the management was auditioning for another band, which Danny, our other guitarist and singer, turned up to. He wasn't right for the band he was auditioning for, but management introduced Tom and Danny, and they got along well and basically wrote an album together. They started showcasing the songs to record companies and got offered deals by pretty much everyone who saw them. They eventually signed up with Universal/Island and then held auditions for a drummer and bass player. Advertisement
MD: What were you doing at this point?
Harry: I was at school doing my exams and playing in bands. This guy Josh, who was in my first band, had been going down to London like Charlie, trying to get in a band. While he was there he met our management, and they said, "Sorry, we aren't looking to manage anyone at the moment, but do you know any drummers or bass players"? So he rang me up at school and was like, "Dude, you should audition…." So I did.
MD: Did you leave school at that point?
Harry: Yeah, I was seventeen. It was just coming to the end of the summer term, and I had to make a decision.
MD: Were your parents supportive?
Harry: Yes. I went to private school, so obviously my dad had invested a lot in my education and wanted me to get good qualifications. But whether it was sports or music, I'd always loved performing. I'd only been playing drums for a year and a half, so I wasn't experienced. But I just knew. Dad wanted me to stay in school, but I just gave a little speech and said, "Please just give me this chance."
MD: Are your parents happy with how it turned out?
Harry: They are very happy. [laughs]
MD: Do you see a difference between English and American drummers?
Harry: Good question… I think so. At the moment in England, all the bands that are coming out are real indie, and every drummer's got a snare, bass drum, maybe a floor tom, a hi-hat, and one crash. I know it doesn't matter how much gear you've got, but they've got that really weird kind of style—this kind of edgy, indie sound. I'm just not into that. Basically a lot of the English bands at the moment are kind of safe. But there are some English bands that imitate the cool American Emo bands, which I love the best. For instance, the drummer in The Arctic Monkeys has some cool beats, but it's not like someone like Chad Smith, who's got a really solid groove. I also like Dashboard Confessional, with Mike Marsh. I really like his drumming. It's got a real kind of structure to it and a real individual sound. When we're making a record, I like to structure it. Advertisement
MD: I like the way your song "I've Got You" goes back and forth between the verses to the chorus; it's structured well.
Harry: I think that's important. It's a dynamic chorus and then for the verse the song drops down. I tried it on the ride, but I just thought it was a bit tighter and nicer on the hi-hats. The bass line was quite minimal, so there's not much bass drum in the verse. With that song, we went into rehearsals for about a week for pre-production and then recorded it in New Orleans, with producer Hugh Padgham.
MD: Was that song written around the drums, or did you hear the song first?
Harry: I heard the song first—it was written by Tom and Danny with Graham Gouldman of 10cc.
MD: Any favorite tracks to play live?
Harry: I enjoy "Too Close For Comfort." That's a very hard one to play
MD: Any advice for someone who wants to follow in your footsteps?
Harry: Geez, that's a hard one, because I was just lucky. I think the main thing is hard work and practice, and you've got to really want it and be committed to it. I see a lot of bands now that have potential, and they'll come to me and say, "Can you listen to my demo"? Most of the time I think it's good, but often they need to write more and get better songs and just get better as musicians. But people are really impatient. They want to do it now. But you've got to want it for the right reasons. Young kids have to be aware that it may seem all glamorous and really cool to be famous, but there can be a lot of pressure. People are constantly looking at you, and it's hard. You don't have to be famous to be successful. You don't have to have fame to feel like you've achieved something. The main enjoyment I get out of all the success is the shows that we play or recording an album. It's all about the music.
For more on McFly, visit their Web site, www.mcflyofficial.com.