Joe Morello: Revisiting A Master

By John Riley
In the '50s and '60s, jazz groups had plenty of work. Most would do location gigs of two to nine weeks in a club before they would move to the next club in another city. This meant that work, and visibility, were plentiful for drummers.
Legends were made or extended in the era: Buddy Rich, Max Roach, Louie Bellson, Roy Haynes, Shelly Manne, Philly Joe Jones, Elvin Jones, Tony Williams, and Jack DeJohnette, among many others, were playing great music all over the place.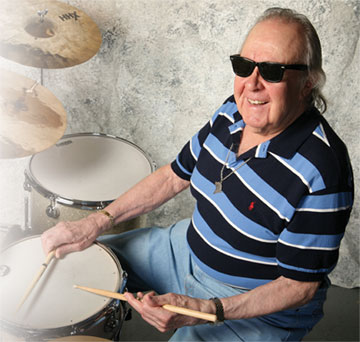 Jazz songs were climbing up the pop charts and musicians were personalities. Music magazines around the world chronicled the comings and goings of the bands and published annual popularity polls of musicians just like Entertainment Tonight does today for movie and music stars.
The Dave Brubeck Quartet was the most popular jazz group of that time. "Take Five," featuring a drum solo by Joe Morello, was a million-seller. This group toured the world playing concerts instead of location club gigs. I can't think of one jazz group today that approaches the level of worldwide recognition that Brubeck's quartet enjoyed in their day. To a great extent, people went especially to hear the virtuosic and musical drumming of Joe Morello. Joe achieved the unprecedented when he won all of the international jazz polls–and repeated the feat several years in a row. Advertisement
The Brubeck quartet disbanded in 1967, a time when popular music was in a great transition. Since then Joe has kept a lower performance profile but has been a very active teacher, sought out by professionals and beginners alike from around the world. Joe's amazing execution, thorough, proven methods–based on the teachings of George Lawrence Stone, Sanford Moeller, and Billy Gladstone–and engaging personality make him a font of knowledge and a joy to study with.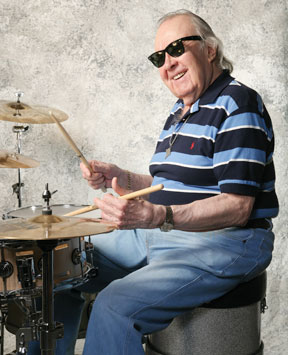 Today, at age seventy-eight, Joe is still playing great. He's also still growing. His new book, Master Studies II, points the way to the drumming innovations of tomorrow.
I recently had the pleasure of sitting down with Joe, my old teacher, and discuss where it all came from and where his new book is taking it.
John: You studied with George Lawrence Stone. Can you give me a synopsis of his approach to teaching?
Joe: Stone taught that everything should involve natural body movements. You have to learn the way your body works. Everybody else had some cockamamie story that the hands should be up in the air, or the elbows should be in, or the elbows should be out. But Stone said your playing should be natural, as if you brought your hands up from hanging at your side. Advertisement
Sefcik [Joe's first teacher] gave me a good start, but Stone took me a little further. We went through the rudiments and Stick Control, Podemski, and a book by Simon Sternberg. I remember Joe Raiche and I used to go together to study with Stone. The trouble with Stone's Stick Control is that there's not one accent in the book, and it never tells you what to play or how to play it, so people get bored.
When I was studying with Stone, I started to add accents and make variations based on the swinging phrases I heard Krupa play. One time on the bus to Boston, I showed Joe Raiche the stuff I was doing, like playing these vamps with accents in one hand and playing with the right hand against it. Joe said, "Oh man, the old man [Stone] is not going to like that." Later Stone came out with his book, Accents And Rebounds, where he's doing all of that stuff. Stone said, "I wrote this because this is the material you like to play."
Stone was a great teacher and the nicest man to work with. If I did something dumb he'd say, "You know…um…did you notice something wrong"? I knew I'd done something wrong, but he had a great way of teaching. It was worth the three-hour bus trip down to Boston. Advertisement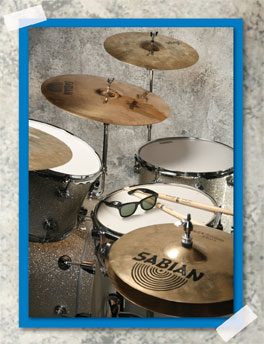 You know, because of my poor vision, I didn't think that I ever could do anything with drumming. I couldn't drive or get around that easily, so I used to stay home and practice a lot. I couldn't go out and play football, baseball, and such, so I'd practice. The more I got into it, and started listening….
I'll never forget this one time, Gene Krupa was playing at the Hartford Theater, and afterwards I came home and said, "Gee, I can do that same thing." So I went and did a single stroke. [sings] You know when you're a kid, "I can do that."
And then I heard Buddy Rich. I thought that it was interesting the way he played "Opus One." He did a thing with his left hand and I thought, "Geez, how does that work?" So I figured that out myself. I thought that was brilliant. Advertisement
Anyway, I knew Phil Woods and Sal Salvador from Springfield, and they had moved down to New York. They said, "You've got to come down to the Apple, man." So I said, "Fine." I'd been working in hotel bands. I became pretty well-known in Springfield when I was sixteen or seventeen. It came easy to me.
John: As you moved to New York, what was your dream?
Joe: When I started playing professionally, I always liked to play with dynamics, and not do the world's fastest thing. That was intriguing, but I was always into playing more melodically. That's why I was influenced by Max Roach. Buddy Rich and Gene Krupa were raising hell on the drums. But to me, sometimes that's like going to the circus. I wanted to do something else.