Rock N Roll Fantasy Camp 2006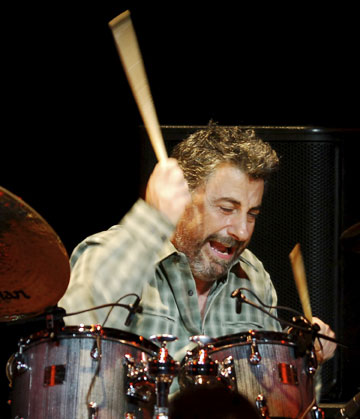 By Billy Amendola
I'll start by saying, What an amazing five days I recently had—Rock 'N' Roll Fantasy Camp promoter David Fishof is a genius! This past August 13–17, I was invited to the sixth Camp in New York City; my second as a guest and my first as a Battle Of The Bands judge, along with the lovely May Pang, Eddie 'O of Twisted Sister, record executive Michael Klenfner, agent/manager Wayne Forte, and William Morris Agency's Kenny DiCamillio. In case you haven't heard, for $8,500, musicians can be a part of the unique Rock 'N' Roll Fantasy Camp experience, where you live, eat, breathe, and play music with some of the most famous rock stars in history, 24/7, over five days and nights.
This year campers traveled (some for their third and fourth visit) from near and far to join a band, rehearse all week with their assigned "rock star" counselors, and then play a live concert at B.B King's in Times Square, on the last night of this magic carpet ride.
According to drummer/camper John Smalley, "It was a fabulous experience. The process of starting with people with disparate musical tastes that you've never met and being melded into a cohesive whole in just a few days was highly educational. I never realized how hard work rock 'n' roll can be. We put in long hours, but everybody was focused on the same goals and willing to do whatever it took to make it work. And the idea of building an original track and recording it at Sirius studios, as well as performing at B.B. King's in front of the crowd, was an unbelievable thrill." Advertisement
John was hitting the skins in Night Ranger drummer/lead vocalist Kelly Keagy's band, Mad Crackers. "All the counselors were fabulous and easy to get along with," he continues, "despite their stature in the business. At first, I had a little trepidation about being assigned to a drummer/counselor. But as soon as we started working together, I realized Kelly was a sweetheart. He was always totally diplomatic to everyone in the band, while consistently offering constructive suggestions and critical arrangement ideas. One minute he'd pick up a guitar and suggest a different style of playing a particular passage, and the next minute he'd do the same with the bass. He gave me a few suggestions on drums, but no more than he was giving everybody else. He never criticized my weaknesses, but he did reinforce my strengths and kept me focused on them. He's not only a terrific drummer, but also a hell of a nice guy. Talk about a star with no attitude!"
Special guest drummers in performance and master-class settings included Bruce Springsteen/Conan O'Brien kit man Max Weinberg, The Band's Levon Helm (whose singing and playing was sensational), and surprise visits by the legendary Carmine Appice and Joe Franco. Additional counselors included session and touring drummer Sandy Gennaro, who played with bass player and ex-Monkee Peter Tork for their band Grizelda. Later Sandy played an amazing set at B.B.'s with the all-star jam, featuring Mark Farner of Grand Funk Railroad. The great Bad Company and Free drummer Simon Kirke returned to the camp to give an insightful and educational master-class, and later led his band, Misstified, which featured camp drummer Shelly Krauss. Simon also performed an amazing set with guest guitarist Joe Satriani and camp counselor Kip Winger on bass. (Backstage Kip played me tracks from the new Winger CD, which features Rod Morgenstien playing his ass off. Look out for the CD in the fall, as well as a new one by Kelly Keagy, I'm Alive. Kelly not only shines on drums, his vocals and songwriting are outstanding as well. Standing ovation to both amazing talents!)
Though I'm only filling you in on the drumming highlights of the camp, I have to tell you, it's an amazing place for any musician to be. You even have road managers, security, and drivers (thanks Bill Burns), as well as master classes, which this year included Ringo Starr's Gary Burr on songwriting tips, vocal and bass classes with Kip Winger, classes and late-night jams with counselors such as KISS's Bruce Kulick, The Doobie Brothers' Jeff "Skunk" Baxter, multi-instrumentalist Teddy Andreadis, Great White's Michael Lardie, Boston's Barry Goudreau, Slaughter's Mark Slaughter, George Thorogood, Dr. John, ex–Allman Brother Dickey Betts, Twisted Sister's Dee Snider, Yes's Jon Anderson, and the incredible Spencer Davis. Also sitting in with the bands was the CBS Orchestra's horn section—Bones Malone, Al Chez, and Bruce Kapler. Advertisement
MD Online spoke to a few of the camper/drummers who attended, to get their thoughts on the unique event. "The camp was nothing short of awesome," says Steve Duva, who played in Bruce Kulick's band, Hell's Kitchen. "I had the time of my life, and I can't wait for the next one. I still feel the buzz and the energy of those five days."
According to camper Howie Gordon, "All the musicians were tremendously supportive—counselors and campers alike. Administratively the camp was run first-class. From the outset with Max Weinberg's session, to the master class taught by Simon Kirke, the main concept I took away from a drummer's perspective was to support the song without dominating it. I tried to follow that lead in Mark Slaughter's band S.B.A.B.A.C.O."
"RRFC was unbelievable!" exclaims Tim Herr, camp drummer for Michael Lardie's band, Inch Of 50s. "I'm an ear, nose, and throat surgeon, but I've played drums for twenty-two years. For several years I was tied up with school and work, and I didn't get to practice and progress as much as I would have liked. But over the past several years, I've been much more active with my drumming, and the camp was a great way to work with famous drummers as well as some very good campers. As a relatively straight-ahead drummer, I really appreciated the lineup of Simon Kirke, Kelly Keagy, and Max Weinberg." Advertisement
One of the many highlights for me personally was a talented sixteen-year-old drummer from Kansas City, Missouri named George Schmitz, who came to the camp with his dad, John. (John played guitar in Barry Goudreau's Hudson River Band, featuring camp drummer Jim Latham.) George inspired just about everyone at the camp, and I believe he's someone we'll be hearing a lot of in the near future. "R&R Fantasy Camp was one of the most important things I've ever did in my life," George enthused. "I loved every minute of it. Billy Amendola and his son, Matty, were very genuine and made me feel right at home. They also both made me work hard at the camp, and getting to jam with Matty was awesome. He's an incredible drummer and I wish him the best of luck. I've never made so many friends and contacts in such a short time."
George impressed campers at auditions on the first day. "I arrived late, and almost everybody had auditioned," George recalls. "They asked me what song I wanted to play and I chose 'Rock And Roll' by Led Zeppelin. So I sit down at the set to get comfortable, and to my left is Jeff "Skunk" Baxter, in front of him was Kip Winger, and in front of him an entire full audience. And just as we were about to start, Max Weinberg walks out from the back of the room. It was all or nothing. My nerves eased when I saw Kelly Keagy screaming and pointing at me. Within the first hour of my being there, the camp had already passed my expectations, and it only got better. Later that evening, during Max's clinic, he touched on the subject of John Bonham and said, 'Oh, and give it up for the kid who played the Bonham song today.' At that point I could have left the camp and been completely satisfied. But later that week I got the chance to teach at Kelly's clinic, have Simon Kirke walk in on me and Matty jamming together, show my studio tracks to Barry and Kelly, jam in a band with John Bello (the Sobe Lizard King), and meet many people who I'll remember forever. And being in the band that won the Battle Of The Bands (Beauty & The Beasts) was just unbelievable! Everyone treated me like an adult, and my camp counselor, Jeff Baxter, was an unbelievable inspiration. Hopefully I'll see some of you at the February camp; until then I won't stop practicing. After this experience I concluded that music is my destiny, and I need to start working harder at it. I hope one day it pays off. I want to thank David Fishof and everyone involved for the greatest time of my life!"
Special thanks to all the camp drummers, Alan Jenkins, John Resk, Bill Vonbehren, Paul Winkler,and Richard Rudy, and everyone who worked behind the scenes, as well as to host Lynn Hoffman from VH1 Classics, who did a wonderful job all week, along with NYC's finest deejays, Q104's Ken Dashow and Maria Melito. Advertisement
For photos of this year's Rock 'N' Roll Fantasy Camp, check out Fantasy Camp06, and for more information on upcoming camps, and additional photos go to www.rockandrollfantasycamp.com.