Lamb of God's Chris Adler: More Than Meets The Eye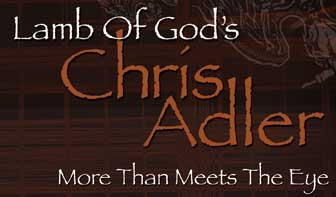 by Michael Dawson
Last year, Modern Drummer Festival attendees learned what legions of devoted heavy metal fans have known for years: There's something special about Lamb Of God's drummer, Chris Adler. Not only has he pushed metal drumming's trifecta of speed, power, and precision to new heights, he also brings a level of creativity and intelligence to the music that places him at the head of the pack. No, he's not the fastest drummer on two feet. And he's not going to "wow" you with amazing fifteen-minute drum solos. But when you dig in and take a closer look at what Adler and Lamb Of God are doing, you'll find some of the most interesting, powerful, and perfectly executed music in metal.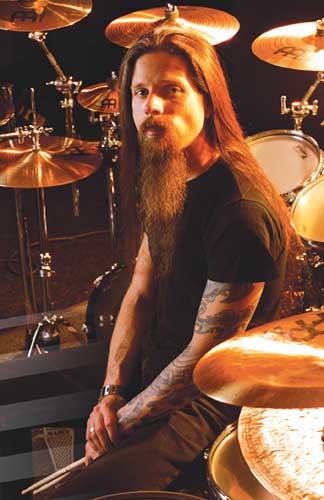 Before they became the new millennium's figurehead for American metal, Adler and company were like many other young bands in the tight-knit Richmond, Virginia music scene. Says Chris, "We were just drinking buddies, traveling around in a van, seeing how much trouble we could get into." But after a few years of beating the scene, things started to take off. Under the moniker Burn The Priest, the band released a self-titled full-length in 1999. "We put the album out on a very small label in Philadelphia," Chris recalls. "And the initial pressing of 2,500 went very quickly. We then posted the songs on mp3.com, where they got a huge amount of attention. That's what eventually convinced Prosthetic Records to sign us for New American Gospel."
While Burn The Priest boasted some of the most pummeling drumming in the group's catalog [see the Off The Record sidebar], it was their 2000 release New American Gospel–as Lamb Of God–that had post-Pantera metal freaks foaming at the mouth. This was the record that introduced the metal drumming community to Chris's signature pistol-pop snare, quick-triggered double bass prowess, and unexpected riffs. Advertisement
Since then, Lamb Of God has made their mark on the road, touring for the better part of the past six years with other major metal artists like Slipknot and Shadows Fall, or on their own headlining shows. They also traveled around the country as a part of Ozzfest 2004 and MTV's Headbanger's Ball tour. Along the way two more albums, 2003's As The Palaces Burn and 2004's major-label debut Ashes Of The Wake, and two documentary DVDs, Terror And Hubris and Killadelphia, were released, further elevating the band's status. (For a great primer on Chris' inventive drumming, check out his entire performance at the Adler + Bittner Live At Modern Drummer Festival 2005, now available on DVD.) This past year, Lamb Of God returned home to Richmond to prepare their sophomore release for Epic Records, Sacrament. We caught up with Chris as the band was finishing up the record and in the midst of daylong rehearsals for an upcoming tour with thrash metal legends Slayer.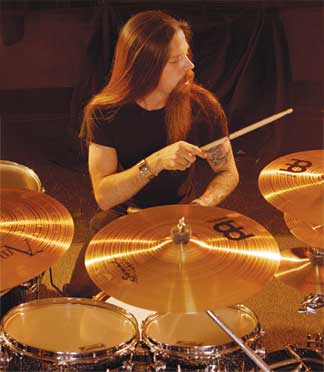 MD: What's the musical direction on Sacrament?
Chris: It's still very Lamb Of God. The difference this time is that we have more experience in the whole circle of writing, recording, touring, and everything else, so we were able to do more of what we've always wanted to do.
MD: What's the writing process like? Do the guitar riffs come first?
Chris: It varies. But 80 to 90 percent of the time, the guitar riff comes first. One of the guys will be like, "Hey, I've got this part that leads into this, but I'm lost after that." That's where I jump in. I'm kind of the "arrangement guy." But occasionally I'll come up with a cool beat that we can design a riff around. Those usually become a breakdown section where we lock into a heavy, rhythmic part. Advertisement
MD: Lamb Of God doesn't use standard verse/chorus arrangements. What's your process for arranging songs?
Chris: There isn't a process other than not wanting to be conventional, while at the same time marrying things that make sense to us. We purposely set out to make things interesting for the listener and for ourselves. If we're going to take this material on the road and play it for the next year and a half, we don't want to be sleepwalking through the set. We want to challenge ourselves, and we want to challenge the listener to understand what we're going for.
MD: Is there room for you to improvise within your parts?
Chris: There's not a lot of room for improv in what we're doing. When I went to see heavy metal bands growing up, I wanted to hear them pull off what was on the record because I couldn't believe that they did it to begin with. Maybe other people think differently, but I don't want to go out there and change the part that's on the record.
But there are times when I do add things, like when we play songs from our older records. I may add a double bass part if there wasn't one on the record, but I'm not going to change the basic rhythms. Once it's on the album, we've already tried it a bunch of different ways, and that's the part that fits best. Advertisement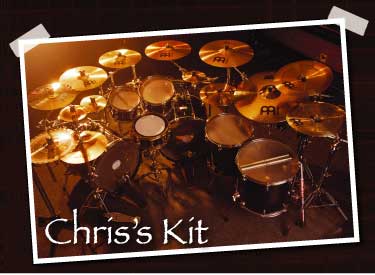 MD: Do you play any differently in the studio versus live?
Chris: There's probably not as many stick twirls in the studio. [laughs] When you track the drums separately from the guitars and vocals, you tend to lose a lot of power and emotion in the song. And when everything's lined up to a click track, you can lose the vibe. So I try to come into our sessions a little more hyped up than I would for a live show, because I know that everything that I put into it is going to come out through the mics. It's not just about how I tune my snare and toms. It's about how I played, including those little variations and small wavers off of the click track that I purposely don't fix.
When I was coming up, as soon as I knew there was a studio date, I would focus on nailing everything perfectly. It became an obsession. I practiced my parts a million times to make sure that I'd get a perfect take. Now when I go in, it's totally flipped around. I just go nuts. Of course I have parts that I want to play and I want to get great takes, but I'm not focused on playing it perfectly. I want to play emotionally. Then we can use the best parts from all of the takes to make the songs come alive.