Dave Lombardo: Return Of The King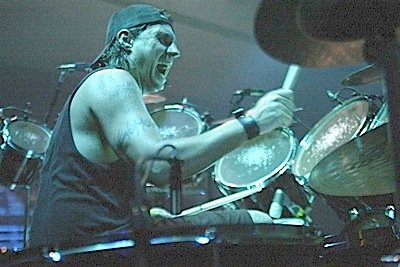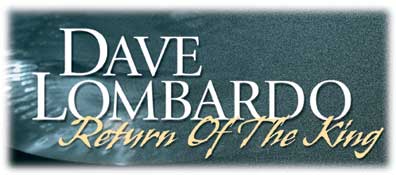 (September 2006 Issue)
by Waleed Rashidi
Instead of waxing poetic about what metal drumming living legend Dave Lombardo does behind the kit–you know, those punishing 16th-note kicks at rapid-fire tempos, incredible runs across his half-dozen rack toms, spastic patterns, and awe-inspiring phrases–it might be better to start off telling you what Lombardo doesn't do.
First off, he doesn't practice…much. "The only time I practice is when I'm with the band. I should practice more, but I don't," Lombardo slyly admits during our spirited, in-depth conversation at the Modern Drummer cover shoot in Los Angeles.
Throughout our discussion, we discover another drumming routine Lombardo doesn't participate in–warming up before a show. "I'll crawl out of my bunk, slam a couple of Red Bulls, stretch a little bit, and I'm on stage," he says. No practice pad, no paradiddles, not even an air drumming session required.
It's hard to believe that one of the most important drummers of the last quarter century doesn't practice or warm up. How can someone play so creatively with so little forethought? And when you think about Lombardo's long list of outstanding recordings–many made before the advent of digital editing–including Slayer's quintessential Reign In Blood, there's no denying this man's astonishing talent. More recent killer recordings demonstrating Dave's abilities include Fantomas's Delirium Cordia and his collaboration with DJ Spooky, Drums Of Death. Advertisement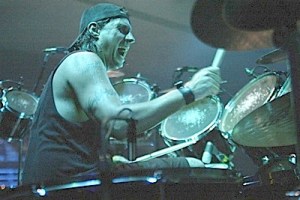 Lombardo's success springs from his wildly spontaneous methodology. But also credit his relentless vitality, his glowing enthusiasm for his craft, and his keen ear for a host of styles and fresh ideas. These have all have led the forty-one-year-old father of three down a career path that, with the release of this year's Slayer album, brings him completely full circle.
As the original drummer in Slayer, Lombardo built his reputation via a host of well-orchestrated albums, including 1983's Show No Mercy and 1990's Seasons In The Abyss. On those recordings Dave shattered tempo barriers and furthered double bass drum technique. Launching his recording career while still in high school in South Gate, California, Lombardo, together with vocalist/bassist Tom Araya and guitarists Kerry King and Jeff Hanneman, helped build Slayer into a flagship unit of punk-influenced speed metal and thrash.
Lombardo's stint with the act ended in 1992, but the drumming great did not remain idle. He performed with Grip Inc. and Philm, and more recently recorded and toured with Fantomas, featuring Faith No More's Mike Patton and members off The Melvins. Then, when Lombardo's replacement in Slayer, Paul Bostaph, vacated the throne in 2001, Dave was asked to temporarily re-join the act. Advertisement
"It felt like no time was lost," insists Lombardo about his re-entry. "What was odd for me was being on stage and seeing those three guys in front of me. It was like, 'Whoa, this is really weird. Is this some kind of dream?'"
Without a doubt, Slayer devotees were ecstatic about Lombardo's return to the band. But would he remain in the band? Well, after that first tour, all parties agreed that Dave should indeed stay.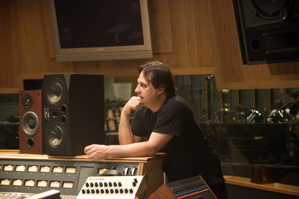 Though Lombardo's been back in the band for over four years now, 2006 marks his recorded return to the lineup. For fans of this double-bass drumming giant, who has inspired literally generations of drummers from a variety of genres–including some as prominent as Dave Grohl–it couldn't have come any sooner.
MD: What are some of the qualities of a good metal drummer–or any drummer, for that matter?
Dave: Uniqueness. Also, the drummer's contribution to the sound of their band. There are thousands of drummers who can go crazy soloing and playing ambidextrous rhythms, but all of that makes no sense to me unless it's in a musical context. Fine, you can solo forever, but can you work with the musicians?
MD: Are there any particular drummers you like whose names might surprise us?
Dave: Well, Dave Grohl is amazing to me. When I first heard his drumming, of course, it was with Nirvana. I was just floored because it was straightforward, but he somehow played in a way that really delivered the message of the music. I'm also blown away that he could leave the drum stool, pick up a guitar, and front a band. That is inspiring to me. I would love to do that. I play a little guitar, but nothing to his extent. I'd also love to work with Dave someday. I think it could be interesting musically.
MD: I interviewed Dave a few years ago, and he mentioned that he loves your playing and that he'd been listening to you since 1984's Haunting The Chapel.
Dave: Really? I didn't know that.
MD: Are there any other drummers you find inspiring? Advertisement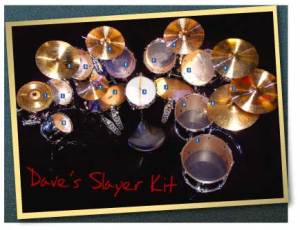 Dave: There's a band that has blown me away called The Locust. I get goose bumps when I think of them. I remember them on stage, every night, making their noise–a perfect noise. It's music on another level. And their drummer, Gabe Serbian, is phenomenal.
I also like Dale Crover of The Melvins. That guy hits hard. I was on stage with him recently, in The Fantomas/Melvins Big Band. The odd-time stuff that he does confused me at first, and it took me some time to get it down. Speaking of Dave Grohl, Dale Crover, and Gabe Serbian, all play four-piece drumsets, and I'm impressed to hear how many sounds they can get out of a small kit.
Other drummers I've been enjoying lately are John Dolmayan from System Of A Down and Joey Jordison of Slipknot. I've toured with these guys and seen them play quite a bit. The musical contributions they make to their bands is huge.
MD: So you've influenced drummers who are now influencing you. What's going on here?
Dave: It's because I'm still listening to music. I listen to everything. I'm not in a closet engulfed by myself. I listen to what other people have done or are doing, and that in turn keeps me on my toes.
MD: What are you most proud of on the new Slayer album?
Dave: The thing I'm most proud of is the fact that I'm working again with my "alma mater." As for the record, the fact that I'm back doing all of the double bass stuff and playing the extended fills takes me back to when I was a kid. I was seventeen when I got into this band, barely out of high school. That said, I'm very proud to be recording and performing with these guys again.