Drummers, Feature Stories, Update
Vinnie Paul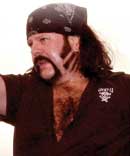 As the drummer for two now classic metal acts, Pantera and Damageplan, Vinnie Paul has clearly leaned toward the heavier side of the rock spectrum. With his latest project, Rebel Meets Rebel, featuring vocalist David Allan Coe, bassist Rex Brown, and Vinnie's late brother, Dimebag Darrell, on guitar, Vinnie is certainly maintaining ground he's covered in the past.
But listen a little closer and you'll discover that Rebel Meets Rebel offers a bit more than the standard brute force you might have come to associate with Vinnie's playing. "People ask, 'Is it a country record or is it a metal record?' I say, 'It's a fun record,'" Vinnie insists. "It's something that music has been lacking for years. This thing's the real deal."
RMR's self-produced debut album (released on Vinnie's own label, Big Vin Records) was recorded over a four-year period, during Coe's visits to the band's Dallas hometown. According to Vinnie, right from the start, the players were open to anything. "We had no clue where to go," he admits. "Dime, Rex, and I worked together for so many years, it was just like clockwork with us. But we just didn't know where to go with David. So he was like, 'Man, just start on a groove.'" And that's exactly what they did, quickly assembling their first song, "Nothing To Lose," the introductory track on the album.
"No question, we were trying to have a hillbilly side to it," Vinnie says. "But we were kicking up the metal one hundred percent. So, like on 'Lose,' it's not a regular thrash beat. I came up with that double-timed hi-hat thing that really helped the whole song chug."
Releasing the album through Big Vin after brrother Darrell's tragic death has helped in the healing of Vinnie's deep mental wounds. "Working on this record," Vinnie says, "I feel like I'm still working with him. It's been like therapy and really good for me. And this record will add to Dime's incredible legacy and ensure that he lives on forever. I feel good about that."
Waleed Rashidi