Pete Best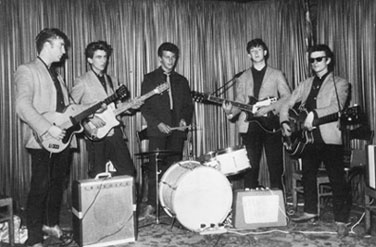 Over the years many have claimed the title "The Fifth Beatle." When you think about it, original Beatle drummer Pete Best deserves the tag as much as anyone. The Beatles: The True Beginnings (St. Martins Press), Pete's new book written with his brothers Roag and Rory, makes the case as well as anything.
by Billy Amendola
The coffee table – size book, lovingly compiled with dozens of fascinating photos and memorabilia, details the drummer's early days playing at his mom's coffee club The Casbah – the underground incubator of the group that, at the time, few predicted would one day change history. Modern Drummer recently chatted with the still-busy drummer/author about his current projects.
MD: The book is elegant.

Pete: Thank you. It turned out exactly as we wanted it to. We're very proud of it. It really is the true beginnings of The Beatles, told from a different slant. As Paul [McCartney] said in the opening quote on the book, "Everyone knows about The Cavern, now it's about time the world got to know about the Casbah." We wanted it to be special. It's a tribute to an unsung hero, our mother Mona, and the club that became the catalyst of the Merseybeat sound. The beauty of this book is, the club had never been photographed before, so it's exclusive. The photographs are wonderful. There are anecdotes and quotes from the people who were there. People who never visited it can actually feel it, as they become involved in the book.
Advertisement
MD: Did the club reopen?

Pete: It had an official opening this year, and the tourist busses will start to roll through the gates of Hayman's Green the early part of next year.

MD: How did the Casbah get started?

Pete: It was a pipe dream of our mom's. She decided that she was going to utilize the basement and turn it into a coffee club, which was a little bit more exclusive than just being a coffee bar. She wanted to bring live music to the kids of Liverpool in this particular environment, and that's exactly what she did.

MD: Looking through the book, I learned that John and George stayed in touch with your mom through the years.

Pete: They did. They held her in such adoration. Long after I'd been moved on from the band, they would come into Liverpool after shopping in London and visit her. When Sgt. Pepper's was in the pipeline, John remembered that my mom had all her father's medals from the cavalry in India. So he asked her, "Would it be possible if I could borrow them for the cover shot?" And she said, "Yes, with only one condition: Make sure they come back safely."
It's funny – after my demise from the band, I joined up with a group called Lee Curtis & The All Stars, and sometimes we would be on the same bill as The Beatles – and there would be no communication between us.
Advertisement
MD: How did she feel when you were asked to leave?

Pete: I suppose she was hurt, because she had helped them as much as she could in their infancy. She's always been outspoken and very true to her word, and she made her feelings known. She's always been very diplomatic, though. And she still had a job to do. She realized the position she was in and that she had to socialize with The Beatles and that they still wanted to socialize with her. That was the caliber of the woman. Other people would have shut up and closed down. She didn't.

MD: Were you happy about the tracks you were on that were included on the Beatles' Anthology CDs?

Pete: Oh yeah. That came as a total surprise, to be quite honest. I was aware, like the rest of the world, that Anthology was coming out. But I had no inkling that I was going to be involved in it. There had been other projects before that could have included some of the material I played, but didn't. So when I was approached and it was resolved that I would be on ten tracks on Anthology 1, it was like, "Well, thank you for remembering my contribution." I suppose that the self-gratification was from the fact that they could have only used one track. I had no input, it was all their choices.

MD: I understand you're going on tour.

Pete: Yes. When I finish this book tour, my brother Roag and I will start a tour with our band. It's a double-drum outfit, and we'll be playing drums onstage at the same time. It's a very big-sounding band, a six-piece with well-known musicians from Liverpool.
Advertisement
MD: Will you be recording new material?

Pete: We are in the middle of recording an album that will hopefully be out around February or March of 2004.

MD: What advice do you have for drummers?

Pete: I think drummers are very much their own persons. They develop their own individual style, whether they've had drum tutors or they've been self-taught. But they've got to practice and rehearse. You need to have natural rhythm, but you have to advance that. You can't just rely on your natural abilities. It's like anything else. If you are prepared to put the hours in, then you'll reap the benefits of it in your drumming ability.

MD: Are there particular drummers that you admire?

Pete: Oh, the household names of the past: Carl Palmer, Joe Morello, Gene Krupa?. When I saw Krupa in the old black & white movies playing with Glen Miller – he would take a drum solo and I would sit there open-mouthed. He had great rhythm and did a lot of tom-tom work. At that time it was like, "Wow, I wish I could get behind the kit and do that."

MD: Let's talk a little about your days in Hamburg with The Beatles.

Pete: We would play six to eight hours a night, six or seven nights a week. Now, you can rehearse, but when you play on stage, your adrenaline kicks in, and you learn stage presence. Whether or not you realize it at the time, you become tighter, and the radar scanners are picking up on everything. You develop extrasensory perception. There's no better way of improving a band than playing live.
Advertisement
MD: At the time, Rory Storm, with Ringo on drums, was the hot band in town, until you came back.

Pete: Rory had seen what was going on, because he followed us out to Hamburg. He could see the change in The Beatles. That was the first time I actually saw Ringo play. Rory was a great showman. And I think the musicianship within the band was led by Rory being so charismatic. It was his showmanship that carried the band. But of course at that time they were reputed to be the number-one band in Liverpool. And then when we came back from Germany, it changed. [laughs] We knocked Rory from that number-one position. Basically overnight The Beatles had become the number-one band in Liverpool.

MD: Do you live in Liverpool?

Pete: Yes, I'm still in Liverpool. All our families are there. I've got two grown-up daughters who have produced four wonderful grandchildren, who I spoil and idolize. My marriage to a wonderful woman, Cathy, who I still idolize, has held together for forty years. All my bandmembers are Liverpudlians, and we have our offices there. To us, Liverpool is the center of the world – the way of life – it's busy, people have a sense of humor.

MD: If you had to describe your life in one word, what would you say?

Pete: Happiness.
For more on Pete Best, visit www.petebest.com.