Drummers, Feature Stories, Update
Paul and Billy English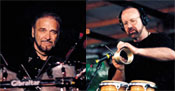 Throughout the twists and turns of his mythical musical lifetime, Willie Nelson has displayed the rarest of artistic traits – flexibility, which seems to distinguish Nelson's intimate musical "family" as well.
Among Willie's family members are drummers Paul and Billy English, brothers in arms with backgrounds steeped in versatility. Older brother Paul first jammed with Nelson in the mid-'50s and became his regular drummer a decade later. He's been behind the kit ever since. "I played my first gig with Willie – and I'll play my last one with him," he says.
Billy English has played drums in a variety of settings, including a stint in Kenneth Copeland's gospel swing band. He's been a part of Nelson's lineup for nearly twenty years. The younger English is a musical chameleon, as comfortable playing percussion as he is behind the kit.
Playing behind Nelson, who has been known to wander from the regularity of a show's format, requires that performers be able to step outside the safe confines of structure. "The first thing Willie told me when I joined the band was, 'don't count – play with a feel," Paul says. "You have to get counting out of your way to play with Willie," Billy agrees. "No one plays exactly like him. He plays each song with his own feel, and you've got to be able to pick up on that and go with it."
by John Dauphin