Adrian Young of No Doubt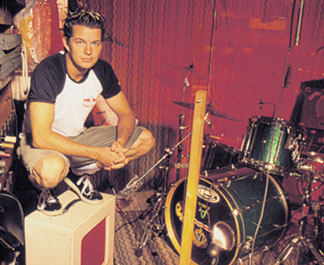 Quick: Who is the most visible drummer in the world right now? No doubt, it's Adrian Young.
Adrian has been around for a decade, and his band No Doubt just cranks out one hit after another. Turn on the TV, turn on the radio, look out the window – and there he is! But the boy can play, and no drummer since Stewart Copeland has done more to integrate reggae, ska, and a little punk into pop music.
The band's new CD Rock Steady (Interscope), has just been released. MD Online recently caught up with Adrian to talk about it.
MD: Where did you record Rock Steady?
Adrian: We recorded the album in Jamaica, Los Angeles, San Francisco, London, and Minneapolis.
MD: Who produced the record?
Adrian: The record was produced by No Doubt, Nellee Hooper, Sly & Robbie, Prince, Steely & Clevie, Ric Ocasek, William Orbit, and Mark "Spike" Stent.
MD: What were your biggest challenges on the latest record?
Adrian: Trying to mesh acoustic drums with loops and machines.
MD: Do you do anything specific to get ready to record or go on the road? Do you have a practice routine?
Adrian: I generally work on drum parts at home in my wine cellar/drum room before going on the road or into the studio. [See MD's Woodshed in the January '02 issue.]
MD: With all the TV award shows and spots you do, you have to be ready to play some pretty tough stuff right on the spot. Do you have a warm-up routine? Do you just get out there and go for it?
Adrian: I have the same warm-up routine for TV shows and concerts. Basically, I do paradiddles for about ten minutes right before we go on stage, in between drinks.
MD: What is your involvement with Orange County Drums And Percussion? How did you get into that?
Adrian: Originally I was an endorser, and I became friends with Daniel Jensen and John Machado, who were the two owners at the time. I told them that I liked the drums so much that I wanted to buy in and become a partner. It is kind of like the Hair Club For Men – "I liked the company so much, I bought into it!"
MD: What are you looking for in your drum sound?
Adrian: I usually play a 7.5×12 snare drum live with No Doubt because it has great attack, but I use many different snare drums in the studio.
MD: Are you a "student" of the drums?
Adrian: I have not taken many lessons over the years, but I did take a drum-reading class and a few other music classes in college.
MD: What were the first things you learned to play?
Adrian: The first things that I learned to play were records by the Police, Rush, Fishbone, and a few others. I didn't know how to play a proper rudiment until college.
MD: Do you have any specific goals for your drumming? Anything you want to get into in the future?
Adrian: I have been fortunate to have accomplished so much already with No Doubt, but I would love to play on other people's records in the future. I love playing with other people because it takes me out of the comfort zone of playing with my own band. I believe that if a drummer is taken out of his or her comfort zone, then the player will gain much. Advertisement
MD: What music are you listening to right now? Which drummers are you digging?
Adrian: The CDs currently in my car are: System Of A Down Toxicity, Incubus Morning View, Alice In Chains Dirt, Remy Zero The Golden Hum, Minor Threat Complete Discography, Black Flag Damaged, Radiohead Kid A, Adam Ant Discography, Fiona Apple Tidal, ABC The Lexicon Of Love, Slayer South Of Heaven, Black Crowes Three Snakes And A Charm, and The Selector The Best Of.