Abe Cunningham with The Deftones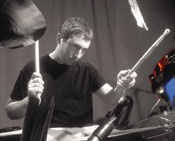 Any busy drummer will tell you that sometimes the best tool for kicking your playing up to the next level is simply taking some time off. Judging from his performance on The Deftones' fourth album, this was clearly the case for Abe Cunningham.
Fans have been waiting three years for the genre-blending Sacramento rockers to follow up White Pony, a startlingly ambitious disc that took the so-called "rap-rock" or "n'-metal" genre in a bold new direction by incorporating elements of classic rock, psychedelia, and the arty, noisy sounds of "shoegazer" bands like My Bloody Valentine. That kind of sonic experimentation continues on The Deftones' new self-titled disc, and Cunningham distinguishes himself once again as one of the most imaginative, fluid, and powerful players in the field.
"The third time around, with White Pony, we were a little bit fried and burned out," Cunningham says. "We'd just toured tons, and then suddenly we were in the studio making a record and it was like work." This time the group built its own studio and recorded most of the backing tracks at home in "Sacto," pacing itself and enjoying the down time. "I have a four-year-old son," Abe says, "and this was the first time I've been able to be in his life for more than a few months at a time. That was really nice. Drums are a passion; that's what I do. But honestly, I was sort of happy just to be normal and home for a second." Advertisement