Drummers, Feature Stories, Update
Winard Harper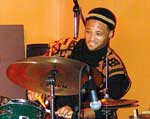 The Savant label has recently released Winard Harper's Come Into The Light. The CD was recorded live at Cecil's, a jazz nightclub owned by drummer/producer Cecil Brooks III in New Jersey. Not since Art Blakey & The Jazz Messengers has there been as exciting a group in jazz as The Winard Harper Sextet. The drummer-led group is one of the hottest acts around.
Harper made his reputation playing with such greats as Dexter Gordon and saxophonist Johnny Griffin. He also spent four years with vocalist Betty Carter, and for a while was a part of the famed Billy Taylor Trio. The foundation of his early work was his collaboration with his brother Philip in The Harper Brothers Band, which received great critical acclaim.
A straight-ahead jazz drummer, Harper has perfected the blend of American jazz music with the sounds of African rhythms. At times, as he performs live and on the new CD, his entire group accompanies him on djembe and other percussion instruments as he solos on the drums. "I feel this is one of the highlights of our performances," the drummer says. For more information, go to www.winardharper.com.