Susie Ibarra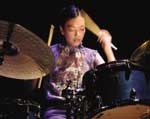 A highly regarded and ubiquitous figure on New York's fertile downtown improvising scene, drummer Susie Ibarra has appeared in a variety of cutting-edge contexts over the past ten years at such alternative venues as Tonic, The Knitting Factory, and New York's annual celebration of the avant-garde, The Vision Festival.
Ibarra's highly interactive, painterly touch, rolling pulse, and melodic penchant on the kit have graced albums by such jazz and avant-garde figures as John Zorn, Derek Bailey, Dave Douglas, David S. Ware, William Parker, and Pauline Oliveros. She has also collaborated with fringe rockers like Sonic Youth's Thurston Moore and the band Yo La Tengo. But it is in the context of bandleader and composer that Ibarra reveals the full scope of her musicality.
Ibarra's 2002 release on Zorn's Tzadik label, the provocative and enchanting Songbird Suite, introduced her working trio of pianist Craig Taborn and violinist Jennifer Choi. Last year she appeared in a highly charged duet collaboration with virtuoso upright bassist Mark Dresser on Tone Time (Wobby Rail), which brilliantly showcased the wide palette of colors and extended techniques that she brings to bear on the kit. Advertisement
On Ibarra's latest recording, Lakbay (Tzadik Composers Series), she performs a hypnotic and melodic duet with Afro-Cuban percussionist Roberto Rodriguez on a piece called "Folklorico." On this cut Susie eschews the trapset for a Philippine wooden kulintang, a tuned percussion instrument somewhat along the lines of marimba or baliphone. The remainder of the recording is the dynamic ten-part suite "Lakbay/Journey," Ibarra's tribute to a day in the life of a Filipino immigrant field worker.
Recently Ibarra premiered a commissioned piece for ten-piece ensemble at The Kitchen, a famous underground performance venue in New York City. "Creatively, I feel like I'm in a really good space," she says of her recent flood of activity. To hear samples of Ibarra's work, check out her Web site, www.susieibarra.com.