Scott Phillips: The Vortex Of Success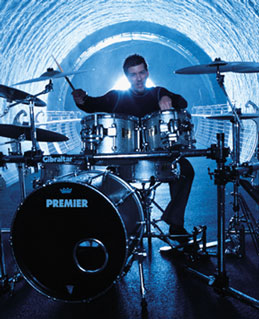 (October 2005 Issue)
Creed is a phenomenon. They're the first band in history to have four number-1 rock radio singles from a debut album. (By the way, that album, My Own Prison, went on to have a remarkable seven consecutive number-1 rock radio singles.) Their second album, Human Clay, entered the Billboard charts at number-1 and has since sold over ten million copies.
In 1998, Creed's first full year out, they took Billboard Music Award's Rock Group Of The Year, Song Of The Year ("Higher"), Welcome To The Big Time, and 2 For 2 awards. Last year, Creed won a Grammy for Best Rock Song ("With Arms Wide Open"), as well as American Music Awards for favorite alternative artist and favorite pop/rock album (Human Clay).
Creed's newly released album, Weathered, will undoubtedly attain similar heights. What makes this all the more amazing is that Creed is the band in which Scott Phillips basically cut his drumming teeth. Advertisement
Phillips didn't start playing drums until he was eighteen. Although he wanted to play the instrument in the sixth grade, when he first got into marching band, Phillips' parents encouraged him to begin his musical journey on a melodic instrument. So he took piano lessons for about four years and then played saxophone throughout middle school, until his senior year of high school. That's when Scott finally put his foot down: "I'm either playing drums or I'm not playing at all!"
In his ongoing battle to become a drummer, when he was in high school Phillips borrowed kits to play with a local cover band, until his grandfather eventually bought him a used set. Then he went about absorbing everything musical he could at the junior college in Madison, Florida where his dad was a physiology professor. Although heavily influenced by Living Colour's Will Calhoun ("I really dug his hi-hat work"), Soundgarden's Matt Cameron and Metallica's Lars Ulrich were also early inspirations. Phillips consumed the rock music of the day, in addition to the standards that he played in his college jazz band.
After junior college, Phillips transferred to Florida State University in Tallahassee – as a business major. For the first year, he hardly touched the drums. But Scott remained obsessed with finding a new drumset, even though he didn't have any money. In the summer of '94, Phillips moved into a house with two other guys, one of whom turned him on to the classic rock of The Doors, Led Zeppelin, and Pink Floyd. Phillips began to jam with that roommate, which ultimately motivated the drummer to get back to his first love and find a band. Advertisement
Enter Creed.
MD: Now that you're in the biggest band in the land, how does a rock star find time to keep his chops up?
Scott: Whenever you're on tour, there's no problem keeping your chops up because you're doing it all the time. But before we made Weathered, we needed the downtime, because we were exhausted. I think it was good for us to get away from our instruments, and get away from the life and the scene. We needed to get back to a normal life, where people don't wait on you hand and foot. I must say I think we've all stayed pretty levelheaded considering the amount of success we've had.
MD: How will you get back into shape after being on vacation?
Scott: I think the pre-production process has helped a lot, working on the chops to get back into the studio. Then before we go out on tour, we'll do a week or two of pre-production with full energy, full sets, full pyro – all of it.
MD: How does the music differ between live and the studio for you?
Scott: It's four times more intense live than it is in the studio. There's no break after you do a song. There's no ten-minute breather to go drink a bottle of water. You're right into the next song. I think the thing that makes it easier to endure, though, is the crowd. They keep the adrenaline on full throughout the show, and that helps. Advertisement
MD: Does the adrenaline make you push your tempos?
Scott: A little bit. Mark starts about sixty percent of the songs on guitar and then the drums come in after that. Sometimes he's right on and sometimes he's racing. He's an awesome guitar player, but sometimes adrenaline can speed you up.
MD: Aside from keeping the tempo, what does this band need from you?
Scott: I think my openness to their ideas, as well as having ideas of my own, are what's needed in this band. There are some drummers I've come across who are pretty headstrong and feel that what they come up with is the only way to do it. But I've always been very receptive to the other bandmembers' suggestions. I think it's important for me to sit back and listen to a whole song, with or without drums, and be able to add to it without my ego getting in the way.
Robyn Flans