Sam Fogarino of Interpol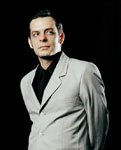 Drums are the heart of rock 'n' roll – even Huey Lewis will cop to that. So why were the first forty seconds of Interpol's 2002 debut, Turn On The Bright Lights, missing drums? Why was it nothing but dawdling melodic guitar and synth? It's as if the band doesn't even know how to kick off a proper rock 'n' roll record.
"It's not ambiguous. The basis of this band definitely comes from a melodic standpoint," says drummer Sam Fogarino. "It kind of took a while for me to figure out how I could interact with melody without taking away or stepping on what sucks the listener into Interpol."
Still, Fogarino is a rock drummer and, like his forefathers, wants to bloody a few skins on occasion. So when it came time to record Bright Lights' follow-up, Antics, he reminded his bandmates what drives rock. The difference between the two albums is clearly audible. While retaining much of the debut's moodiness, Antics is driven by the drummer's energetic sensibilities. Advertisement
"When I joined the band, half the songs from Bright Lights were written already," says Fogarino. "I could change the drum parts around a little bit, but the songs were fully realized. But it was different with Antics.
With Fogarino helping to write and arrange the new material, Antics has more force, more crush. This doesn't mean that the drummer's turning Interpol into a Zeppelin tribute band. But new tunes like "Not Even Jail" and "Slow Hands" have added more power to the band's live show.