Ryan Moore of Twilight Circus Dub Sound System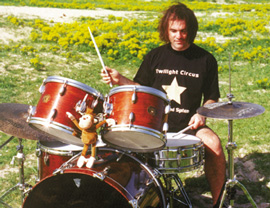 "I feel like I'm exploding with ideas. If I had a clone, I think I could churn out a good record every couple of months." Those familiar with the work of Ryan Moore's one-man band Twilight Circus Dub Sound System won't doubt his words. A white Canadian expat living in Holland, Moore is a rarity in his chosen field of dub reggae. The classic dub cuts were recorded in the early '70s by Jamaican innovators like King Tubby and Lee "Scratch" Perry, who added copious effects to the grooves of studio "house" bands like The Aggrovators and Upsetters. A self-taught expert in dub history and techniques–and a drummer with a way deep feel–Moore does it all himself, from the playing to the mixing. He even releases the results on his own M Records.
"I was attracted to dub early on," Moore explains, "because it features my two favorite instruments, drums and bass. When I record, I improvise at almost every stage. I start by putting down a drum track. Then I improvise a bass line. The song is riding on the bass and drums, so I strive for something that's inspiring. Where it all comes together, though, is in the final mix. That's where the magic happens. I go crazy, twisting every knob in sight."
Moore says he largely steers clear of the digital realm with Twilight Circus. "I find it too slow," he explains. "And I prefer to hear rough edges. A lot of modern music is too polished. Sometimes I record in a really lo-fi way, with just one microphone." Live, Moore plays kit along to prerecorded tapes and employs a sound mixer who provides dub effects. Ryan says he goes "pretty mental" during shows. "I create bizarre segues and perform all manner of crazy antics–chasing people around with various relaxation implements and the like. There's so much room for experimentation. Anything can work." Advertisement
Moore also plays with psychedelic cult heroes The Legendary Pink Dots and the more computer-oriented Tear Garden, which features cevin Key from industrialists Skinny Puppy. They've recently begun work on a new album, and Moore is also just about finished with the follow-up to Twilight Circus's Horsie collection, which he says will incorporate some drum 'n' bass elements. In addition, Ryan has just released the new vinyl collection Dub Plates Vol. 2, which consists of exclusive tracks and remixes of previous cuts. To check out this and other "hardcore dub feasts" from Twilight Circus, surf to www.bsg-inc.com/twilight/.
Adam Budofsky