Rick Allen of Def Leppard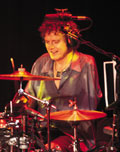 Rick Allen has been playing drums all his life, and nothing was going to stop him from doing what he loves to do. Nothing. By now we all know the story of Rick's terrible car accident on December 31, 1984, which resulted in the drummer losing his left arm when he was twenty-one. One could only imagine the horror.
Amazingly, within a few short months after his accident, Rick began a whole new approach to playing, with the help of family, friends, and a special electronic kit made for him by Simmons.
"The way that I play is pretty alternative," Rick says. "I can't really consult with the book of one-arm drummers. What I do is develop, or adapt, certain exercise routines to the way that I do it. It's like they said in the Stick Control book: You can try different combinations, and that's what I do. Just because it's a left-hand part in the book doesn't mean I can't play it with a different limb, like my right foot. I like to challenge myself."
Def Leppard recently released its tenth studio record, simply titled X. "We took a different approach with this record," Rick explains. "We decided it would be good to collaborate on certain songs with different songwriters and producers. X contains the same radio-friendly appeal that you'd expect from the hard-working band. In fact, as we speak, Rick, Joe Elliott, Rick Savage, Phil Collen, and Vivian Campbell are preparing for yet another tour. According to Rick, "We're planning on touring Japan, England, and then the States."