Drummers, Feature Stories, Update
Paul Crosby of Saliva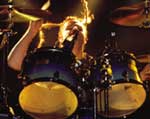 Two-thousand-two was a wild ride for Memphis rockers Saliva-world tours, a Grammy nomination, platinum sales of their 2001 debut Every Six Seconds, and vocalist Josey Scott singing co-lead with Nickelback's Chad Kroeger on "Hero," the massive hit from Spiderman. When it rains, it pours.
Every Six Seconds – melodic/rap metal amalgam caused a commotion among n'metal fans, and if a join-in-order-to-lead approach was part of Saliva's strategy for success, it paid off. The Gangsta Rap appeal of "Click Click Boom" and the ferocious "My Disease" granted instant access to the crowd over whose heads Saliva easily surfed to commercial success. But the album's biggest surprise was "Hollywood," a mid-tempo ballad with country rock leanings on which Saliva sounded most in their element.
"We're all huge southern rock fans," admits drummer Paul Crosby. "Being from the south, we probably didn't have much of a choice but to be inspired by those bands." It's not surprising, then, that Saliva's sophomore album, Back Into Your System, expands the group's aggro palette with a few hook-heavy pop ballads and infuses the edgier rock songs with the southern rock hip-shake of compatriots like .38 Special and Molly Hatchet.
Crosby has a simple answer for what separates Saliva both from n'metal and mainstream hard rock bands. "We base our music on hard-rocking verses but melodic, pretty choruses," he says. "Bands like Creed have got the good choruses, but they don't have the rocking verses. Korn's got the rocking verses but not the cool choruses. We fit in with all that, but we're a little bit different. I think we're a step above."