Pat Petrillo: Smooth, Groovin'-And Proud Of It
(October 2005 Issue)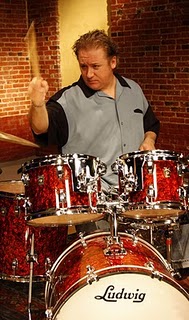 At a recent smooth jazz festival in Philadelphia, drummer Pat Petrillo was performing with guitarist Ed Hamilton when an elderly, "old school-looking" gentleman shuffled up to the bandstand and started screaming, "This ain't no @#!%# jazz! Where's the Coltrane and Miles? Play some real jazz!" Petrillo and bandmates looked around at the other nine hundred ninety-nine people who were really digging the music and realized that, although the man may have had a valid point, the majority of the crowd was there to hear the modern sounds of today's smooth jazz.
"There's a real cult-like following of smooth jazz, which I think is great," says Petrillo. "We're playing venues like The Blue Note, small theaters, radio festivals, and the BET On Jazz TV show. Our live show combines the smooth sound of today along with an early fusion vi`e. And while it's not straight-ahead jazz, it sure beats playing the small, straight-ahead clubs in New York for twenty-five bucks."
Petrillo, owner and drum instructor of the Groove Academy of Music in Edison, New Jersey, has a new instructional video in the works. "The video," Pat explains, "will consist of a series of short hand exercises based on simple rudiments that I've developed to build chops. It will also feature drumset workouts and live playing demonstrations." Advertisement
On the new Ed Hamilton record, Hear In The Now (Fahrenheit), Petrillo performs a nice blend of R&B and jazz, which is radio-friendly yet musician-friendly. Petrillo also works with pop artist Glen Burtnik (Palookaville) and has performed with Patti La Belle and played with the national tour of the Broadway show Dreamgirls.
Currently Petrillo is working on his debut CD, Hittin', which will feature bassists Will Lee, Stanley Clarke, Charles Fambrough, and the late saxophonist George Howard. "Raising a family is also a priority in my life, Pat adds. "But I'm having a lot of fun making music and making a living doing what I love."