Mike Fasano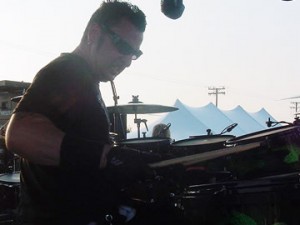 When Warrant drummer Mike Fasano graduated from high school, he skipped college and signed to a cruise-ship gig. "I was playing in an all-purpose lounge band – cha-chas, rumbas, waltzes, and "I Just Called To Say I Love You,?" he says. "I could play drums, but I didn't know how to play any of that." Luckily, the ship's big-band drummer took Mike under his wing and showed him the ropes. "That turned out to be the best thing I ever did," he admits. "I learned how to play, traveled the world, and made money." Now when asked where he went to school, Mike replies, "Princess Cruises University."
After four years at sea, Mike's close friend Matt Sorum convinced the drummer to stay land-locked. "Matt was playing with Guns N' Roses at the time and said, "You're a good drummer; you need to stay in town. If you're out on those ships for four months at a time, you can't audition for Madonna or whoever." Mike took Matt's advice and started climbing the ladder of LA's closely knit music scene, recording and touring with former GN'R guitarist Gilby Clarke and playing in his own band, Dad's Porno Mag. In January 2000, he got the offer to join the resurging heavy metal outfit Warrant.
When Mike isn't on the road with Warrant, he stays busy as one of LA's premier drum techs, a job he literally fell into after working as Sorum's tech on sessions for GN'R's Spaghetti Incident. "From that," Mike says, "I became a different option to the other drum tech/rental guys in town. Maybe all of the time I spent fooling around with heads and drums over the years is what's helped me. I can go into sessions and understand what's going on with the music and what the bands need." Advertisement
Mike's teching r'sum' includes artists such as Blink-182, Green Day, Goo Goo Dolls, and Mick Fleetwood. In addition to his technical expertise, he also owns an extensive collection of drums, including classic Ludwigs and Gretsches, DWs, and his favorites, Pork Pies, which he rents out for use on sessions.
"This is the greatest job I could do," Mike says. "But I wouldn't be a good drum tech if I wasn't a drummer first."
For more on Mike Fasano go to his website totalposer.com.