Michael Brueggen of Supagroup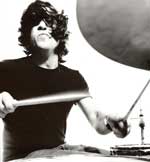 New Orleans-based rock 'n' roll traditionalists Supagroup spent half of 2003 and most of 2004 on the road with bands like Queens Of The Stone Age, Fu Manchu, and Drive By Truckers, touring in relentless support of its much praised, self-titled fourth album. On Supagroup, the high-energy quartet mix the classic blues rock of early Rolling Stones and Humble Pie with the guitar ferocity of AC/DC, the Supersuckers' sly humor, and a prevalent 'drink and rock' good-time vibe.
"It's only rock 'n' roll," says drummer Michael Brueggen. "That's the music I grew up on and still love. I learned to drum by playing along to records by Van Halen and Led Zeppelin." Along with influences like John Bonham, Alex Van Halen, and Frank Beard of ZZ Top, Michael credits Matt Walker (Smashing Pumpkins, Garbage) as a serious source of inspiration. "I grew up knowing Matt, and I tried to copy everything he did," he says.
Brueggen was playing with hard rock act Syrup and doing occasional gigs with Rock City Morgue when he got a call from his friend Chris Lee, Supagroup's lead singer and guitarist. Lee asked Brueggen to immediately step in for Supagroup's recently departed drummer when the band was due to record its next album. He was up for it. "When I went in to do the record," Michael explains, "I had played those songs for maybe fifteen days. Then when we recorded, a lot of the songs were captured on the second take. It was more important for me to land the changes than to add frills."