Lee Levin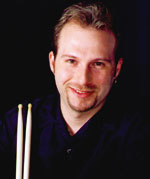 Miami's Lee Levin has played drums on the last several Ricky Martin recordings, as well as on some recent live dates. He's also on the Latin star's upcoming English-language record. Ricky needs energy from a drummer, Levin says. He needs someone who drives the band.
While working with Martin has been good for Levin, it's mostly session work that keeps him busy. His recent work includes Julio Iglesias (whose last album accidentally omitted Levin's name in the credits), Enrique Iglesias, Michael Bolton, and American Idol stars Kelly Clarkson and Clay Aiken.
Levin is currently expanding his home studio. I used to do about twenty-five or thirty percent of my work from my home studio, he says. But now it's about seventy-five percent. It all boils down to the sound they want. If they want a big room sound, the producer will pay for a studio to do it. But my setup is great. An artist or producer will often courier over a disc, I'll load it in, we'll talk on the phone, and then I'll record my parts and send it back. In fact, that's how I ended up doing both Kelly Clarkson's and Clay Aiken's records.