Jordan Burns of Strung Out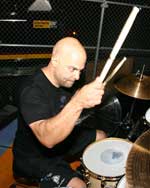 'You can put a Rush record on and steal a drum fill today,' says Strung Out drummer Jordan Burns. 'It's endless just how many drum fills you can steal from Neil Peart.'
Weaned on a strict diet of Peart ('my number-one influence, for sure'), Burns has been constantly working to blend his progressive nature with the raw aggression of early SoCal punk drummers like Chuck Biscuits, Lucky Lehrer, and Derek O'Brien. He's been following this recipe in Strung Out since he joined in 1993, and it's paid off for the band, which performs melodic hardcore punk with a definite metal edge. 'I think my playing style really helped make the whole package complete,' the drummer says.
Growing up in Southern California, Burns performed in a handful of local acts before settling in with Strung Out. However, joining the act meant immediately rising to some rather tough challenges. That's because after only six rehearsals, Burns found himself in a recording studio, cutting the band's debut full-length.
Fast-forward just over a decade, with countless tours and several hundred thousand albums sold, and you'll find Burns on Strung Out's latest, Exile In Oblivion. The album feature the most double-kick action found in the Strung Out catalog. 'I had to really work on my double-kick skills,' he notes. 'the kicks are just flying on this record, and I had to brush up on my skills for that. It's just something you can't stop practicing. Advertisement
'I can almost relate it to riding a dirt bike,' says the drummer, who's an avid motocross racer. Burns even owns his own team, MotoXXX. 'The best way to train for riding is to ride. I feel the same way about drumming.'
For more information on all of Burns' activities, check out www.strungout.com and www.motoxxx.com.