John Otto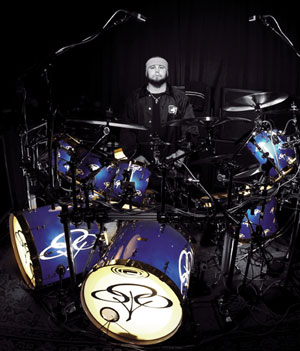 "Developing things like soloing and independence is an ongoing battle. Working on that stuff will never stop until you leave this Earth."
Four years ago, when John Otto was first featured in Modern Drummer, the then twenty-three-year-old spoke with a wisdom and knowledge that belied his age. "When I started listening to jazz, I didn't understand the music," Otto said. "But I thought, 'These guys wouldn't have any problems playing any kind of music.' I wanted to be able to do that."
Through hard work and practice, Otto has exceeded his wildest musical dreams, turning himself into a monster drummer. He's incorporated jazz fluency and groove efficiency into a drumming style that is his and his alone. And as a member of Limp Bizkit, a band that creates their chart-topping songs through collective improvisation, Otto has had the chance to stretch his chops and test his metal. With singer Fred Durst, bassist Sam Rivers, DJ Lethal, and new guitarist Mike Smith, Otto has achieved something rare in these days of soulless pop stars, motorized hip-hop, and Pro Tools machinery.
Typically recorded without a click track, Limp Bizkit's mammoth grooves are as natural as the jungle and often just as ferocious, all thanks to Otto's slippery and smoking 2-and-4 alignment. The band has also been quite resourceful, evolving in ways that pretenders to their throne could never imagine. At the center of their growth is an outlook that admits everything and denies nothing. Rap? Jazz? Metal? Hip-hop? It's all there in the Bizkit brand, and it starts from the ground up with John Otto's inclusive worldview of drumming styles past and present. Advertisement
Grounded in metal, jazz, and hip-hop, Otto's fireball rhythms are the grease that makes the Bizkit cook. A native of Jacksonville, Florida, Otto grew up listening to everyone from John Bonham and Lars Ulrich to Elvin Jones and Bill Stewart. Beyond simple lip service to the greats of jazz, Otto has put in serious woodshed time and academic study, starting back at his days at the Anderson School Of The Performing Arts and moving forward to high school drum corps and individual instruction with noted teacher Rick Kirkland. Otto spent time deconstructing Elvin's solos as well as Bonham's sound. And he's studied the mad genius of Vinnie Colaiuta, but also the academic texts of Ted Reed and Kim Plainfield.
More recently, Otto has recorded his own loops CD and mastered the art of playing two bass drums. (Besides the usual way of playing double bass, he's developed a technique of playing two pedals simultaneously with one foot.) Otto has also started his own media company. And he has somehow found the time to record Limp Bizkit's latest release, Results May Vary.
On the band's previous hit album, Chocolate Starfish And The Hot Dog Flavored Water, Otto put his years of experience and expertise to the test, merging feline hip-hop grooves and furious sticking with the band's freewheeling jams. The drummer popped it low and mean on "Hot Dog," got loose and lumbering on "My Generation," wailed like Bonham on steroids in "Full Nelson," and laid down cannonball grooves on "Livin' It Up," "Take A Look Around," and the caterwauling "Boiler." Advertisement
Results May Vary reveals an Otto of a different stripe. The band has changed gears, replacing a guitarist and adding a harder, more menacing approach. Results is a dropkick to the groin with hardly a moment to catch your breath. Otto is merciless throughout. From "Eat You Alive" and "Gimme The Mic" to "Creamer," he shows why he's one of the most versatile, creative, fluid, and fiery drummers working today.
MD: Most people don't think of drummers playing metal or hip-hop as being particularly expressive, but you're extremely open, flexible, and fluid. Is that all because of your extensive training?

John: I think it is. It's all those hours in the practice room and a lot of playing experience. After all that time spent on the instrument, you get to a point where you don't have to think about things. Your playing becomes like a language, where you're simply speaking your mind, getting your thoughts out without having to think of the words.
Advertisement
MD: A lot of jazz drummers are into certain rock drummers, but it's not usually the other way around. Most metal guys wouldn't know Elvin Jones from The Muppets' Animal.

John: I listened to Elvin Jones a lot. Years ago I studied with this dude named Rick Kirkland. When I went to him for lessons, I told him I wanted to be able to play jazz. At that point I couldn't play it and I didn't understand it, but the music amazed me. It sounded cool. I eventually got into albums like Miles Davis's Bitches Brew. I was into Dave Weckl for a minute. To this day, I always listen to Vinnie Colaiuta, and, of course, Steve Gadd.

MD: Why did you ultimately pursue rock over jazz?

John: That's what I grew up with. I listened to Metallica, but also Big Daddy Kane. For me, it was always metal and rap. I'm a product of that generation. I make beats.
That said, I was influenced by a lot of different music coming up. When I got into studying drums, I decided to study it all. I don't claim to be a super-jazzer, but I can read charts, and I love to play samba.

MD: You have that fluidity, which makes everything feel good.

John: That's what it's all about.
Ken Micallef