Gavin Harrison: Expanding Illusions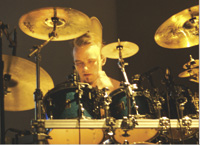 (September 2005 Issue)
At thirty-nine, Gavin Harrison's drumming career encompasses some sixty-five recordings and over thirty world tours with artists as varied as Iggy Pop, Lisa Stansfield, Level 42, and Italian pop superstar Claudio Baglioni. In early 2002, Gavin joined prog-influenced experimental rockers Porcupine Tree to record the British group's seventh studio album, In Absentia.
Despite his impressive r'sum', Harrison is perhaps best known for writing two of the most widely acclaimed drumming books in recent years. His Rhythmic Illusions and its successor, Rhythmic Perspectives, explore the cerebral aspects of metric modulation and beat displacement concepts, ideas that often go over the heads of even the most talented drummers.
Gavin's latest project in the series is a DVD, Rhythmic Visions, which he wrote, filmed, and produced entirely by himself over the past two years. Rhythmic Visions, which reviews basic concepts from his first book, is an option for drummers who aren't heavy readers but who want to understand what his concepts are about. "There's a vocal explanation of what the concept is," he says, "and then they can see me play that. There's also notation on the screen for those who want to see it written out, and subtitles in Italian and German for players in those countries who don't read English. I do five performances of songs and I cover a lot of different styles." Advertisement
For more info on Gavin, check out his Web site at www.drumset.demon.uk.co.
---
Check out these other articles from Modern Drummer about Gavin Harrison:
https://moderndrummer.com/2004/05/gavin-harrison-2/
https://moderndrummer.com/2006/12/gavin-harrison/
https://moderndrummer.com/2007/08/gavin-harrison-3/