Duduka Da Fonseca: Samba Deep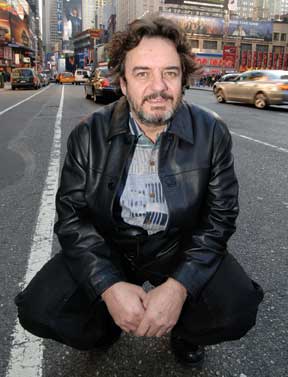 As a teenager growing up in Rio de Janeiro, Duduka Da Fonseca witnessed Brazil's bossa nova revolution firsthand. With renowned drummer Joao Palma as a neighbor, Duduka was accepted into an inner circle of drummers including Edison Machado, Dom Um Romeo, and Milton Banana. Influenced and inspired, Duduka was soon performing in clubs and on TV shows all over Brazil. Some thirty years on and many Brazilian and jazz recordings later, Duduka Da Fonseca finally records his grand solo statement, Samba Jazz Fantasia.
"My dream was to mix the American jazz that I loved with Brazilian samba," Fonseca says. "When I moved to New York City in 1976, I was one of the few to play Brazilian jazz. A handful of us wanted to revive the Brazilian jazz sound. We didn't have any clubs to play, like there are now. I began working with Astrud Gilberto, and I always put bands together, like The New York Samba Band, Brazilian Express, and now Trio Da Paz."
Samba Jazz Fantasia boasts a heavyweight cast including John Scofield, Tom Harrell, David Sanchez, and Eddie Gomez. Fired by Duduka's light-as-a-feather but constantly percolating drumming, the album crosses the Brazilian styles and sounds of Milton Nascimento and Antonio Carlos Jobim with a ferocious NYC edge. It all boils down to Fonseca's own approach. Textural and muscular, his samba jazz workouts are blissful and blistering.
"When I first came here and was playing more of a loose samba," Fonseca says, "some people didn't understand it. I had to adjust to play more traditionally with non-Brazilian musicians. Then I would work my way to opening up and playing loose. I had to kind of educate musicians, otherwise they didn't understand what I was doing. You have to make it basic at first, so people can trust you."