Airto Moreira: Live Rhythms
 The following is an excerpt from the May 2004 issue of Modern Drummer magazine, May 2004 issue of Modern Drummer magazine.

He's typically surrounded by a multitude of percussion instruments. In the course of a tune he might incorporate any number of sounds and timbres, often creating unique colors and effects by combining instruments in non-traditional ways. He sometimes appears to be grabbing instruments at random, and yet the resulting sound is always perfect for the music being played at that moment.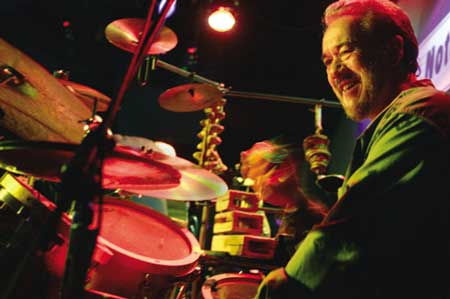 But as entertaining as it is to watch Airto Moreira move among his extensive battery of instruments, the part of his performance that typically leaves people shaking their heads in wonder is when he selects a single instrument – often a tambourine – and solos with it, exploiting all its rhythmic and coloristic possibilities. In his hands, the simplest instrument can produce a veritable symphony of sounds, all of which enhance the deep, driving groove he is producing.
Airto's love affair with rhythm and sound began during his childhood in Brazil, when he would wander through the woods imitating the sounds of nature with his voice and with instruments he would create. He studied piano and guitar, but was especially attracted to a toy tambourine given to him by his grandmother. By the time he was seven, Airto was appearing on Brazilian radio, singing and playing tambourine. During his teenage years, he began working professionally as a percussionist and drummer. Advertisement
Upon moving to New York in 1968, Airto quickly became a mainstay on the jazz scene, working with such leaders as Cedar Walton, Reggie Workman, Lee Morgan, Joe Zawinul, and Cannonball Adderley. Zawinul recommended Airto to Miles Davis for a recording session in 1970, and Airto subsequently joined the version of Davis's band that included Wayne Shorter, Dave Holland, Jack DeJohnette, and Chick Corea. After performing on the debut album by Weather Report, Airto joined Chick Corea's original Return To Forever band along with his wife, Brazilian singer Flora Purim.
Airto and Flora were soon releasing albums under their own names (on which they would both usually appear), and Airto became an in-demand session player, working with a wide range of jazz and pop artists as well as contributing rhythms, colors, and sound effects to movie soundtracks and commercial jingles.
Despite the "primitive" nature of Airto's artistry, he has always maintained a modern sensibility. Before "world music" was a recognized genre, Airto was ignoring musical borders and proving that rhythm is truly a universal language. Advertisement
MD: Musicians who have had long careers sometimes strive to stay current with whatever is in fashion. In recent years, one of the hottest things in music has been a new category called "world music," which is what you've been doing all along.
Airto: To me, world music is the kind of music that is accepted and understood anywhere in the world. But when the music industry created the term "world music," it was because they didn't know how else to sell music that had musicians from different countries playing together. If musicians sound good together, then they want to play with each other no matter what their race, or color, or what country they're from. But what are they going to call music that has an American jazz musician playing with a Brazilian musician and someone from India? So they created the category of "world music" to accommodate their business.
MD: It seems to have opened things up a lot for percussion. I remember when the only percussion you saw in American popular music, outside of drumset, was Cuban instruments such as congas, bongos, and cowbells. Advertisement
Airto: Yeah, I spent the first two years I was in New York trying to play "Latin" music. I couldn't succeed because I was not accepted. The players were all separated. The Cubans didn't like the way the Puerto Ricans played, and the Puerto Ricans didn't like the way the Columbians played, and so on. There wasn't an attitude of, "Let's all play together and make some music." Everybody had their own music, and it had to be played a certain way.
Brazilian music is much freer and more fraternal'more friendly. It's the kind of music that everybody can play. That's why I was accepted in the jazz scene. I could fit into any kind of music they were playing.
MD: America is one of the few cultures that has a tradition of a single drumset player in a band, rather than several percussionists. When you first played with American jazz groups, did the drummers leave space for you? Advertisement
Airto: Not really. When I played with Miles Davis, Jack DeJohnette didn't leave room for anyone else. He played what he played, and so did everyone else. So I had to find my own space in the music. In the workshops I do, one of my main topics is finding your space. Otherwise, if you start playing busy, you're going to step on everybody. You have to play percussion as a musician, not a rhythmist. You have to listen to what's happening, and then play.
I thought I had always done that, but then Miles Davis told me I should listen and then play. I didn't understand that in the beginning, but then I started realizing that you can't play too much or too hard or too busy. You have to just relax, listen to the music, find your space, and play. It becomes something very simple.
MD: There's been a lot of talk in recent years about the healing effects of drumming and rhythm. What are your experiences along those lines?
Airto: To me, music is pure energy. Because percussion was one of the most primitive ways that man communicated, percussion has a very strong influence on people. When you're playing percussion together with other people, you're generating the "universal energy," which is the same primitive energy that was used to create the universe. It's almost like we're inside a huge bubble that has all this energy. Advertisement
When we play music, we're directly in touch with this energy. We draw from this energy, it goes through us, and then it goes out as a sound. And when the energy we are creating is positive – if we're feeling good when we play, are truthful to the music, and are really enjoying what we're doing'then people can feel that, and it puts us all in a better state of awareness. It's like we're being cleansed of bad energy and worries and so on. All of that goes away for a period of time. It might just be a few minutes or a few seconds, but it's like taking a shower after you've been working. It's cleansing energy, and that's also musical energy.
Rick Mattingly