Adam Deitch with John Scofield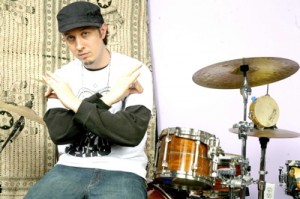 "He's a bad boy, that's for sure," says guitar star John Scofield of his talented young sideman Adam Deitch. On the Sco gig, Deitch comes across like a composite of two great drummers that the guitarist has worked with before'the original funky drummer himself, Clyde Stubblefield, and highly regarded jazz drummer Bill Stewart.
"Adam's got a real jazz sensibility on top of this super groove thing," Scofield says. "It's hard to find guys who bring that sort of jazz seriousness, listening, and expertise, because most guys are just into hip-hop, funk, or drum 'n' bass. Or you have the jazz kids who kind of stay strictly with that; they want to be like Roy Haynes and Elvin Jones and never even consider investigating the hip-hop thing.
"Adam is unique because he's got both sides covered," Scofield continues. "He's a funk drummer circa 2003, meaning hip-hop and also what he would call "The new thing," which incorporates the super uptempo technique of drum 'n' bass. He's part of a whole new generation of drummers who are into that kind of music. Plus he's got that jazz mentality and a "Take no prisoners" type of creativity – all combined with the groove of death." Advertisement
Deitch's deft touch, great ears, and interactive instincts, together with a powerful urge to groove, has put him in good standing with the perennial poll-winning guitarist, bandleader, and Miles Davis alumnus. "Adam's just got that thing, you know?" Scofield says. "And I know, because I look for drummers all the time. It's sort of the story of my life. I really feel that if I don't have a great drummer, I can't have a good band. I'm just hooked on great drummers, and I found one in Adam. Plus we get along. We hang out and talk about music. He plays hip-hop stuff for me, and I play jazz stuff for him. He really teaches me about some areas that I'm not that familiar with."
Deitch was playing with The Average White Band and also gigging around New York with his own '70s-styled funk band, Lettuce, when Scofield first encountered the young drummer a few years back. As Deitch recalls, "I was doing some gigs here and there, and sitting in with Soulive, and my friend Eric [Soulive guitarist Eric Krasnow, who attended the Berklee College Of Music with Deitch] told Scofield about me. John was going through a bunch of different drummers at the time.
"I finally got to play with John when he sat in with Lettuce at the Wetlands in New York," Adam says. "Lettuce did a weekly gig every Friday night with a different guest, and as it turned out the final guest during our run there was John. We all knew he was coming, so we learned one of his old tunes. We were all psyched to play with him. And at one point during the set, he cut the whole band off and said, "Just me and the drums." And of course I was totally freaking out, because he's one of my heroes. Anyway, that night he ended up cutting the whole band off three more times, turning around and saying, "Just me and drums." And each time we'd play together he was smiling."
A month later Deitch got the call to join Scofield's band. They put in a whirlwind tour before going into the studio to record 2002's berjam, a monstrous slamfest that followed in the wake of 1998's A Go Go (the guitarist's groove-laden recording with Medeski Martin & Wood, which helped launch Sco on the jamband circuit) and 2000's similarly funky Bump. And now comes Up All Night, the band's first truly collaborative outing, in which Deitch shares composer credit with his fellow bandmembers on five tracks and also splits a fifty-fifty credit with Scofield on the scintillating closer "Every Night Is Ladies Night." Advertisement
Whereas berjam stayed more focused on funk and N'awlins-informed grooves, the more urgent and adventurous Up All Night travels from Meters-inspired funk to dirty South bounce and Miami bass grooves, from Fela Kuti's hypnotically pulsating Afro-beat to retro-disco, from new school to drum 'n' bass, to old-school soul on a cover of The Dramatics' "Whatcha See Is Whatcha Get." And Adam handles every rhythmic nuance with aplomb.
On record and in concert, Deitch throws down with uncommon authority while cutting up the beat in hip, unpredictable ways. His capacity for coming up with creative fills while keeping a steady groove is best exemplified on "Offspring," "Polo Towers," "Lucky For Her," and the title track from berjam, as well as practically every track on the supremely funky Up All Night.
Grounded in the slyly syncopated spirit of his former teacher and mentor, Tower Of Power's David Garibaldi, while still audaciously waving the flag for "the new thing," Deitch is definitely one of the neo-groovemeisters on the scene worth watching. Considering that Scofield has recorded and played with such great drummers as Al Foster, Adam Nussbaum, Jack DeJohnette, Omar Hakim, Billy Cobham, Steve Jordan, Bill Stewart, Idris Muhammad, Billy Martin, and Dennis Chambers, and is still excited about playing with Deitch, that's quite an endorsement. Advertisement
MD: Does Scofield give you much feedback about your playing?
Adam: Yeah, we always talk music. He's molded me in such a roundabout way, which I love. His way of telling you he doesn't like something or he does like something is so subtle, so cool. He'll tell you about other guys and what they did that was corny and that he wasn't digging'stuff I was doing! But he would never say that directly to me.
MD: Talk about the general differences between the first Scofield record you recorded, berjam, and Up All Night.
Adam: I didn't have a hand in writing berjam. I wasn't there for the conception of ninety percent of those grooves. I worked them out on the road to the point where they felt comfortable, but I didn't conceive those grooves with those guys. So it doesn't have the feeling that this new record has, even though I love it. I dig the new record in a different way. berjam has an almost happy-go-lucky sort of vibe to it. Up All Night is a little darker, and to me that's hipper.
MD: What about working with loops and samples?
Adam: We've been working a lot with samples. Avi [Bortnik, rhythm guitarist] is a sample wiz, and the more we get into doing it, the more he knows what I like to play along with. He knows where to drop his stuff out, and I'm learning where to put my stuff in. It's becoming tighter. And I think a lot of my enjoyment of playing with those loops can be heard on this record. Advertisement
MD: Have you ever triggered loops from the kit?
Adam: No, not yet. I'm sort of old-school when it comes to that. But I am getting into doing some cool stuff with effects on acoustic drums. Our soundman, Patrick Murray, is a genius when it comes to live sound. He has hundreds of different sounds that he throws on the mic's, and he's got them all separated so the snare can run through a phase shifter, the bass drum can be distorted, and the hi-hat something else. He tries different things every night, and then we go back and hang out in the hotel room afterwards and listen to it.
MD: So it's a process of trial and error.
Adam: Constantly. What you heard on Up All Night is the result of a lot of nights of me cutting and pasting in my mind what should be there, what shouldn't, what worked, and what didn't. I really feel like I did more homework on this record. And that's the way I'm going to do it from now on – just editing my own stuff in my head – because it works for me.