Adam Deitch: Taking Sco Back To The Funk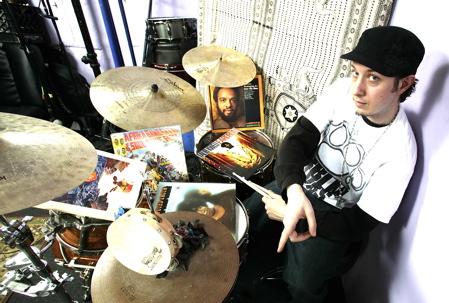 This time around, legendary guitarist John Scofield wasn't looking for a jam-band drummer. With Adam Deitch, he went for the funk. The New York native handles all acoustic and electronic drumming on Scofield's latest album, 'berjam. The result is sort of hip-hop-meets-Dennis-Chambers.
Although Deitch cut 'berjam with a Yamaha Birch Absolute kit, a Tama Stewart Copeland snare, and various auxiliary snares, he's currently using a set of see-through Fibes. With either kit, a Zildjian Breakbeat ride is mandatory.
According to Deitch, he can't noodle around when playing with Scofield. "It's about finding the groove right away and sitting on it as hard as possible," Adam insists. "Maybe Scofield sees me as a Dennis without the chops!" Advertisement