MD Mag Articles
MD Web News
MD Podcasts
Note: Some MD articles are only available in pdf format. Those articles do not appear in this list. Subscribers to
Digital
and
All-Access
can view every Modern Drummer issue in their available formats. Browse all MD issues from our archive
here
.
February 1991 – Volume 15 • Number 2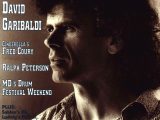 In this Issue: David Garibaldi, Fred Coury, Ralph Peterson, William Calhoun, Larrie Londin, Tony Williams, Joe Morello, Ed Shaughnessy, Anton Fig, Alex Acuna, Jonathan Mover
Category: Drummers, On the Beat
Fred Coury of Cinderella
Howdy all, Fred Coury here, writing from a hotel room near Düsseldorf, Germany. Twenty-five years after we started our first tour, I find myself in Europe once again, fighting stomach issues (we all go through it from the foods and water that we're just not used to) and sleep deprivation. …
Posted: December 25, 2006
Category: Drummers, Feature Stories, Update
Evan Johns of Hurt
Evan Johns says the last two and a half years have been a long journey for his band, Hurt. "There was a lot of not eating, yelling, and screaming, 'I don't know what I'm going to do, man,'??? Johns reports….
–