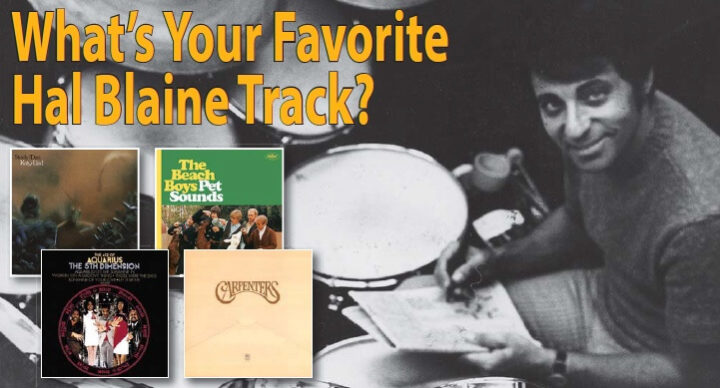 "Indian Reservation (The Lament of the Cherokee Reservation Indian)," with the Raiders. This track shows off his big drumset, and Blaine is playing some intricate patterns throughout the entire song.
Steve Short
My favorite Hal Blaine performance has to be on Steely Dan's "Any World (That I'm Welcome To)" off Katy Lied. To me, it's the quintessential Hal Blaine drum track—it has all his trademarks and shows how even in the strict confines of Steely Dan his drumming is unbelievably effective.
Dominick Notaroberta
It's hard to mention only one, but pretty much anything from the Beach Boys era, because he's really so transparent.
Tony Esperanza
"A Taste of Honey" by Herb Alpert and the Tijuana Brass has one of the simplest, most addictive drum fills of all time.
Pater Hartbarger
"The Night Has a Thousand Eyes" by Bobby Vee, because of the back and forth between the '60s surf/swing verse pattern and the Latin ride beat on the chorus. It has everything!
Kyle Martin
"Walk Like a Man" by the Four Seasons. It took some guts in the day to start out a tune with a drum solo. Rest in peace, Hal.
Cole Marcus
"Be My Baby" by the Ronettes. It's one of the most iconic drum intros ever and is instantly recognizable. That song and Hal's drumming on it inspired—and continues to inspire—so many people.
Steven Wolf
While visiting with Hal at his home, he told me the tracks he recorded with the 5th Dimension were among his personal favorites. I agree with his choices, but I always cherish his dynamic and innovative performances with the Beach Boys.
Victor DeLorenzo
The Crystals' "Then He Kissed Me." It was the first Blaine track I ever heard, and it introduced me to the idea that drums didn't have to be just "boom-chick, boom-chick." My favorite tracks, though, were the ones he did with the Beach Boys—pure genius.
Josh Knoles, Skip's Drum Shop
"Superstar," performed by the Carpenters. That track is a master class in playing for the song. Hal makes subtle changes to how he marks the time with hi-hats and cross-stick, and the energy of the performance ebbs and flows with his choices. It's a great lesson in restraint when composing a drum part. When he reaches for a backbeat or a tom fill, it really has an impact and propels the music.
Lawrence Nagel
Hamilton, Joe Frank and Reynolds' "Don't Pull Your Love." This track encompasses so much of what made Blaine stand out all the time. Hal plays great fills using lots of toms that were so musical and tasty for the song.
The sound of his drums on the track had great definition in the mix. Blaine's great time and feel shines throughout. And the question-and-drum-answer intro that sets it all up is brilliant. I could say the same things about so many of his tracks.
David Drubin
I'd say Herb Alpert's "A Taste of Honey." Hal's playing sounds like he's having a blast. And it swings so much!
Joe Tymecki
Tough call, but I think I'll go with "Good Vibrations." Those snare shots in the opening verses are like lightning strikes.
John Henry
Want your voice heard? Follow us on Facebook, Instagram, and Twitter, and keep an eye out for next month's question.