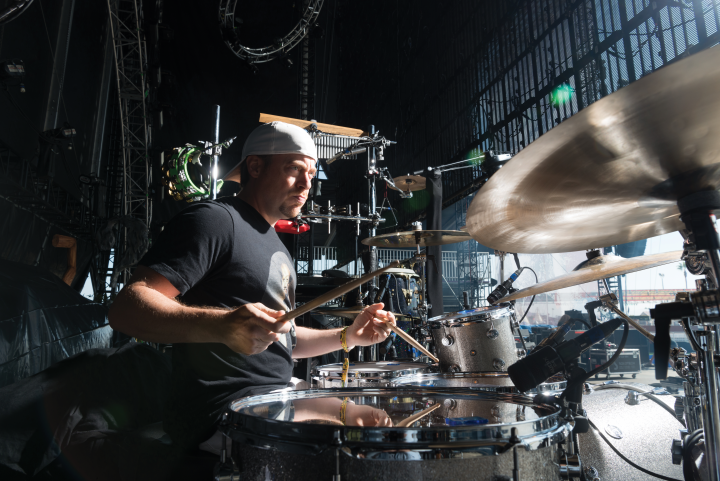 Features
Brian Dunne
If you've ever seen Live From Daryl's House, it's a good bet that you've thought to yourself at least one time, Now that's one gig I'd love to have. And to be sure, the enormity of performing with pop and rock's greatest artists, in an old-school, seat-of-your-pants environment—on national television no less—is not lost on the drummer tasked with holding it all together week after week.
Story by Bob Campbell
Photos by Alex Solca
For seven years, Brian Dunne has been the drummer for Daryl Hall and John Oates, the pop-soul duo that spent much of the '70s and '80s at the top of the charts with hits like "Sara Smile," "Rich Girl," "She's Gone," "Maneater," and "Private Eyes." Among the drummers that contributed to Hall and Oates' albums are legendary studio cats like Bernard Purdie, Jim Gordon, Jeff Porcaro, Ed Greene, Rick and Jerry Marotta, and the group's longtime comrade Mickey Curry, so the bar that Dunne has to clear on a regular basis is very high indeed.
No less potentially daunting, Dunne is the drummer in the band of the highly successful MTV Live show Live From Daryl's House, which features a variety of A-list artists performing their own hits as well as songs from the Hall and Oates repertoire. Among the household-name acts Dunne has so far backed are Rob Thomas, Daughtry, CeeLo Green, Joe Walsh, Kenny Loggins, Cheap Trick, the O'Jays, and José Feliciano. It would be difficult to think of another drummer who so regularly has to nail such familiar and high-quality music in front of so many discerning listeners—not to mention in front of the artists themselves, who perform with Dunne a mere few feet away, with the cameras rolling and with precious little preparation.
Dunne is the quintessential pocket player, and a versatile one at that, with lots of professional experience of his own and a sound, groove, feel, and sense of time that are the envy of many. So he takes it all in stride—though even he has to occasionally stop and process how heavy his gig is. We caught up with Brian as he was busily shuttling between Hall and Oates shows and Live From Daryl's House recording sessions.
---
MD: You play a lot of different kinds of music on Live From Daryl's House. Do you personally have a wide variety of influences?
Brian: Definitely. I listen to just about everything, from rock to funk to jazz to R&B…. In terms of drummers who've really had an impact on me, I'd say, in no particular order, Vinnie Colaiuta, Tony Williams, Steve Jordan, Steve Ferrone, Max Roach, Elvin Jones, Bill Stewart, Dave Weckl, Steve Gadd, Maurice White, Fred White, Ralph Johnson, Jim Keltner, Brian Blade, Charley Drayton, James Gadson, and Zach Danziger. In terms of musical preferences, I'd just say that I gravitate toward music with a great pocket, no matter what the genre is.
MD: You met Max Roach by an interesting stroke of luck. Could you tell the story?
Brian: When I first met my wife, she told me she worked for a pretty well-known drummer. So I said, "I'm sure I know him. What's his name?" Her response was Max Roach! I had to sort of fill her in on just how deep he was. She had an idea he was good and somewhat important but didn't really get it. Needless to say, I let her know that he was in fact an absolute game changer and basically a historic American musician and, at the time, a living legend. I used to pick her up at his apartment on a weekly basis, and I got to know him, just a bit. I took whatever I could get. He knew I played and always treated me with great kindness.
MD: How did you meet up with Daryl Hall and land the TV gig?
Brian: When the show started, Shawn Pelton was the drummer, and everybody else was a member of the Hall and Oates band. I was asked later to sub for Shawn on the show. There was no actual audition process. The musical director at the time, the late, great bass and guitar player Tom "T-Bone" Wolk, saw me play with the Average White Band nine years before, when we opened for Hall and Oates, and he remembered me! So T-Bone called me up when they needed a sub for the show.
On the phone, T-Bone said, "We do this little show. I don't know if you heard about it. Guys come in to play. Shawn can't make the taping, and I'd like for you to come down. Is that something you'd be interested in?" I calmly said, "Yeah, I'd be interested." Meanwhile, I was freaking out and pumping my fist on the other side of the phone. Coming in to sub for the show was awesome. I didn't expect it to lead to anything. I was just happy to be a part of it once.
But later that turned into subbing for Hall and Oates, when their drummer needed back surgery. So I was subbing for both the Hall and Oates gig and for Live From Daryl's House. I wound up playing about half the TV shows for about a year, and eventually I was given both gigs. It was pretty unbelievable.
T-Bone unfortunately passed away in 2010. The other current members of the Live From Daryl's House band are guitarist Shane Theriot, keyboard player Eliot Lewis, bass player Klyde Jones, and percussionist Porter Carroll. Eliot and Klyde were also bandmates of mine in the Average White Band.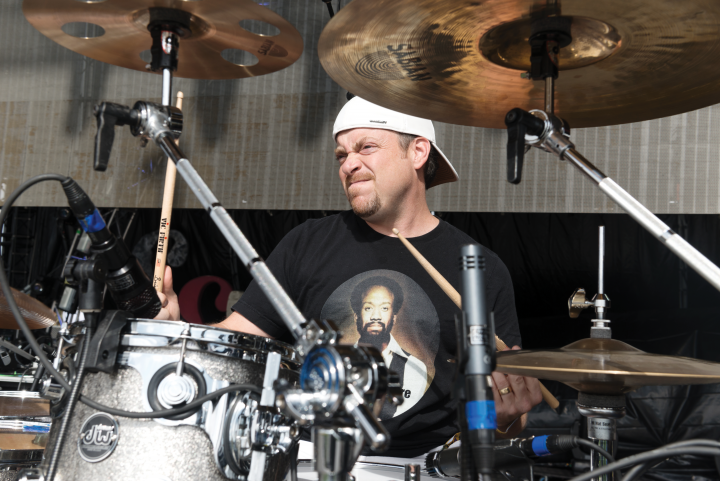 MD: Live From Daryl's House started off as a webcast, correct?
Brian: There were no plans for this to be on TV, actually. It was just supposed to be a monthly show broadcast on the web. It was TV that came to Daryl. He wanted fans to see what happens when two artists get together and just play, and he wanted it to be super-loose. With Daryl, music is his life, but he's also a foodie. That's where the cooking section of the show comes in. I watched the show from the beginning and thought it was such a great idea. I never thought for a second that I would be part of it, though. It's funny how life works out.
MD: You play with so many different musicians on the show. What's your approach to playing all these styles?
Brian: Playing many styles of music when I was growing up really paid off for me, as the TV show definitely requires all the band members to capture lots of different feels. Each song dictates the vocabulary I use.
There's this ongoing discussion I hear all the time about how being a "pocket" drummer gets you hired. I think some players feel as though this means playing fewer fills. But I don't subscribe to that. I feel like it's the intent behind the fill that really matters. This is why simply deciding to play less won't necessarily cut it in a high-level musical situation. I think people can feel the intent, and that gets over far more than physical ability on any instrument. If you start out with the simple concepts of trying to serve the music—as in the gig you're playing, not the one you may want to be playing [laughs]—and listening to the other musicians around you at all times, things will usually take care of themselves. At that point, your own individual flavor that you add to something will automatically be coming from a deeper place.
Daryl also wants our version of a given tune to be different from the artist's usual version, while still honoring the original. There are no rehearsals prior to each show. We get MP3s about a week prior to the show, and we each do our own homework. There have been some times when we got the tunes only a couple of days before. Those are the shows where I will write myself some mental notes or a chart. Our guitar player writes charts for everybody. I don't like to rely on charts, though. When I start learning music with a chart, then I always kind of need that chart. It almost becomes a crutch; I feel safer if I have it. If I just use my ears and internalize the music, it seems to work better for me.
MD: So how does the band begin working up the tunes?
Brian: We basically talk through the form and play each song a few times, and then we're done. Sometimes changes happen on the fly from the artist, so if you have a chart you're going to be marking it up a lot. If I memorize it, then making these changes is easier. Daryl likes to move really fast, so if a take feels good even with some uneven spots, he says, "That felt good—next!" He's okay with rough edges or if the time gets a little weird here or there. He just wants it to feel good overall and have an "in the moment" energy, meaning not rehearsed-sounding.
If an artist came in and said, "I want to do 'Maneater' as a cha-cha-cha," he'd be like, "Great, that's different, let's do that." [laughs] He likes when people mess with his stuff and make it new. We also don't listen back to what we did. I usually wind up hearing what I did on TV for the first time six months later. Daryl must be on to something, because he's done it his way and every year the show becomes more successful.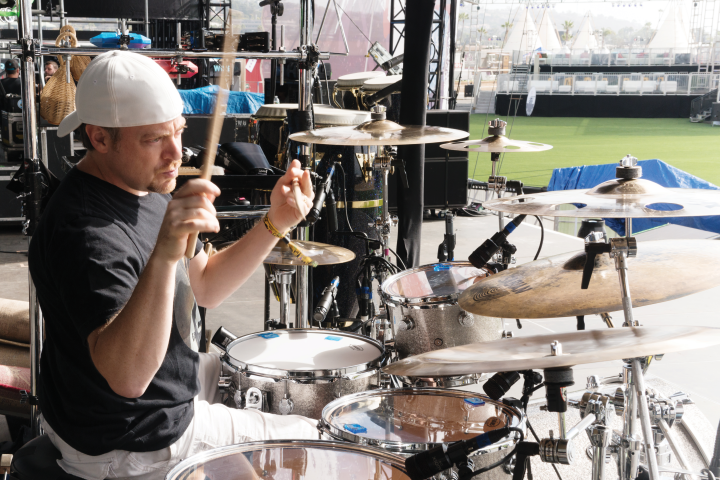 MD: Your drum sound on the show is very distinctive and consistent, with good separation given the background noise levels. Is this your sound, or Daryl's, or the sound engineer's…?
Brian: The sound engineer, Pete Moshay, is a huge part of that. He also worked on a lot of Hall and Oates records. The fact that he makes those Live From Daryl's House shows sound the way they do is fascinating to me. When we're in that room, man, it's really loud, with live drums and monitors blaring near live mics. It's an engineer's nightmare. It's chaos. It's pretty amazing what he does for the show.
I have a Pro Tools rig at home, and I do a lot of work recording and sending drum files via the internet. One of the things I learned from Pete was this: I like my snare drum tuned up high—not just for the sound, but also because I like rebound. When I met Pete he was like, "Why don't you loosen up that snare a little bit?" Then, when I loosened it to where it was just a little bit uncomfortable for me, he said, "Now loosen it up a little bit more." [laughs] At the end of the day, it definitely sits better in the mix. But I'm still struggling with that. For certain music you want a really tight, crackin' snare, but that's not most of the music we play. A fatter-sounding snare seems more appropriate for the stuff we usually do. So you're right, the sound is very consistent with the same drums and the same engineer. Pete knows what he's doing!
MD: How is the Hall and Oates tour going?
Brian: The shows are getting bigger and bigger. I don't know if it's because of Daryl's TV show or the Rock and Roll Hall of Fame induction, but they're getting more critical acclaim as well. We did Madison Square Garden last February, and it sold out really fast. I think many fans have been reintroduced to John and Daryl's music via Live From Daryl's House, so touring with these guys has been great. It's funny, I've had people tell me they heard that John and Daryl don't get along. Not so—those guys are like brothers. There's mutual respect and a long history of great music that they've created. They both have always had individual careers outside Hall and Oates.
MD: There's a picture of you and the band with President Obama and the first lady on your website. That must have been quite an experience.
Brian: Oh, man, it was so awesome. In February of 2015, we were invited by the president to play the Governors' Ball. They're fans of Hall and Oates. The staffers told us they were playing Hall and Oates songs in the White House the whole week before
we came.
I was the first band member to meet the president after Daryl and John. I walked in the room, and he put his hand out and said, "Hey, Brian. Good to meet you, man. I'm so happy you could come here and play." I was so awestruck that I think I was freakin' babbling. I couldn't even say hi to him. I just shook his hand. The same thing with Michelle; she was so cool. They were singing along and knew all the words. When we stopped playing, the president said, "I want more!" Everybody started laughing. So we played two more tunes. It was an honor indeed. They took a picture with us, and it's now the screensaver on my phone.
I love what I do. Daryl Hall and John Oates have had remarkable careers and are two of the best people anyone can work for. The combination of the TV show and touring makes my job pretty amazing. I'm very, very lucky.
---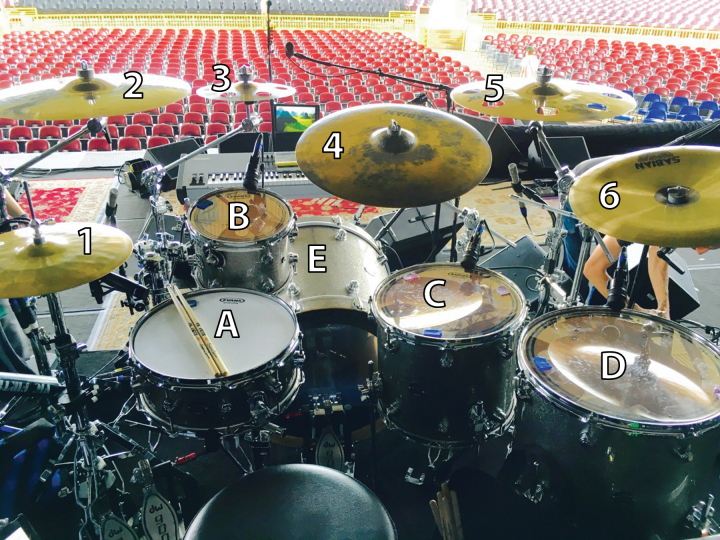 Drums: DW Performance series with maple HVX shells
A. 5.5×14 snare
B. 8×10 tom
C. 14×14 floor tom (not used on Live From Daryl's House)
D. 16×16 floor tom
E. 18×22 bass drum
Heads: Evans G1 Coated snare batter, EC2 Clear tom batters and G1 Clear resonants, and EMAD bass drum batter
Sticks: Vic Firth AJ1 sticks
Cymbals: Sabian
1. 14″ HHX Evolution hi-hats
2. 18″ HHX Evolution crash
3. 10″ AAX O-Zone splash
4. 22″ HHX David Garibaldi ride*
5. 18″ HHX Evolution O-Zone crash
6. 18″ HHX Chinese (not used on Live From Daryl's House)
*Alternates: 22″ Big Ugly HH King ride and 22″ HHX Legacy ride
Hardware: DW, including 9000 series hi-hat stand and double pedal
---
Favorites
James Brown The Payback (John "Jabo" Starks) /// Donny Hathaway Live (Fred White) /// Grace Jones Slave to the Rhythm (William "Ju Ju" House) /// John Scofield Meant to Be (Bill Stewart)
Recordings
Chuck Loeb In a Heartbeat ("Rhythm Ace/Funky Stuff"), When I'm With You (hidden track) /// Mike Ricchiuti The Way I See It ("Up All Night")" /// CeeLo Green Live From Daryl's House ("I Can't Go for That/No Can Do")