Peter Gabriel's "i/o" Tour: A Night of Iconic Music and Timeless Performances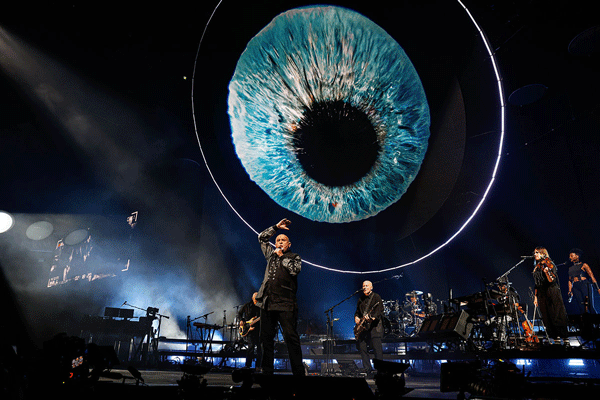 A few words that come to mind when you think of Peter Gabriel are icon, legend, visionary, genius, and pioneer. Last Saturday night, on October 14th, Gabriel's "i/o" tour made a stop at the Acrisure Arena in Palm Desert, CA. This particular show was an addition to the tour schedule, as initially, the tour was announced to conclude at the KIA Forum in Inglewood, CA, the night before, back in March. Before Gabriel made his way to North America, he toured across Europe and the UK, then made his way to Canada in early September. The tour originally consisted of just seven U.S. shows, and less than two weeks after the tour was announced, it was expanded to include 13 more. This show was the second-to-last West Coast date, with the remaining shows taking place in Denver, CO, Austin, Dallas, and Houston, TX. This is Gabriel's first tour since 2016 when he toured with Sting, who just played the same arena a week earlier. "i/o" is the title of Gabriel's upcoming album, and it'll be his first release since "New Blood" (2011). It has been a work in progress since 1995 when it was intended to follow "Up" (2002). This will be Gabriel's first album of all original material since "Up." The album is scheduled to be released in December.
When Gabriel tours, he brings out a one-of-a-kind show that only he could put on. Gabriel played a crucial role as the lead singer in the legendary prog-rock group Genesis from 1967 to 1975, while Phil Collins joined the group as its fourth drummer in 1970. With Genesis, Gabriel was known for his elaborate costumes, such as Slipper Man, Lawn Mower, Fox's Head, Magog, and Flower Mask. Following Gabriel's departure from Genesis, he released four self-titled solo albums (1977-1982), and his fifth album, the groundbreaking "So" (1986), was the first to feature drum legend Manu Katché, who has also recorded seven albums with Sting, as well as records by Joni Mitchell, Jeff Beck, Tori Amos, and more. In celebration of the 25th anniversary of "So," Gabriel put together the band from the album for a tour in 2012-2014. "So" reached number one in eight countries and was certified RIAA 5x Platinum, including three of Gabriel's biggest hits: "In Your Eyes," "Sledge Hammer," and "Don't Give Up," a duet with Kate Bush. Since "So," Katché has played on "Us," "Up," and "i/o." For 47 years, bassist Tony Levin (King Crimson, Stickmen) has been performing with Gabriel, and guitarist David Rhodes has been with Gabriel for 44 years. The band also includes guitarist Richard Evans, keyboardist Don-E, Josh Shpak (Trumpet), cellist Ayanna Witter-Johnson, and violinist Marina Moore. The crew members, from sound engineers to lighting technicians and camera crew, were all dressed in orange flight suits. Going back to the 80s when Gabriel's band consisted of Levin, Rhodes, Katché, and keyboardist David Sancious. His band wore trench coats and wireless headsets. There has always been a futuristic aspect to Gabriel's shows. There were a few times during the show when Gabriel, Rhodes, and Levin all stood and danced together, which was quite special, as it's something they've done since his historic 80s performances.
As always, visuals were a key component of the show, but for this tour, Gabriel's storytelling between songs was a major part. The show started with Gabriel walking onstage in a newsboy cap, speaking, and then performing "Washing of the Water" with Levin. He was joined by the rest of the band campfire-style, with Katché playing a Roland HandSonic. The band also continued campfire-style for "Growing Up." Gabriel introduced the band members and, for Katché, said, "Imported from France, the maestro on drums." The show went into full production with the third song, "Panopticon," which was the first single released from "i/o," and Katché played behind his Yamaha Drums, Remo heads, Zildjian cymbals, and sticks. As always, Katché sported a fedora hat. Gabriel performed the majority of "i/o." Before the final song of set one, Gabriel said, "It's time to reach into the toolbox for something familiar." It was clear that the song would be none other than "Sledgehammer," which also had one of the most revolutionary music videos with its claymation and stop motion. Once the opening notes were played, the crowd jumped to their feet. Gabriel once again introduced the band members. Advertisement
Following a 20-minute intermission, set two began with "Darkness," with Gabriel and the band performing behind a screen, which they also used for the following song, "Love Can Heal." "Don't Give Up" was performed on a riser behind the band, with Gabriel and his cellist/backing vocalist Witter-Johnson singing Bush's parts. If there's one song in particular where Katché went all out, it was "Red Rain," which he played intensely while keeping the volume relatively low. The second-to-last song was "Live and Let Live," from "i/o," in which Gabriel talked about South African President Nelson Mandela (1994-1999), who the song is about, and how he stood with those responsible for his imprisonment and the death of his friends. How he shared the lesson of forgiveness. Set two came to an end with one of Gabriel's biggest hits, "Solsbury Hill." Gabriel would return for a double encore, with the first consisting of "The Tower that Ate People" and "In Your Eyes." During "In Your Eyes," the multiple screens in the back showed half of each member's face and would do a closeup of their eyes. The show finished with "Biko," which was written after the death of South African anti-apartheid activist Steve Biko in police custody in 1977. As the show came to a close, each member, one by one, walked off the stage as they chanted "Oh, Oh, Oh," and Katché was the final member to walk off as he kept the beat going through the end. As always, Gabriel gave a performance like no other.