Sum 41, Simple Plan, and The Offspring: Photos and Q&As with Each Drummer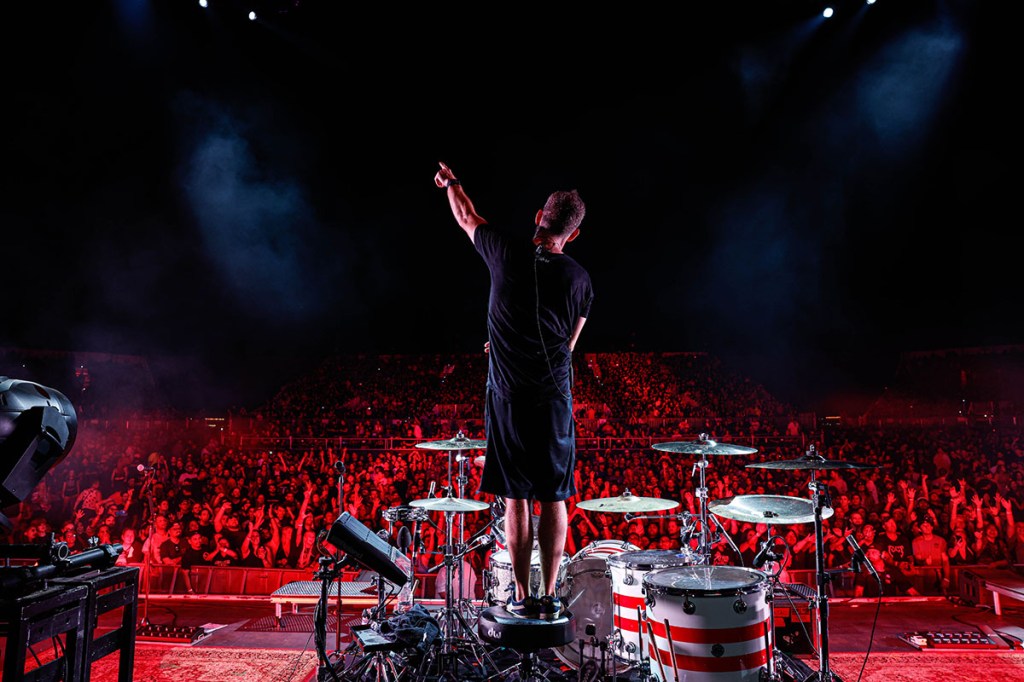 by Alex Kluft
The Offspring's "Let the Bad Times Roll" tour with Sum 41 and Simple Plan treated fans to rousing, nostalgic shows across North American this summer. It was certainly a dream tour for '90s pop-punk fans, similar to the old days of Warped Tour. Sum 41 and Simple Plan traded the opening slot each show. For their sold-out show on August 6th at Irvine, California's Five Point Amphitheater, Sum 41 kicked it off.
Sum 41 consists of co-founders Deryck Whibley (Guitar/Vocals) and Dave Baksh (Guitar) returned in 2015 after nine years, bassist Jason McCaslin since '99 and has been on all the band's releases, and Frank Zummo joined in 2015 following the departure of original drummer Steve Jocz. After a similarly nostalgic "Blame Canada" tour with Simple Plan last year, this tour was confirmed to be one of Sum 41's final outings before their farewell tour, making their show all the more memorable. Sum 41 played a nine-song set starting with "Motivation" and was full of hits like "The Hell Song," "Over My Head (Better Off Dead), "In Too Deep," "Fat Lip," and the closer was "Still Waiting." Unfortunately "Underclass Hero" was cut due to time constraints.
Next up was Simple Plan, who formed just a few years after Sum 41 in 1999. The group consists of four out of five original members with vocalist Pierre Bouvier, drummer Chuck Comeau, and guitarists Sebastien Lefebvre and Jeff Stinco — the group parted ways with bassist David Desrosiers in 2019 and currently are performing without a bassist. Simple Plan kicked off their 11-song set with one of their biggest songs "I'd Do Anything." The set included another one of their biggest hits "Addicted," their theme to What's New Scooby-Doo? and a medley of Avril Lavigne's "Sk8r Boi," Smash Mouth's "All-Star," and The Killer's "Mr. Brightside." The closing song was "Perfect." In between sets the Anaheim Ducks mascot came out with a t-shirt cannon. Advertisement
A little after 9 P.M., The Offspring hit the stage. The band played a 90-minute set of 20 songs including every song any fan would want to hear beginning with "Come Out and Play." The hits included "Staring at the Sun," and "Gotta Get Away," "Why Don't You Get a Job?," They also played the title track from 2021's Let the Bad Times Roll which was their first album in nine years. There was a medley of Black Sabbath's "Iron Man," Iron Maiden's "The Trooper," "Guns N' Roses "Sweet Child O' Mine," and "In the Hall of the Mountain King." The last two songs before the encore were "Pretty Fly (for a White Guy)" and "The Kids Aren't Alright." The encore was "You're Gonna Go Far, Kid" and "Self Esteem."
For almost 40 years the Offspring has been guitarist/vocalist Dexter Holland and guitarist Noodles. During the Covid-19 Pandemic their longtime drummer Pete Parada left and was replaced by Josh Freese. When Freese left for the Foo Fighters, Suicidal Tendencies drummer Brandon Pertzborn took over. Original bassist Greg K. left in 2018 and rhythm guitarist Todd Morse became the bassist. In 2019 Jonah Nimoy took over for Morse on rhythm guitar and also plays keys and percussion.
Modern Drummer caught up with all three drummers — Sum 41's Frank Zummo, Simple Plan's Chuck Comeau, and The Offspring's Brandon Pertzborn — for a brief chat about the tour, the gear they play on, and more. Advertisement
Read the Q&As with each drummer below, and scroll to the end for a photo gallery of their show in Irvine, California on August 6th, 2023.
---
Sum 41's Frank Zummo
MD: Tell us about the additional DJ sets and performances you're doing.
FZ: Basically, I'm juggling between workshop appearances I do with School of Rock for the kids which is just getting bigger and bigger. I've got a stop on this tour on August 24 at House of Vans in Chicago, IL on this tour. I used to go to tour the workshops, now to make it even bigger, I'm going to one market and bringing in 6-10 local School of Rocks. It's dope, the kids go up there and do their thing, and I'll perform Sum 41 songs with the kids. I'll do a mini concert. The special part is all about the Q&A and a hang. We've got teen suicide prevention charities there talking about mental health. It's as real as you can get and it's super special. It just keeps getting bigger. In the pandemic, just to keep moving, I debuted a solo project. I'll go out and perform that live or it's like a drum/DJ hybrid thing or I'll just do a DJ set with a marching snare. I've got a bunch of one offs for the rest of the year. Sum 41 will wrap the year doing the When We Were Young Festival in Las Vegas, NV with the same bands that are here today. That's going to be special, man. To go to Vegas and play the same lineup two days in a row with all the bands we loved… just to be on one lineup is going to be pretty special.
MD: I was at Sick New World, the Metal one.
FZ: Festivals just keep upping the game and getting creative.
MD: Aftershock is another great festival which I saw Sum 41 at before the pandemic.
FZ: Aftershock is amazing too. The stage was under the freeway underpass and we closed that stage and it was insane. Everytime I go to the airport in Sacramento, CA, I pass the grounds where they have the festival. Advertisement
MD: What else would you like to say about the tour and the band?
FZ: Sum 41 is wrapping this tour in Vegas and then in 2024 we're going to release a double record called Heaven and Hell, one side is Pop-Punk and the other Metal. During the pandemic we made that record. It was fun to not have deadlines! Then we're going to do a world tour in 2024 to say goodbye and wrap this up. I know there's some confusion with people thinking we're done after this tour at the end of this year, but no. We still have to say goodbye and celebrate with everyone and to celebrate our double album. There's still a lot more Sum before we peace out.
MD: What's the current status of Street Drum Corps?
FZ: At the end of last year I stepped down and moved on from Street Drum Corps after almost 20 years. It was my life and family. I thought Street Drum Corps would never last more than a week. The fact that it lasted almost 20 years, all the dreams I had personally set out we kinda checked. It's time to focus that energy on family and the stuff I'm doing with the kids, mental health, and suicide prevention. They're still going to keep it going which is awesome. It was my time to explore other things… But what a ride. Street Drum Corps is the thing that got my start in my big music career in California and we've done some of the craziest stuff we've dreamt up.
---
Simple Plan's Chuck Comeau
MD: What is Simple Plan's history with Sum 41 and Offspring, have you toured with either group before? I know Deryck is on the new album. Advertisement
CC: The Offspring was a huge influence on us and is one of the bands that introduced us to the punk rock scene when their first album Ignition came out and led us to discover tons of amazing bands like Lagwagon, NOFX, Strung Out, Ten Foot Pole, NonUse For A Name… That really shaped our musical journey when we were teenagers so we owe them a lot.
So it's quite surreal and incredible to be on tour with them. We did Warped Tour in Australia with them back in the day, some shows in Europe about 10 years ago, but it's really this last year that we had the chance to be on some longer and bigger tours together. We did a cross-Canadian arena tour together and now this amphitheater run all over the US. The shows have been massive and it's such a treat to be able to watch them play every night. They have so many amazing songs and they sound awesome. They are also so nice, humble and kind, it's been an absolute honor and pleasure to play with them. They are legends.
As far as Sum 41, we also did a lot of touring with them over the past 2 years. We did a co-headline tour all over the US last summer and it was such a home run. Every show was pretty much sold out and it was so fun. We also went to Europe together and the shows were massive. We hadn't really toured together that much before that, which is odd, but we're making up for it now. It's pretty cool that after more than 20 years being on the same scene, we are finally becoming great friends and hanging out so much. Playing together has been a perfect pairing for pop-punk fans and the shows have been a blast. Advertisement
It was also super cool to collaborate with Deryck on "Ruin My Life". His voice adds a super cool vibe to the song and it was rad to have him in the video. He killed it and it was really cool to finally do something musically with him. Our fans were thrilled!
MD: You and Pierre go back 30 years, did you imagine the longevity Simple Plan would have when you formed it following Reset?
CC: I think it would been hard to truly imagine all of what happened over the last 30 years. It's been such a crazy, awesome journey and it took us places we never could dream of. At the same time, I'll say that we were all extremely driven and ambitious and had big dreams, even at 14 years old when we first started playing shows together. I don't think you could ever "expect" for things to turn out like they did, but I would say that we had that hope, that dream, that vision that we could be a band that would tour around the world and that our songs would reach people and have an impact on their lives. We truly thought it was possible and we actually believed it would happen. Maybe that's the beauty of starting to play music at 13 years old; you could dream big and failure wasn't even considered a possibility. We weren't jaded; we really believed we could achieve whatever we set our minds to.
Having said that, I realize today just how fortunate and privileged we are as a band and I'm so grateful for the career we've had. Having that longevity has been the greatest gift and we never take it for granted. It's been so amazing to see the shows getting bigger and bigger and having the opportunity to play to new fans every day, the chance to make a first impression more than 20 years after the band started. It's crazy and we're loving it. The best thing has been being able to bring my son to our shows. That keeps me so motivated to keep touring and showing him that anything is possible if you're passionate and work hard. Advertisement
MD: Are you looking to add a new bassist to the group? Or stick with a 4-piece?
CC: As of now, we're really comfortable being the four of us on stage. We're all original members and all went to high-school together. We know each other so well. It just feels right to carry on like this.
MD: What can you say about working with Ted Jensen on Harder Than It Looks?
CC: He's such a pro and he's got the finishing touch to make the songs shine and feel huge. We love what he brings to our music.
MD: What's next for Simple Plan following this tour?
CC: More shows, more touring all over the world. We still have so many places to go. The pandemic kept us away from our fans so now we're trying to make up for it. We're heading to Mexico in October and then When We Were Young in Las Vegas. That's gonna be sick. And in 2024, we have a huge European / UK headlining tour with State Champs and Mayday Parade and then we want to go play in Australia, South America, Canada. We're just excited to go play shows for our fans. We'll also start thinking about new music so it's gonna be a big year.
Chuck's Gear Set-up:
DW Collector series Size BATTER RESO BATTER FREQ RESO FREQ
Kick 22" 22×18 Evans EQ3 55 hz Evans EQ3 – 80 hz
Snare 14" 14×6.5 Evans HD Dry Evans Side300 260 hz 380 hz
Tom 12" 12×9" Evans EC2 Clear Evans G1 clear 74 hz 125 hz
Floor 16" 16×14" Evans EC2 Clear Evans G1 clear 55 hz 95 hz
Floor 18" 18×14" Evans EC2 Clear Evans G1 clear 48 hz 86 hz
HH 5000 series
Kick Pedal 5000 series
ProMark TX5B
Zildjian HH NewBeat 15"
Zildjian A Cust. Crash 19"
Zildjian Sweet Ride 21"
Zildjian A Cust. Crash 20"
Zildjian A Cust. China 20"
Zildjian A Cust. Crash 19" Advertisement
---
The Offspring's Brandon Pertzborn
MD: What are you playing this tour?
BP: It's a Pearl Reference One, their new Reference line. It has slightly thinner shells than the previous Reference series and it sounds great! Aside from that, Paiste cymbals, Vic Firth sticks and Remo heads.
MD: Since 2021, you were with Suicidal Tendencies, and that year, Josh Freese came in to replace Pete Parada, who had been The Offspring's drummer since 2007 — Freese had been on all the albums since 2003 (two had both Parada and Freese). How did you come into The Offspring after Freese left for Foo Fighters?
BP: For years, I've posted videos online of me drumming to songs I enjoy, and in January of this year, I posted a video of me playing Offspring's song, "Hammerhead." A couple months after I posted the video, The Offspring's management reached out to me, and explained that they were looking for a drummer. They said they had seen the video, and asked if I was interested. I said "Absolutely!" A couple weeks later in late March, I auditioned with the band, and a month later, I was touring with the band. Advertisement
MD: Did you have any idea why Freese was leaving at the time?
BP: I had an inclination at the time, but nothing more.
MD: You were a kid when these bands first came out. What are your memories of hearing The Offspring, Sum 41, and Simple Plan?
BP: My first memories of hearing Simple Plan and Sum 41 was in the early 2000's on the radio in the car. I was in elementary school and loved it! With The Offspring, I'm sure I heard them before this but my first memory consciously hearing them was at 15 or 16 years old driving to work every day. They were always on the radio, and I would roll up to work everyday after listening to them.
MD: It must be tough keeping up with these songs for a 90-minute set, which is very demanding — just like when you were in Sucidal Tendencies.
BP: This type of music certainly is physical, and that's part of what I love about it. For me, the physicality isn't the toughest part though. Initially, the aspect I was most focused on was finding the right pocket for the songs. The moments where I should lay back or push, and playing with certain dynamics in different parts of the song, etc.
MD: With Offspring having so many hits in the set, did you know how to play a good amount of songs already?
BP: I knew so many of the songs just from hearing them on the radio over the years. It was pretty simple learning them because I already knew the vocal melodies and hooks, so learning the arrangements came naturally. When learning the songs, I found that I didn't have to devote all this time to memorizing them, because the melodies stick in your head, and if I can hum the melody in my head, I can most likely memorize the drum parts just as easily since they're associated for me. Advertisement
MD: I believe this is the first time you're in a band with a percussionist (Jonah Nimoy).
BP: It is! And it's incredible.
MD: On certain Offspring songs you can really hear the percussion.
BP: Completely! Jonah adds such a presence. He does percussion, guitar, vocals, and piano. The percussion aspect is awesome to have. On "Pretty Fly (For A White Guy)" for example, I'll be on the hat doing my thing and look over he's adding so much to it. It adds so many more textures, and it's inspiring for me to play off of what he's doing.
MD: We met in 2019 when you were playing the Roxy with Corey Taylor, and you already had played with Doyle before that. Then following you went to Marilyn Manson, and of course Suicidal Tendencies. One thing to mention is who you replaced, with Suicidal it was Dave Lombardo when he left for Testament, and with Manson it was Gil Sharone. What is your relation to their playing?
BP: Huge appreciation for all of them. What's so cool about coming into these gigs after they did it is, I've always been aware of these guys obviously and always appreciated them and when I've played in these bands after they did, now I'm learning their exact parts – and even if they didn't write the drum parts, I'm at least learning the way they executed it and approached it. I learned so much from doing that with Dave Lombardo (Suicidal Tendenices), Gil Sharone (Marilyn Manson), and Josh Freese (The Offspring). Every single drummer plays even a simple groove differently, so studying how each one did it has been so valuable to me. Advertisement
MD: For The Offspring, Pete was there around 13 years before Freese, and when Lombardo came into Suicidal, they had a long history of different drummers including Eric Moore, Brooks Wackerman, Ronald Bruner Jr, Thomas Pridgen…
BP: Exactly. That was one really cool aspect with Suicidal Tendencies. I studied so many different drummers who have played with them, and they all played the songs differently. At the end of the day, you take what you like best from each player, mix it all together, and most importantly, put your own spin on it.
MD: As of now, Offspring is your main gig and that's your focus?
BP: Yep. I'm here and I'm pumped. This is what I'm doing. This is it man, I love it.
MD: Speaking of Suicidal, how about Greyson [Nekrutman]? He's only 24 and doing a great job with them. People know his as the "Buddy Rich kid" and here is in a punk/thrash metal group and slaying it. Advertisement
BP: Incredible! He's not only the "Buddy Rich kid," he's the "Everything Kid." Yes, he's the king of that Buddy Rich stuff, but he can play it all. I saw him do the Suicidal stuff and he kills it like he kills the jazz stuff. He's an incredible musician.
MD: Are there any Offspring songs you wish were in the set?
BP: We're honestly hitting most of them, but one that sticks out is "Beheaded". In Mountain View, CA [Shoreline Amphitheatre] their original drummer came onstage and played "Beheaded" from their first record. I'd love to play that one at some point, but I'm loving our current setlist.
---
Photo Gallery