Zildjian Celebrates 400 Years With Stellar Anniversary Concerts: Recap + Photos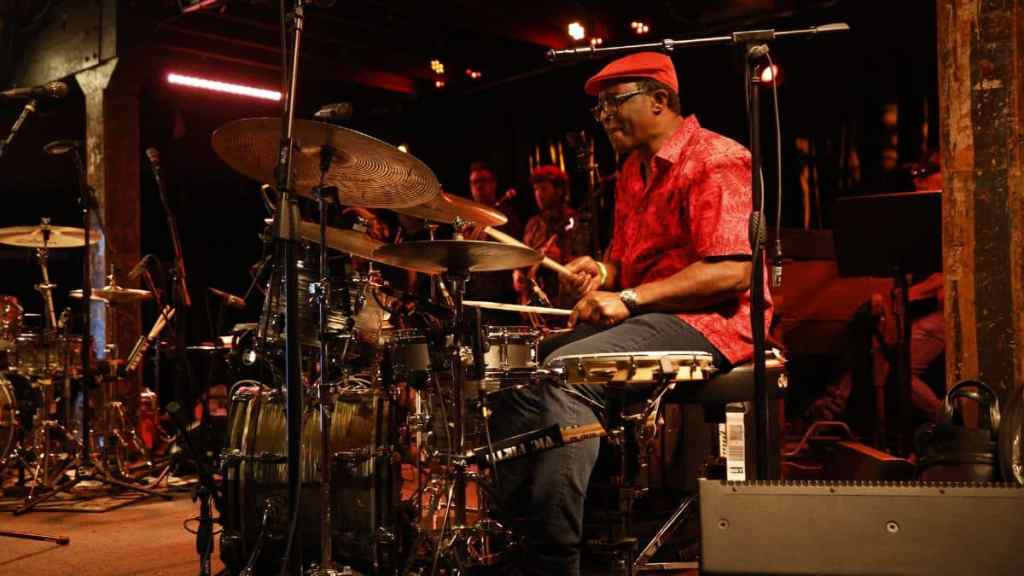 Zildjian, the world's oldest musical instrument brand, turns 400 this year. To celebrate, the cymbal manufacturers hosted two unique events: One at the Baked Potato in Los Angeles, CA in early March and one at Tipitina's in New Orleans, LA on Tuesday, May 2nd. The latter show took place between New Orleans Jazz Fest weekend, and featured local icons and artists in town playing the festival.
Tipitina's owner and drumming great Stanton Moore introduced the show by remarking how "crazy" it was to have an event like this in the daytime — but seeing the attendance, it worked out perfectly. That evening, Moore was back again to play with his supergroup Dragon Smoke, and they treated fans to a thrilling set.
The two-hour show also featured an incredible house band with Dumpstaphunk's Ivan Neville and Tony Hall, Eric Krasno, Joe Ashlar, John Michael Bradford, Ari Teital, Brad Walker, and Taku Hirano and Pedro Segundo on percussion. There were two house kits out front with the drummers getting the spotlight. With there being 15 total drummers, each played one song. The set included songs by Dr. John, The Meters, Dumpstaphunk and more. Advertisement
Zildjian has been the choice of many of the greatest drummers across all genres in history, including Buddy Rich, Ringo Starr, Gene Krupa, Hal Blaine, Steve Gadd, Louis Bellson, and countless others. The company was founded in 1623 by Avedis Zildjian and is still ran by the Zildjian family. The first American factory opened in 1927, and since then, they've remained one of the leading cymbal manufacturers in the music community.
Below, find the setlist for Zildjian's 400th Anniversary Concert at Tipitina's in New Orleans, LA, and scroll down for photos of the event.
Setlist:
Doug Belote – Quitters Never Win (Dr. John)

Nikki Glaspie – Life (Dr. John)

Adam Deitch – Actions Speak Louder Than Words (Chocolate Milk)

Joe Dyson – Hey Mama (Wild Tchoup)

A.J. Hall – Shake (Gap Band)

Jason Marsalis – Africa (The Meters)

Stanton Moore – Let a Woman Be a Woman (Dyke and the Blazers)

Kris Myers – People Say (The Meters)

Herlin Riley – Night People (Lee Dorsey)

Jamison Ross – Them Changes (Buddy Miles)

Ricky Sebastian – Cissy Strut (The Meters)

Pedro Segundo – Qualified (Dr. John)

Deven Trusclair – No More Okey Doke (The Meters)

Raymond Weber – Living In a World Gone Mad (Dumpstaphunk)

Dennis Chambers – Lokk-ka Py Py (The Meters)
Gallery: