News
The Singles – EMERSON, LAKE, & PALMER
(BMG Records)
By Scott Gudell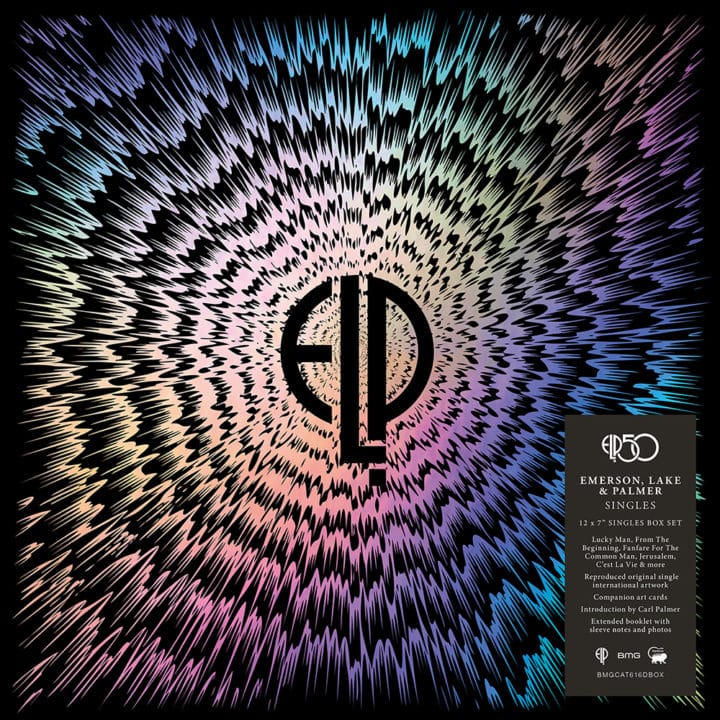 Spectacular to hear and stunning to view. This box set of a dozen seven inch singles/45s is billed as a celebration of the fifty year anniversary of Emerson / Lake / Palmer (ELP) and focuses on material from the decade they dominated, the 1970s, as well as the early 1990s. United Kingdom musicians had been exposed to American blues in the early 1960s and artists such as John Mayall, Eric Clapton, Fleetwood Mac and others passionately embraced the blues. Mixing blues and rock, the guitarists confidently took center stage and dominated. ELP was among the masters of the Progressive Rock that grew out of the developing UK rock of the late 1960s but it was Keith Emerson's keyboard that helped the trio challenge all the emerging guitar gods. Other big, bold and brash Prog groups such as King Crimson, Genesis, Yes and more marched into the 1970s and collectively lead the charge into massive arenas and stadiums all over the world. It was Prog Rock's 'ground zero' yet ELP was equally skilled at crafting haunting, pensive songs as well.
The dozen enticingly colored discs – bitter yellow, juicy orange, raspberry red, icy blue and more – are housed in an alluring container and is probably that box of candy that Forrest Gump was referring to. Open it up and it's a sensory delight. Each single is wrapped in a full color reproduction of an original picture sleeve but, to add to the variety, they chose images from Germany, France, Japan, Portugal and other countries. In addition, there's a booklet plus newly minted 'art cards' that offer a 2022 interpretation of all twelve images.
LPS had begun nudging singles out of the spotlight during the mid-1960s. Groups such as ELP fully embraced the LP with extended, more grandiose tracks which was just what the emerging FM radio and offshore pirate radio stations were embracing. Yes, ELP was an LP band but "Singles" confirms they were skilled at offering concise editions as well. ELP incorporated classical music and ballads, introduced elements of jazz and, of course, helped define the dramatic arena shaking sound of Prog Rock. Both Keith Emerson and Greg Lake passed in 2016 leaving drummer/percussion master Carl Palmer as the sole survivor. The box set was the brainchild of Palmer, himself. He commented on how bands like ELP were not known for Top 40 hits: "This box set is a real testament to the commercial appeal of Emerson Lake & Palmer. Many of the groups that came out of the British progressive rock movement had a number of FM radio hits, but not so many pop radio hits. Fortunately, Greg Lake had great songs like "Lucky Man," "Still You Turn Me On" and "Father Christmas," which were staples on the pop charts and are still heard today on classic rock and oldies stations. So, we were lucky in that regard. We also had a few things that no one expected like when our instrumental version of Aaron Copeland's "Fanfare for The Common Man" made it to the top of the UK charts in 1977."
Palmer opens the abbreviated booklet with a brief greeting and helps guide the way on many of the vintage songs. There's the hypnotically alluring Lake's "Lucky Man," which is the first piece of ear candy to tempt you. Palmer's understated military inspired drumming is the songs guiding light. There's an elegant richness to the piece which is more folk than Prog Rock – until Emerson's flourishing Moog helps bring the song in for an attention-grabbing landing. The almost film noir sweep of "From the Beginning," their bestselling single, is a tender minstrel styled love ballad, complete with acoustic guitar and light percussion. Emerson, once again, guides the song to the end with an extended synthesizer ending. As for slightly more obscure songs, Palmer stated that "When we released singles, we would use the B side to put more adventurous and complex songs on the flipside. We were always hoping that the music people heard on the B side might incentivize them to look further and purchase the album." "When the Apple Blossoms…" is one of the B side songs that may be less familiar to the casual ELP fan but, as a potent instrumental jazz fusion vamp, it's one of the 'box' surprises that will keep you reaching for the next treat. Copeland's "Fanfare for the Common Man" is as majestic and cinematic as always but, in this case, the necessarily truncated singles version will probably send you in search of the much longer and ultimately more rewarding LP version. The serene "C'est La Vie" (encased in the original French sleeve of course) is hauntingly lonely and yet another reminder that the trio didn't always turn the volume up to 'TEN.'
By the time you've unwrapped the final disc, you've heard a little bit of everything – medieval inspired tales, ancient musings, divine vs. satanic jousting, visits to both bars and to the stars and beyond. Sonically, there's the quiet hush of acoustic guitars as well the rafter rattling eruptions of Prog Rock that storm trackers cherish. Depending on your experience, you'll revisit familiar old favorites, rediscover songs buried in the back of your mind or, with a few of the selections, discover something new and refreshing.
Editors Note:
WELCOME BACK MY FRIENDS:
THE RETURN OF EMERSON LAKE & PALMER tour:

Sole surviving member drummer Carl Palmer, in association with the estates of his bandmates Keith Emerson & Greg Lake, will be using live footage of Keith and Greg on massive video walls alongside Carl (and his band) playing live on stage starting in November 2022. More information at Carlpalmer.com.