On The Beat with Clay Aeschliman of Polyphia: Talks Blending Techniques, Inspiration, and Gear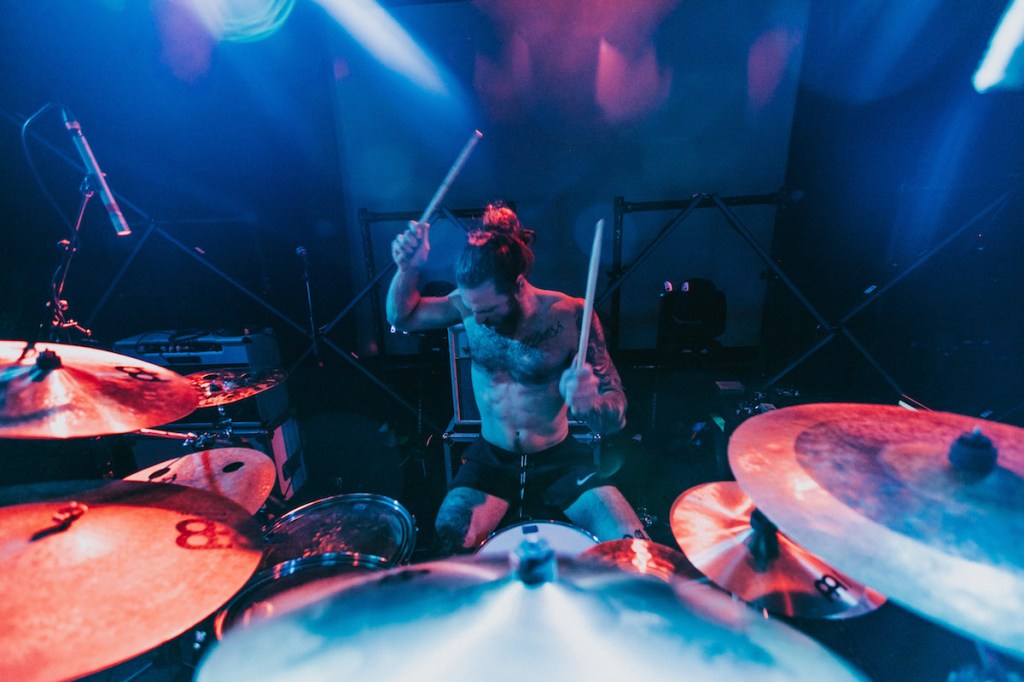 Hi, my name is Clay Aeschliman and I've been playing drums for Polyphia for two and half years now. I got my start drumming in high school, where I marched quads for three years. I was fortunate enough to go to a very competitive high school, so drumlines were taken very seriously.
I also played a lot of sports so my experience with drums didn't really go beyond that of drumline. I was never in bands, and although I've always had a passion for music, I never imagined it would be my career. After high school, I attended college and pursued a degree in logistics and pretty much didn't touch a pair of sticks for the better part of five years. It wasn't until after I graduated and had a corporate job for two years that I picked up the kit. I quit my corporate job, which I hated, and started practicing six to eight hours a day and joined some local bands to gain some experience. I was twenty-five years old when I played my first show. I fell in love, and ever since drums have been my main focus.
The most exciting part of drumming for me is continuing to push myself to get better. I've had the chance to tour with a lot of great drummers and look at it all as a learning experience. Guys like Mike Mitchell, Devon Taylor, Eric Moore, and Matt Garstka have really been my inspiration for pushing myself. Their sense of flow, timing, independence, creativity, and sheer chops are truly incredible. Advertisement
I came to join Polyphia by being in the right place at the right time and not turning down opportunities, despite being nervous or inexperienced. I was in a local Dallas band called Windwalker and we played regularly in the DFW area. Through that band, I had a connection with the metal band Invent Animate, who reached out to me to fill in on drums for them for the Texas in July farewell tour. At this point the biggest crowd I had played to was maybe thirty-five people. Nevertheless, I accept the offer and went on my first tour. Later, the Polyphia boys reached out to Trey (drummer for Invent) to fill in for a music video for them, as they didn't have a drummer at the time. Due to prior engagements, Trey was unable to do the video so he passed my name along. I got a call from Clay asking me to do the video. The rest, as they say, is history.
With Polyphia, I try to focus on blending different techniques to make a unique sound that stands out. I take elements of trap drums, usually used in hip-hop/electronic style music, and incorporate gospel chops and groove. I believe this really stands out on our new record, New Levels New Devils.
We have a lot of very exciting things happening—mainly, the release of our latest record. We've worked really hard, and I'm particularly proud, as this is my first full length with the band. The record was released on October 12, and we couldn't be more excited. Beyond that, we are headlining a tour in the states, going to Australia for the first time, Japan for the third time (which I am beyond excited for), and some other exciting things. Advertisement
There are several pieces of gear I can't drum without. I use Tama Iron Cobra 900 Power Glides and I love them. Also, I am currently using a Tama Starphonic Brass snare drum that sounds amazing. It's the snare I used to track the new album and fell in love. Lastly, I love my Meinl Fat Stack (Matt Garstka signature). They are the perfect stack!
Watch Polyphia "O.D." official video here:
Watch Polyphia "G.O.A.T." official video here: 
Check out Aeschliman's "An Evaporation" drum clip here: 
 and "Culture Shock" here: 
For tour dates and more, visit https://polyphia.com.