Web Exclusive! Shannon Larkin on Godsmack's When Legends Rise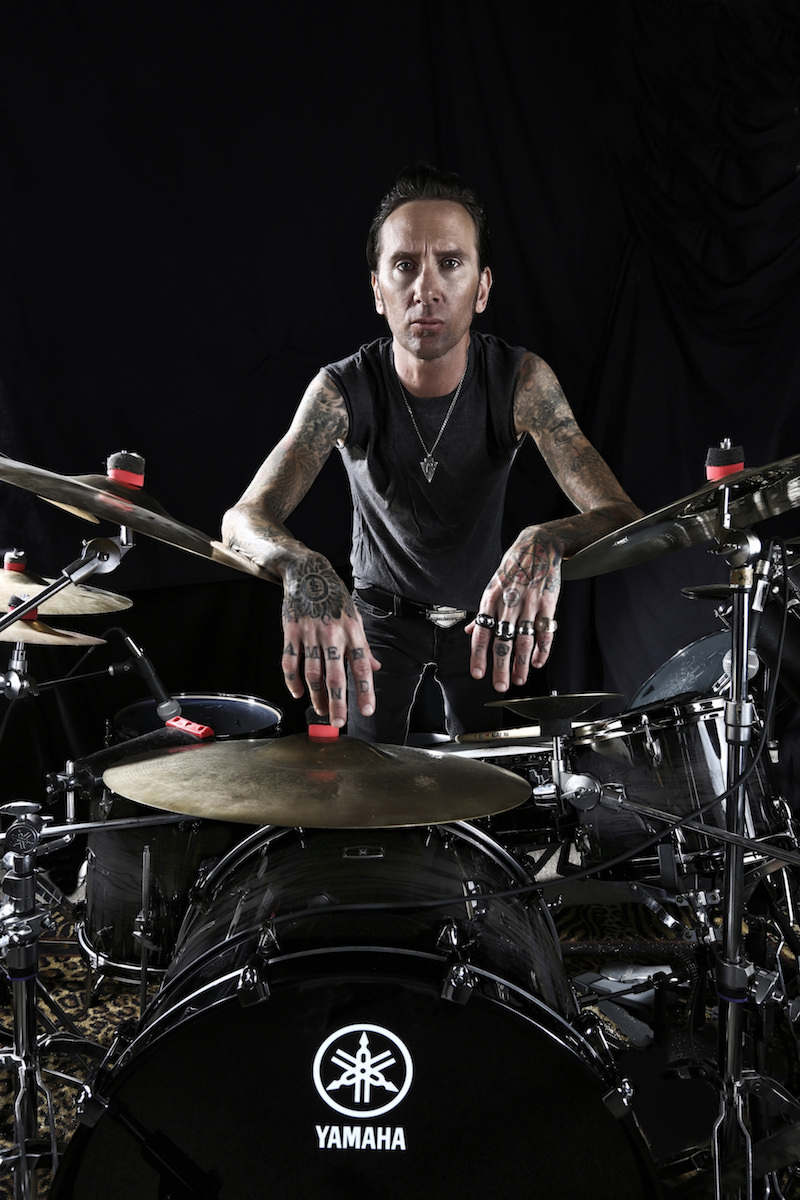 Story by Ben Meyer
Photo by Chris Bradshaw
Boston tough-guy metal quartet Godsmack released their seventh full-length studio album in April, crowning twenty years of major-label success that includes more than twenty million albums sold. Featuring material mostly co-written by bandleader Sully Erna and producer Erik Ron, among other Active Rock industry notables, When Legends Rise represents a conscious move toward the mainstream for the historically aggressive and streetwise outfit. But what could have turned out to be a watered-down concession offered by over-fifty rock veterans is in fact a collection of finely crafted arena rock that even the most hardcore Godsmack fans should love. MD spoke to drummer Shannon Larkin in between the completion of When Legends Rise and the beginning of Godsmack's Summer 2018 co-headlining tour with Shinedown.
MD: Were most of the songs on When Legends Rise written together with you four in the same room, or were they brought in mostly finished as demos from specific band members?
Shannon: This record was totally different for us. Godsmack is definitely [singer/guitarist] Sully Erna's band, and he's had the vision from day one. I came in seventeen years ago and made the Faceless record [2003], and that was the only one until this new one that Tony [Rombola, guitar] and I didn't write anything on. Sully wrote all the material for the first few records, and after I joined the band, Sully kind of had writer's block. He turned over the writing to Tony and me, and the next three records—IV [2006], The Oracle [2010], and 1000hp [2014]—Tony and I wrote over half of the music on them. Sully has a distinct vision for each record. He wanted a bluesier record with IV, he wanted a heavier record with The Oracle, and he wanted a more punky record with some attitude on 1000hp.
For the new record, he decided to work with outside writers because he wanted a more mainstream sound. He used the guy who produced the record, Erik Ron, and several other L.A. producer/writers who do more mainstream music. Sully wrote all the lyrics because he always does that, so this record for me as a drummer was completely different, having no real influence on any of the songs or drum parts. Advertisement
Sully came down to Florida and met with Tony and I and showed us all these songs that he'd written with the other writers, and luckily, they were great songs. We were afraid of what Sully meant by "mainstream," and we were afraid that it wouldn't sound like us anymore, but we were excited when we heard the new stuff. I went into it almost like a session guy. I've done sessions for other people before, and I've really enjoyed that. I had Sully, who's a great drummer himself, and Erik Ron, who wrote a lot of the drum beats for these new songs, so it's like I was recording with two drummers.
I'd learn the songs from the demo and just go into the studio that day and record the song. I'd go into the control room and we'd listen back, and then things just all started changing. Even the chorus beats would change, and I'd punch in. With the more mainstream sound that we have on this record, you'd think the drum parts would be more simple, and they sound like they are. But it was the most complex and under-the-microscope playing I've ever done. Every note was considered—which crash I hit, how I'm phrasing the ride, my dynamics on the kick drums, all of it. There were times when I'd have to slam the kick drum, but my snare and cymbals would have to be lighter. It ended up being a very complex session, and it was challenging. For the fills, I've got two other guys saying, "Try this, try this, try this," and as a drummer, it was a challenge to give them exactly what they wanted. But it was a lot of fun.
MD: There are more mid-tempo, anthemic songs with huge choruses and gang vocals on the album, which is very different from the material on 1000hp. It sounds modern, but it still sounds like you guys. Was that a challenge for a band with such a long sonic legacy? Advertisement
Shannon: Absolutely. We all turned fifty recently, and we said, "Why a more mainstream sound? Why now?" Sully said, "I want to be able to perform on stage and not feel like I'm trying to keep up with all the new, young metal acts and feel like I'm not being real." He's also done a few solo records where he learned to play the piano. He's one of those musicians that I'm envious of—he can pick up a saxophone, and then a year later he's playing like Clarence Clemons. [laughs] He picked up piano five or six years ago, and now he plays like Elton John! As a result of that, he started singing in all of these different keys. Every Godsmack record from the first one through 1000hp was written in either a Drop D tuing, a Drop C tuning, or a Drop B tuning on every song; I think there are five different tunings on the new record, and as a result, he found a different vocal range where he has a very strong, clear, and higher voice than he's ever sung in before. It was easy for him to do when he started singing in different keys, so that's another thing that makes this record a departure from the others. That's moved the band forward in ways that we hope will mature over the years so we don't have to just call it quits like old men! [laughs]
MD: Do you worry about how fans will react to the new approaches?
Shannon: We really do love and care for our fans, and we can't do anything without them. The whole trick with this album was to try to maintain our Boston street toughness that Sully epitomizes while moving in a different direction. I think we did it, and I'm really stoked with how the whole record came out. It sounds more like our first record than any of the others since, and that's still our most successful record.
MD: Have you had to make any changes to your kit to accommodate the new material?
Shannon: I changed all my cymbals. I always used the heavy Sabian AA Rock models, the AAX Metal X-Plosion crashes, and the 22″ HH Power Bell ride with its big, fat-sounding bell. We took those away and used thinner cymbals, including AA Mediums and a smaller ride with a normal bell. I just went with it, kind of like a session guy. The producer brought his own snare drum, and it ended up sounding great. Advertisement
It was definitely a different kind of session for me on this record. My favorite living drummer is Chad Smith, and I know he's not a writer in the band, he's just a pure drummer and the best on the planet. I thought of Chad a lot as I was just beating the hell out of the drums, trying to get the best sound from my body. I didn't think I'd enjoy it, but I did.
MD: There wasn't as much hand percussion on these songs as there has been in the past, with the exception of the verses of the title track. Was that intentional?
Shannon: When we got the demos, "When Legends Rise" was co-written by John Feldmann [of Goldfinger] out in L.A. There was a tom groove during the verses, but he'd put this sample over it. One of the synth things that was in there set my mind on this side-stick part, which I use in the first half of the verse before I move over to the toms. That side-stick part [helps] the percussion stand out a bit more, then they settle into the mix when I go to the toms. I don't think the intent was to put hand drums in there, it was just something the writer did with samples and stuff.
MD: What's the lead single from When Legends Rise?
Shannon: It's "Bulletproof," and it's been our fastest-rising single ever.
MD: Have you been working on any other projects away from Godsmack?
Shannon: Tony and I have this side project called the Apocalypse Blues Review. That band isn't mainstream. Blues is underground, like punk rock was in the early '80s, where it's a closely-guarded secret. Even the bigger guys, like Joe Bonamassa, you don't hear him on the radio. Advertisement
Tony and I weren't so butt-hurt that we couldn't contribute to the writing of the Godsmack record because we were working on the second Apocalypse Blues Review record, which is on Provogue Records, the blues label that has Kenny Wayne Shepherd Band, Bonamassa, and all of our heroes on it. A few weeks after the Godsmack record was done, we went into the studio with Dave Fortman [Ugly Kid Joe] and completed the second Apocalypse record, which kind of made our souls equal out musically after having done this giant mainstream album. Now we could go back to our roots and write for the sake of the music. It's kind of selfish, but it is what it is. We're musicians, and we love to write music that morphs into what it's going to be naturally. We got that gift from having this side project.
We have to wait until the fall to put that one out, because we don't want to compete with ourselves, but I'm so excited about that record. It's been overwhelming emotionally, because I've got these two totally different records—one that was very satisfying as a drummer, and one that's my complete heart, soul, blood, and sweat on the drums. I've got the best of both worlds, so I'm like the happiest guy on the planet right now. And I'm excited about getting back on the road. We hadn't been out for a year and a half, and performing always excites me, whether I'm playing blues or rock or metal or punk—it doesn't matter. You get in front of a crowd, and that's the reward that we get for all of our work.
MD: What gear are you playing?
Shannon: I'll die playing Sabian cymbals. I don't care if they endorse me or not. Same thing with Yamaha, Remo, and Vic Firth. I didn't pick them because they give me free shit, I picked them because I really, truly believe that they're the best, at least to my ears. I bought my first Tama kit from Veneman's Music near Washington, D.C., and they'd gotten this prototype 24″ Super Bell Ride by Sabian. This was in '87 or '88. Veneman's was the biggest dealer on the East Coast at that time, and they were told by Sabian to give that cymbal to a local player that played a lot. Doug, the salesman, knew my band Wrathchild America played all the time, and he gave me that cymbal. That ended up getting me a Sabian endorsement when Wrathchild got signed to Atlantic. Advertisement
MD: Are you still playing a Yamaha Oak Custom kit?
Shannon: Yes, I love those. We get new drums whenever we put a new record out, and they paint them to match the album artwork.
In this Article