On The Beat with John Keeble of Spandau Ballet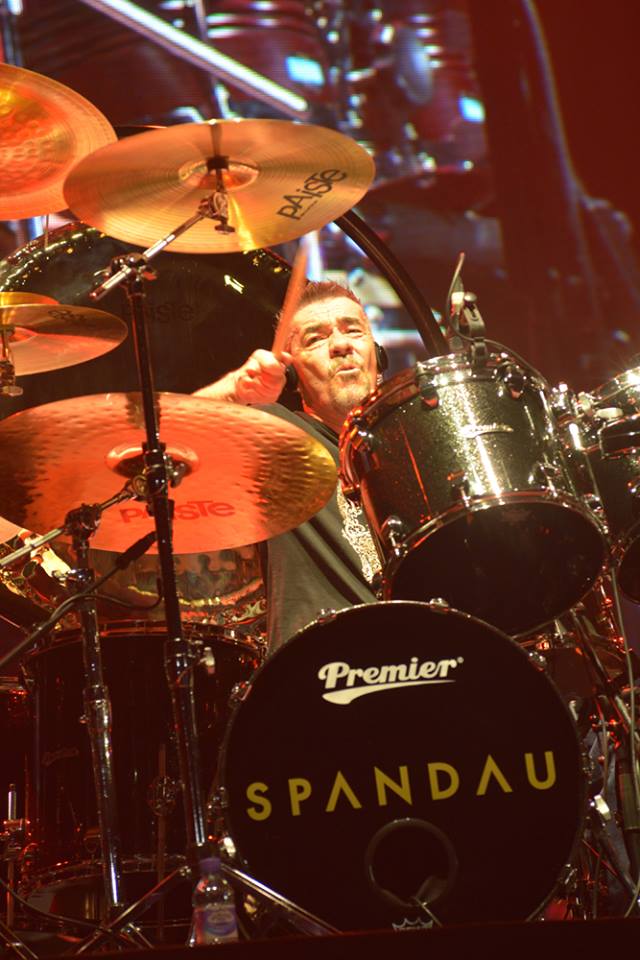 Spandau Ballet is one of Britain's great iconic bands selling more than twenty-million records, scoring numerous multi-platinum albums, and amassing twenty hit singles across the globe since their humble beginnings as a group of friends with dreams of stardom in the late 1970s. It wasn't long before they became fully-fledged members of the iconic Blitz Club scene and established themselves as one of the super-groups of the 1980s.
Hello, Modern Drummer! Spandau Ballet is back performing one-off shows in the UK with new lead singer Ross William. It was during some downtime in rehearsals that Ross leaned over the kit and said to me, "So who's your favourite drummer?" I thought for a nanosecond or two and replied "Danny Carey." The new singer gave me a look. My expectation was that Ross would not even know the name but his look was not one of non-recognition, it was a look of amazement. I had, in fact, named the drummer in his favourite band—Tool. I knew we would get along even better!
Ross is much more than a singer. Of course, he can sing the songs but it takes something extra to be a front man. We are a very demanding audience. Feel is so important in music and it immediately felt right with him. There was a comfort zone and it felt easy. I have described the influence of new blood as invigorating. Everyone is upping their game and enjoying the ride. We are drawn together by the music, by the noise we make. It's supposed to be fun and if it's not fun then I'm going home. Advertisement
The Subterania show went extremely well, though I have had better dressing rooms. We opened the show with "Through the Barricades," a first, and the audience was hooked before I even played a note. Well played, Gary and Ross.
On October 29, 2018, Spandau Ballet will be playing the Hammersmith Apollo UK for the first time—though to me it will always be the Hammy Odeon. This venue helped shape me in the mid-1970s, as I saw Queen, Motorhead, Thin Lizzy, Rush, and many others perform there. It has always been a great venue.
The future as I see it now, well everything is possible—shows, recording, world domination. Same old stuff really, the rock-n-roll dream. I just want as many people as possible to see and hear and experience Spandau Ballet. I cannot make you like it, but I think that we are pretty good and I am always looking forward to the next piece of fun. Advertisement
As for my go-to gear, I have always been a Paiste man. Cymbals are indeed a drummer's only sustain and they cannot be changed. They are what they are. I still use a Paiste 3000 24″ ride, which hails from the mid-'80s—precious metal indeed. The rest of my cymbal setup is mostly Signature series with the occasional 2002 thrown in. Shaw makes my drumsticks for me and my drumheads are always Remo.
I am, apparently, the longest serving Premier endorsee. Well, since Clem Burke left. Thanks, Clem! My Premier snare drum is handmade from about a billion plies of birch, with a black stained outer layer of American white oak. It weighs more than Saturn, but it sounds fantastic! My touring kit is also birch in Black Sparkle finish with two 18×22 kicks and all even-sized power toms: 8×8, 9×10, 10×12, 12×14, 16×16, and 16×18. I have a near replica kit in maple for recording and I also have a Genista kit in birch, finished in Ochre in 18×22, 12×14, 16×16, and 14×18 sizes. Will I fiddle with the setup or fettle as we say? Yes of course I will, but the kit remains mostly the same.
Thanks for reading and always remember, never forget how great you are!
Watch a video of "To Cut A Long Story Short" from the band's recent show at Subternia in London with new singer Ross William here: 
https://www.youtube.com/watch?v=ezpypo06ypo&feature=youtu.be
Watch a throwback video of "True" here: 
For more, visit www.spandauballet.com and https://www.facebook.com/spandauballet.
Photo by Neil Kitson