Def Leppard Drummer Rick Allen Welcomes PMC's "Roadie for a Day" Grand Prize Winner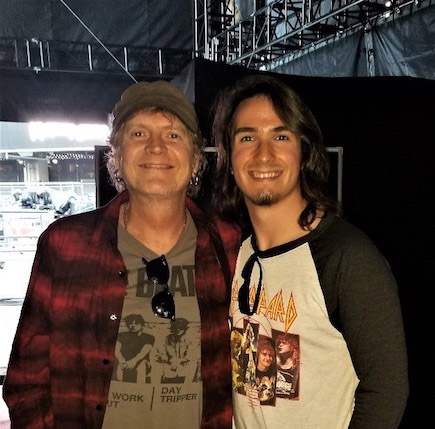 The Percussion Marketing Council (PMC) 2018 International Drum Month promotion concluded with the Roadie for a Day grand prize winner meeting legendary drummer Rick Allen of Def Leppard on September 23 in San Diego, CA. Bradley Biggs from Anaheim, CA, spent the day at the Petco Stadium, meeting with Allen backstage, and experiencing what it's like to be a professional touring drummer, including band soundcheck, and all-access Def Leppard concert.
Biggs was one of more than 1,200 entries submitted online through the PMC's PlayDrums.com website. The International Drum Month promotion reaches beyond the music industry through targeted social media marketing to create excitement for drums and drumming, while helping drive new drummer-customers to local music stores or drum shops during the month-long May campaign.
"This year the International Drum Month campaign and Drum Roadie for a Day contest received tremendous interest and support from the entire percussion industry," says PMC Executive Director Karl Dustman. "We had 125 participating retailers use the life-size Rick Allen standup in their stores to attract additional entries. This year we more than doubled the number of entries that were received during the 2017 International Drum Month campaign. With more than 1,200 contest entries, this is the largest consumer participation in IDM history." Advertisement
The Roadie for a Day backstage experience started early in the day with a detailed tour of Allen's drumkit with Def Leppard drum tech Jeff Diffner. He went in-depth on the inner workings of Allen's drums as well as the Def Leppard live show. Biggs commented after the concert, "While it's music that makes a band, it is an enduring spirit of perseverance that makes Def Leppard. Rick Allen particularly embodies this spirit and serves as a fountain of musical and emotional inspiration in my life. I have previously attended other Def Leppard concerts, but this year, on behalf of the Percussion Marketing Council, I got to experience my favorite music in an entirely new way. It was truly an honor of a lifetime to be chosen as the winner of the PMC's 2018 Roadie for a Day contest."
Advertisement